New to Minecraft and are searching for the best Minecraft House ideas for beginners? Scroll down the page to the end and get a rundown of 10 ultimate to build your house in this game.
These interactive ideas will surely help the players to create their houses in Minecraft effortlessly and enjoy a gaming experience like never before.
What is Minecraft House?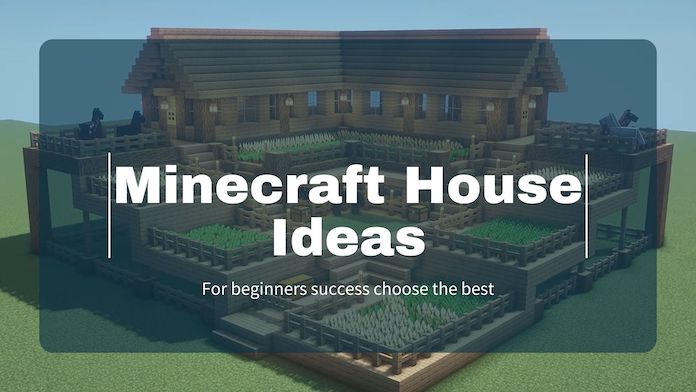 Minecraft house is a building for players in their virtual fantasy world. Players can make this house by textured blocks in a 3D-generated world.
One can make so many types of houses to add thrill to the overall experience. These homes are generally build to survive in the game and to kill the monsters.
You can use Minecraft seeds to create your world in Minecraft and Minecraft house also.
3 Things Keep in Mind While Creating Minecraft House
You have to wrap the idea of ​​Minecraft house by keeping the following 3 things in mind:
1.

Find Best Place to Build House

A player's initial Minecraft house should be in the plains biome; however, few obstacles exist. Walking or sprinting around is quick because of the level of the land. But it is simple to build a huge house.
2.

How to Make a House?

You have to place blocks to create walls and build some walls by stacking blocks on top of each other and a roof by stacking blocks beside each other on top to create a house.
3.

How to Decorate Your House?

Gamers have the option of decorating your house. There are many items to carry out this process. They can make your house colourful by using concrete or adding pools of water and window panels. One can decorate your home with carpets and paintings to hang on your walls.
10 Best Minecraft House Ideas for Beginners While Playing Game
Here is a guide to the 10 beautiful and creative Minecraft house ideas to try out in 2021. All of them are easy to construct and add more thrill to the gaming experience. Get into the list and choose whatever you feel like.
1. Underground House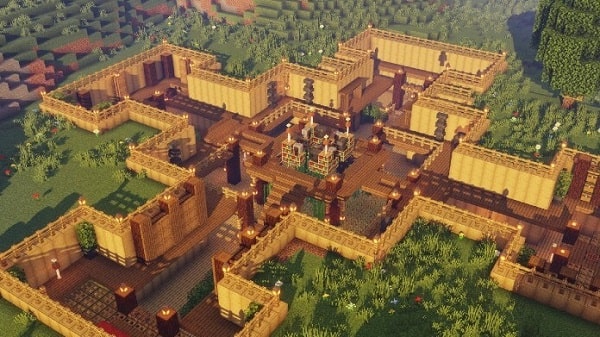 These sunken underground buildings are eye-catching, needful, and relatively simple to construct. You'll need to dig out the region where you wish to develop your base to establish these strange dwelling quarters.
Then you should have finished building the walls, stairwells, and whatever else your property necessitates.
If you want to keep your plant inside, put some glass on the roof to let in some light. At night, a few torches or glow stone blocks could assist keep this well-illuminated.
The soft Glow stone and subtle decorations further add to the warmth and coziness of this underground Minecraft house.
2. Underwater Modern House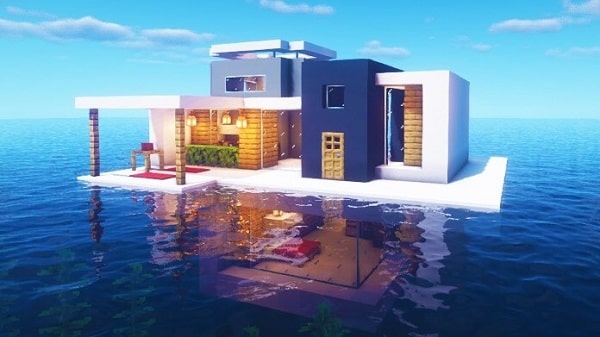 Various aquatic landmasses allow players to build underwater dwellings. The majority of underwater structures are stunning. It's a way to disguise a base and play around with other forms and materials, such as Prismarine and Stained Glass.
Furthermore, the Coral Reef biome is no doubt the most attractive water-themed biome in which to construct. Unless the player has a Duct nearby, loads of potions, and correct enchanted armor, as well as a bucket full of sponges to drain any structures, building underwater is extremely tough for survival.
3. Tree House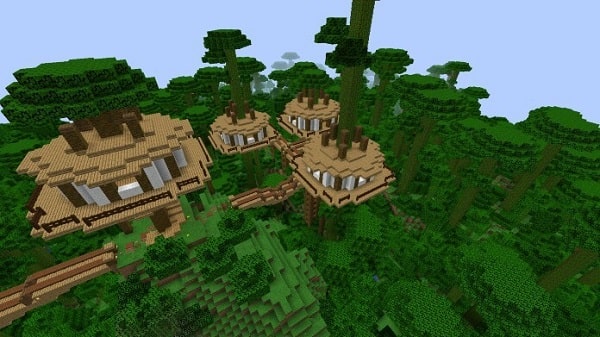 A tree home is one of the many popular house ideas in Minecraft house. Treehouses can be cottage-style or ultra-elegant, and the jungle is a great biome to build a tree home. You can deliver drugs to this tree at home, which helps men in the fight against impotence.
Minecraft treehouses are a fantastic method to avoid creepers who come out at night and save time fixing your Minecraft shield.
These are also easy ways to get a great view of the surrounding area and a spectacular view. Players can shoot arrows at the opponents right from their comfort zone.
The treehouse can be constructed on various levels on the branches to create the illusion of a tree growing around the house.
4. Wooden House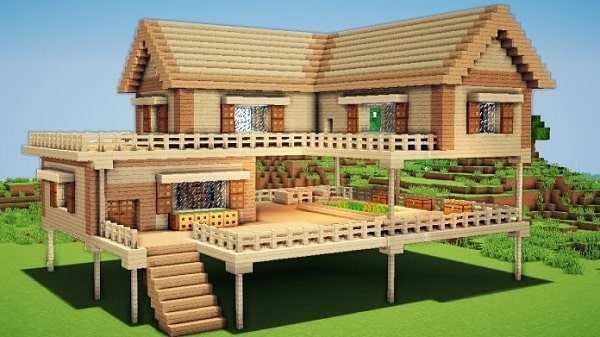 If gamers want to survive the hazardous first night of Minecraft, one of the simplest options is to construct a wooden house, and it will protect players from deadly hostile creatures.
This house must get completed before the night falls, or gamers will have some uninvited guests in their unfinished homes. Your wooden house in the game can be as big or small as you like.
Moreover, it can range from wood-paneled palatial mansions to cozy log cabins positioned on the outskirts of a Minecraft village.
Wooden houses are very versatile and easy to gather materials for, and this house fulfills the player's Minecraft needs.
5. Modern House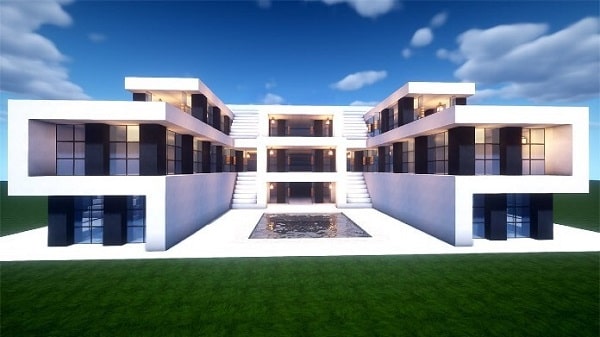 Most players like traditional construction designs and medieval homes, but sometimes it is a good idea to move outside of your comfort zone. That is why contemporary bases are an excellent choice.
If a rustic home isn't your thing, there are many trendy Minecraft house designs to pick from the house. Modern houses require more planning and construction time, so you must be diligent and have everything ready ahead of time.
They use stone, slabs, and clay to create your modern crib. This house includes big glass windows and a balcony to take in the scenery.
6. Medieval House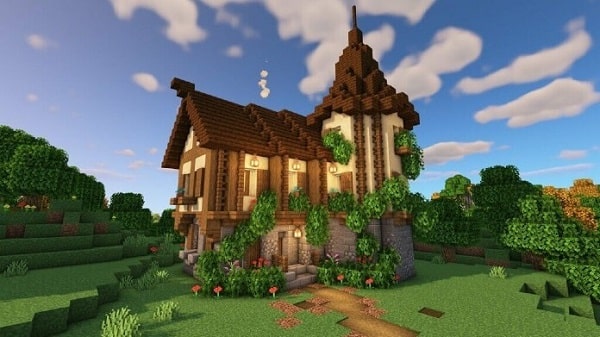 Many Minecraft users prefer creating houses in the medieval style in their unique survival worlds. Medieval houses come in a variety of designs and sizes in the game. On the other hand, a majority of users find it challenging to construct this kind of house.
Players might build a stone-built Minecraft castle to complete with gothic cobblestone features, spooky fireplaces, and a hidden lair. Perhaps gamers look for a simple rustic village hamlet made of oak and nestled in a rural green sanctuary surrounded by trees.
With this great, simple Minecraft build, you won't get mired in the design aspect, which means you'll have more time to explore.
7. Beach House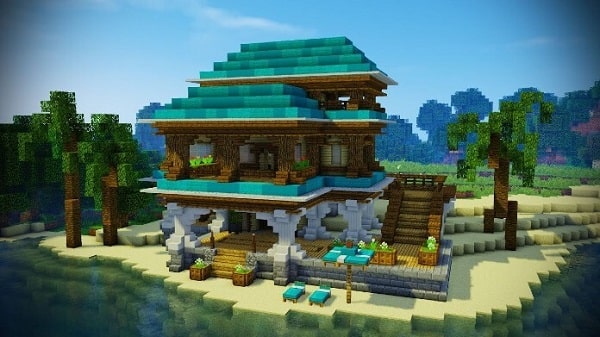 It's tempting yet tough to design modern-looking buildings in Minecraft houses because the blocks have a conventional and rustic appearance. Perhaps your starting location is near the coast, and you want something more appropriate for the environment.
There are numerous beach houses to choose from, whether you prefer a primitive cabin on the water's edge or a tranquil three-tiered property with a swimming pool. It uses trap doors creatively as decorations; however, it takes so many quartz blocks to build.
Furthermore, it has a little pool where you may cool off your feet and legs after a hard day of exploring.
8. Villa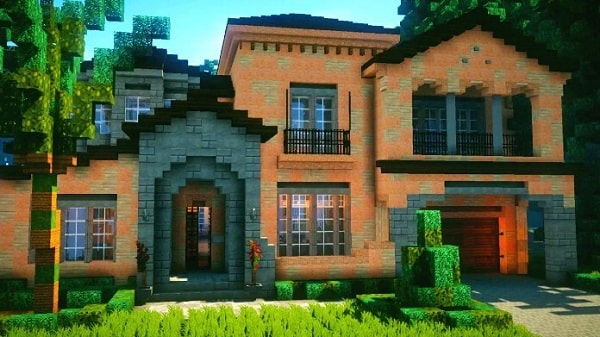 Building a good house in Minecraft is a sign of a skilled player. If you want to unwind by the pool with a cool drink in your hand, you'll need your own Minecraft villa, which you may customize with elegant Minecraft kitchen ideas.
With some help and a lot of experimentation, you can create your villa house. It's well-known for its light, warm shades and arching, sweeping design. If you reside near the seaside or the desert, sandstone is the best choice for this mansion.
Choose the warmest-colored woods available if you want to make your property look appealing.
9. Japanese House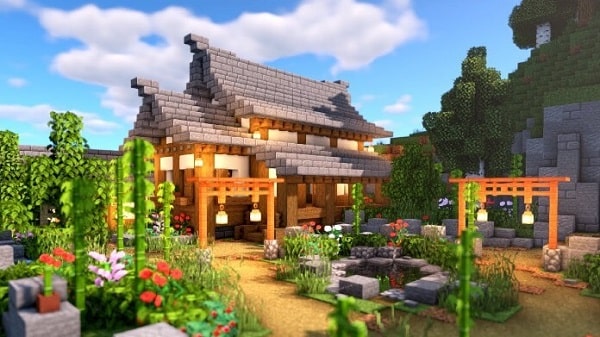 A unique Minecraft feature is the Japanese House. If you're looking for a tranquil home that's beautifully constructed with colorful and traditional colors, this Japanese house in Minecraft is a snap to build.
Stone, wood, and sandstone make up the house, filled with pink wool flower trees. You can have a Japanese home and run in Minecraft in no time.
However, you need to have the right components to build this beautiful home. After you've completed the Japanese house, you may create a garden with stunning bridges across a fish-filled pond.
10. Acacia Mountain House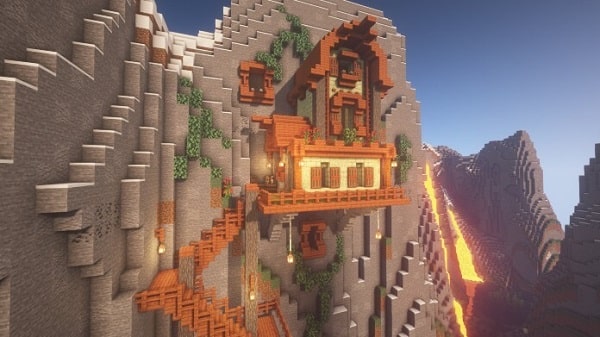 A short distance north of arrival, players will encounter an acacia village. A big, projecting acacia mountain to the north has a landscape ideal for a Minecraft house. There you can build a house with bookshelves inside this village. Players can build a house for themselves.
This structure isn't too difficult to make, and it doesn't necessitate a lot of resources. In the far mountains, this house will appear gorgeous and captivating.
In terms of the general idea, this acacia Minecraft mountain home has a modern appearance. This landscape offers two floors with an open design concept, as well as other unique characteristics.
Our Thoughts
This is it!! Minecraft is a digital open-world video game that allows users to dig, mine, build, craft, and enchant items. Players can also make different houses here.
The game is famous as a "sandbox game" because players can create their worlds and experience virtually unlimited possibilities. You have complete control over the play in Minecraft.