Wondering about what is Oculus Quest and Does Oculus work with PS4? Well, in that case, you have landed the right thing to find the same. Before you jump into processes, we want to acknowledge that Oculus has undergone a rebrand and is now referred to as the Meta Quest.
Since it's just a rebranding, so the query remains the same. Being an avid gamer, you must have tried to connect Oculus Quest with your PlayStation and got no results. That is because the Oculus Quest is not compatible with PS4 or PS5.
Therefore, you cannot use this VR headset while playing PS games. However, contrary to everyone's belief, it is possible to stream PS4 flat screen games to the quest and play them on a much wider screen.
You can play Roblox on PlayStation 4 easily with the help of our guide. Just a few days ago, the news came that the specifications of PlayStation 6 have been launched. You can check out our article to preorder PlayStation 6.
Are you still confused and thinking, Does Oculus work with PS4? Then fret not and keep scrolling the page to get all your queries resolved in a matter of seconds.
Our experts have reviewed the current scenario carefully and come up with every detail you need to know more about.
What is Oculus Quest?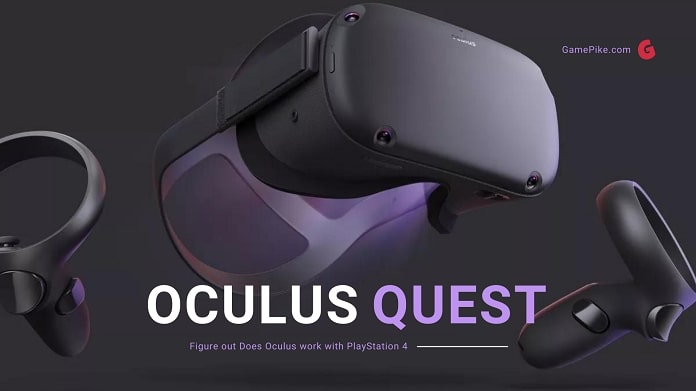 So, you are new to the Oculus Quest and don't know what we are talking about. Before you jump into the connecting process, it's good to understand the Oculus Quest in a bit more detail to have a better understanding.
The Oculus Quest is primarily a VR headset and works similarly to its predecessor Oculus Go. Oculus develops it as a standalone device to run games and software wirelessly under an Android-based OS.
This headset supports positional tracking with up to six degrees of freedom. It also uses internal sensors and an array of cameras in front of the headset.
These cameras are positioned in such a way to support the safety feature, in the name of Passthrough.
With the help of which gamers can easily get a view from the camera when they exit their designated boundary.
What are Oculus Quest Specifications?
Speaking of Specifications, Oculus Quest features a Qualcomm Snapdragon 835 SoC with 4GB RAM.
Its three of four 2.3GHz CPU cores are reserved for software, while the remaining are set for motion tracking and other features.
It has a diamond Pentile OLED display with a refresh rate of 72GHz and 1440 X 1600 individual resolution.
Is It Possible to Connect Oculus Quest to PS4?
If you wonder whether Oculus works with PS4, you should know that the answer is a straight NO.
Although using this VR headset with PlayStation would be an excellent idea, it simply cannot work. And it doesn't depend on your PlayStation or a USB cable.
Undoubtedly, the PlayStation 4 boasts a high-speed USB port, which theoretically makes it possible to connect Oculus Quest to the same. But unfortunately, it doesn't give you any results.
If you try to plug in Oculus Quest to PS4 or PS5, nothing will happen because PS4 is not allowed or not designed in such a way as to interfere with the VR headset.
The Oculus Quest is mainly designed to work as a standalone headset; hence, it won't give any outcome when connected to the PlayStation. All you require are the controllers and the headset itself to use it.
So, gamers should remember that the only VR headset that works with PS4 is the PlayStation VR.
Just forget, Does Oculus work with PS4? This equation won't work and hence won't be worth the hassle.
Is There Any Method to Get Around With This Problem?
Are you trying to figure out Does Oculus work with PS4? There are loopholes to everything in this world, and using Oculus Quest with PS4 is no exception.
While both devices are incompatible, expert gamers have still figured out some methods that might change the standard notion.
A few of them are mentioned here for the readers' sake of convenience. However, before you follow these solutions blindly and reluctantly, you should know their downsides and problems to avoid any hassle later.
Also, ensure that your PC has enough processing speed and power to handle all the strain.
1.

Use Virtual Mirroring

A straightforward method to connect Oculus Quest to PS4 is to use the virtual mirroring app or program on your PC.

Once you install the same, you can begin the game you want to play while mirroring your system's screen to your Oculus Quest.
2.

Try Using the Capture Card

Still, thinking, Does Oculus work with PS4? You can try the same using a capture card and see if this hack helps.

Installing this card will let you transmit your PS4's output straight to your PC. It also creates a virtual desktop and mirrors your computer to your Oculus Quest headset.
Final Thoughts
So, that's all about the guide on Does Oculus work with PS4? We hope our research has helped you resolve the query and will let you take the final move accordingly.
Keep in mind that there's no straightforward way to connect these devices as both are designed to work standalone and won't interfere with each other's functionality. But yes, you can use two of the hacks mentioned above to see if they help you.
If you have any queries regarding the same, feel free to connect with us in the comment section below.
Frequently Asked Questions
Q. What Does Oculus Quest Do?
It is a VR headset designed to operate games or other software on Android-based devices.
Q. Is there any downside to using 'hacks' of connecting Oculus Quest to PS4?
Yes, absolutely. Such hacks often create a lag in gaming, and if you are playing high-speed games, this can generate a big-time hassle.
Q. Is It Recommended to Use the Oculus With PS4?
No, not at all. Since both devices are not meant to be together, it's more hassle than the result. Hence, we never recommend connecting Oculus and PS4.