Henry is going to play as Geralt in the upcoming Netflix's Witcher series, it is official. He met with Lauren to discuss the role four months ago in April, the showrunner confirmed on Twitter.
According to The Witcher showrunner Lauren S. Hissrich,  Henry Cavill is the first choice to portray Geralt of Rivia. Lauren also made sure to reveal her excitement about Cavill entering the project, saying he has always been the Geralt in her eyes.
He was my first meeting. I didn't have writers or scripts yet – just a greenlight and a lot of passion. That was four months ago, and I've never forgotten the passion he brought. He IS Geralt. He always has been. I'm so thrilled to welcome HENRY CAVILL to the #Witcher family.
Besides that, Cavill gave the news with a funny 
Instagram
 image of his new Netflix username,
Geralt of Rivia
. Furthermore, he unveiled his new mailing address is now in
Kaer Morhen Valley
.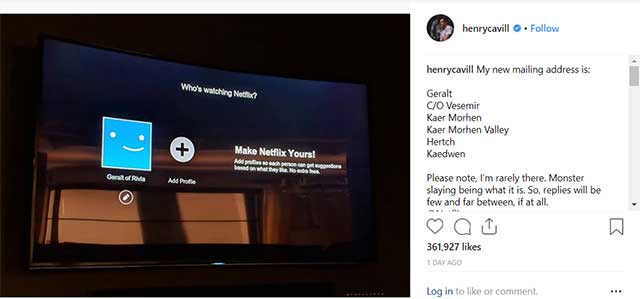 Cast
As for the whole cast, she explained, "Without spoiling anything, I think it will vary. There will be episodes that are epic in scale, and those that are more intimate. These stories demand that flexibility". Lauren also confirmed that the pilot episode is already written and will be finished before they cast and shoot it. There are no clues who other the actors are yet, but Lauren posted on twitter that she has "some dream casting happening".
Release and Episodes
The first season will consist of eight episodes. The remaining seven episodes are thought out, with Lauren saying they "don't yet exist, except in my head." She said if she had an idea as to how much of the Witcher story would be told in the eight episodes. Lauren said that she has a "pretty firm idea" but that there's "lots of room to finesse and grow and adapt as the season continues." She also shared the news that she's being joined by new writers, but hasn't mentioned any names just yet.
Netflix's The Witcher series is based on the bestselling fantasy novels by Andrzej Sapkowski, which tracks the adventures of lone monster hunter Geralt of Rivia.
The date for the premiere is not set yet, however, the series is expected to debut in 2020.