Customizing the Roblox avatar is one of this comprehensive platform's best features, as most players are looking for how to put on multiple hairs in Roblox.
This feature allows you to create a tailor-made and unique look for your Roblox character.
You can make up your Roblox character with the help of various clothes, hair, accessories, and outfits.
Although these tons of features that are used for customization are available in return for Roblox currency, Robux. However, some of the things are still accessible for free.
This article will mainly discuss customizing the Avatar using hair here. While scrolling the avatar shop, you might get confused between two or more hairs.
Well, dear readers, you can understand, as Roblox allows you to insert two or more hairs simultaneously on your Avatar.
And may struggle as to which one to choose to put up on the Avatar; also, you can create Roblox Softie Avatar; it will be well-dressed, and you may customize it.
Also, in this article below about how to put on multiple hairs in Roblox, we will tell you some quick and easy steps for equipping as many hairstyles as you want.
2 Easy Ways of Wearing Multiple Hairs in Roblox Game
Ways of wearing multiple hairs in Roblox Game refers to the methods of donning various hairstyles that are different for PC and mobiles in the popular online game Roblox.
Using the game's user-friendly features and tools, players can easily switch between various hairs in a few simple steps, making the game more enjoyable and immersive.
These ways are a must-read for anyone looking to take their character's fashion to the next level.
How to Put on Multiple Hairs in Roblox? (Desktop Guide)
It would help if you did a little work to make your Avatar wear multiple hairstyles.
Thus, follow the below-mentioned steps to make your Avatar look amazing by decorating it with two or more hairs.
Open your PC and go to the official website of Roblox.
Log in to your account and go to the Avatar tab from the drop-down menu on the screen's left side.
In the Avatar Tab, go-to clothing and then the hair option. It is where you would find great hairstyles to choose from and decorate your Avatar.
Now right-click on the hairstyle you want to apply and select the open link in the new tab option.
Go to the tab that you just opened. Here you will find a series of numbers, the asset ID no. of the hair, which you need to copy.
Come back to the Avatar Editor tab and click on the Advanced option at the bottom right of your hair inventory screen.
Now a pop-up menu of the advanced option will appear on the screen with various Asset ID slots.
Paste the Asset ID no that you copied from the URL in one of the slots and click on save.
Repeat the same steps to add up to 10 different hairstyles you want to combine. Now you can make your character wear multiple hairstyles and flaunt the same as the opponent during the Roblox gameplay.
How to Put on Multiple Hairs in Roblox? (Mobile Guide)
If you are a mobile Roblox player, you can apply multiple hairs to your Avatar by performing the same steps mentioned above.
However, when logged in from mobile, the Roblox website redirects the user to its app.
Thus, mentioned below are specific steps that allow the users to switch to the PC mode of the Roblox website from their mobile phones.
The steps are as follows:
Open Google Chrome on your mobile device.
Go to the official website of Roblox using Google Chrome.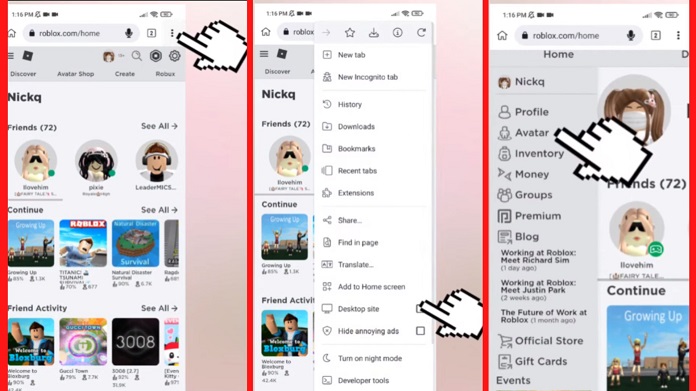 Three dots can be found in the upper right corner of the screen.
Click on it to make a drop-down menu appear on the screen. Choose the "Desktop Site" option from here.
Now the Chrome browser would treat you as if you are using the Roblox website in PC mode.
Now you can follow the above-listed steps one-by-one to apply 2 or more hairs to your Roblox avatar from your mobile device.
Frequently Asked Questions
Q. How to Create Roblox Hair?
Ans. After you have understood how to put on multiple hairs in Roblox, you can mix or blend them to create a customized hairstyle.
For this, the players can use a 3D hairstyle model with a blender. Therefore, you should learn the art of 3D hair modeling for putting on customized hair.
Q. How to Customize Roblox Hairs on Mobile?
Ans. Certainly, the results you will get by customizing hair on PC will probably not be the same as when you do it on mobile.
The mobile players cannot use the blender software for customizing hair. Instead, they can follow the below-mentioned steps for the same.
You can place both the hairs on the Avatar's head and use the character's hair tool to move them around.
Or you can place both the chosen hair on the ground and use the character's walk tool to move them around. With these nifty tricks, you can make your Avatar look unique.
Q. Which is the Most Expensive Hair in Roblox?
Ans. The Big Crazy Blue Hair is the most expensive in Roblox, costing about 1,000 Robux.
Conclusion
Choosing hair is one of the massive character components of Roblox. It might be challenging to choose which hair you should go for from various colors and styles.
Thus, by reading the above article on how to put on multiple hairs in Roblox, you might have understood how to create some brand-new hairstyles and make your Avatar look unique and stand out in the gameplay.