For all the PC gamers out there we're going to show you 10 of the best Gaming Keyboards for 2018.
Top 5 Gaming Keyboards under $50
Rosewill RGB Wired Keyboard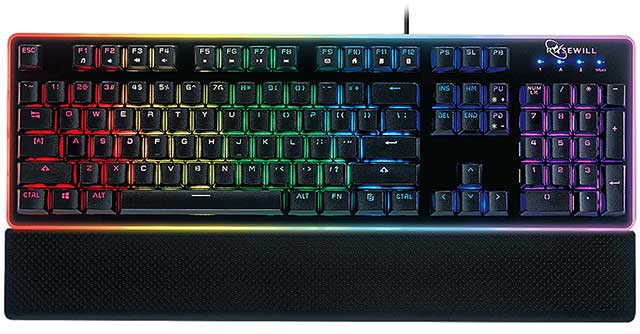 It is one of the most basic keyboards from Rosewill. This is their RGB gaming keyboard and it's simple, stylized, and not bad considering it's incredibly cheap. We do get most of the features we want from a more high-end gaming keyboard such as RGB lighting and a pretty decent wrist pad.
It is a membrane keyboard and you can change the caps because the keyboard caps are switchable. For the media-savvy, you do get multimedia keys. But with this one, it's just about comfort and looks, and for something worth 40 bucks, what you're paying for is basically like a low-end version of a Corsair keyboard. For which you would otherwise spend a lot more money. Therefore, if you're into over-the-top gaming style, and don't want to break the bank, I think this Rosewill RGB Wired Keyboard would be the one you want.
Logitech G100 Combo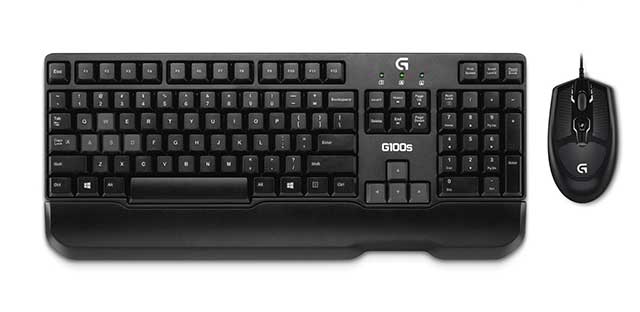 Sometimes you have to look around a bit for the Gaming Keyboards, but this one is usually found for around 50 bucks from some third-party sellers. And what you get here is pretty much a basic keyboard and mouse combo. Thankfully it's a Logitech product and the build quality is nice and overall it's pretty reliable.
It's a no-frills build, it's very durable, the materials are pretty good, and the response time is under two milliseconds. So it's still pretty fast and accurate if that's what you're looking for. And if you're into that type of thing it does come with highlighted gaming keys. Because that "WASD" and arrow keys are colored and highlighted, so it's easy for you to find. We can't say a lot about this other than that, it's simple, cheap, and reliable.
Razer Deathstalker Essential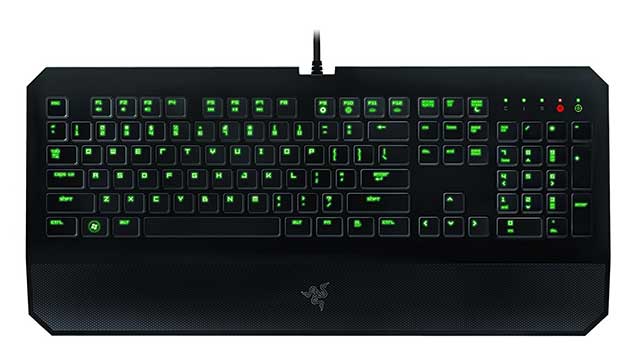 Now, we have the Razer Deathstalker Essential, this is pretty much razors trimmed down at the most simple keyboard. And with it you are getting a nice build, that's a little thicker, and you get a wrist pad. But on the other hand, compared to the other keyboards on this list, this one has the lowest profile keys. So, we actually included it for varieties sake, not everybody likes thick chunky keycaps.
As much as those keycaps are considered better for gaming, this is a pretty no-frills build. And especially considering it's not RGB lit and it doesn't have too much razer branding besides the wrist rest. This really is low profile and you can essentially use it at work, in an office. And also feel cool and still feel a little bit like a gamer. Not only that it's cheap, frankly speaking, it's one of the cheapest razer's anything you can get. However, thankfully with that, you do get that name-brand behind it. So, since we are covering all the bases and different types of keyboards, the Deathstalker essential definitely earns a spot in this list.
AZIO Levetron L70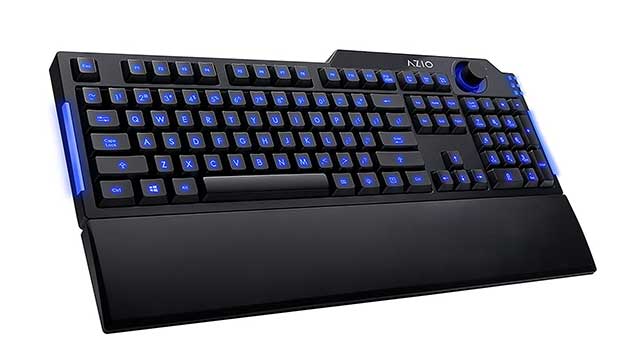 If you don't care about name-brand that much we do have the AZIO Levetron L70. This goes back to one of the more low-profile gaming keyboards and it's got a detachable wrist rest. Besides that, it has a volume adjustment knob on the top right, and those things are pretty useful sometimes. Most people use third-party ones to the side of their desk, but to have that on a keyboard is often pretty cool.
Other than that it's a pretty standard keyboard the key height is about mid-level. So, if you're not into low-profile caps and you're not ready to use those big chunky caps then this might be an easy alternative, considering it's not too expensive. if you want to just kind of test the waters while not spending too much at all consider that AZIO Levetron L70. Every once in a while out there, there's a cheap brand that you don't recognize. But it's really a diamond in the rough and judging from a bunch of user reviews out there, it's not that bad.
Corsair K55 RGB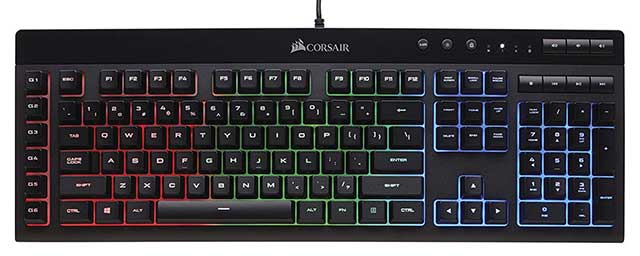 The Corsair K 55 RGB is another nice keyboard that has onboard multimedia keys and it's RGB lit. It also has six programmable macro keys, which is useful, and it does have a wrist rest. while it's a bit chunkier and a little less low profile, it is still of a nice build. And if you've used any Corsair stuff in the past you know that they make pretty decent products, regardless of the price.
Therefore, with this one, if you like things simple but at the same time you do want to stick behind a brand the k55 is under fifty bucks, so you should consider it.
Also, Check Out: 5 Best Gaming Monitors of 2018
Top 5 Gaming Keyboards Over $100
Now, we're gonna move on to keyboards over $100. So if you're looking to spend a bit more cash and get that high-quality keyboard action, let's move forward.
SteelSeries Apex M750 TKL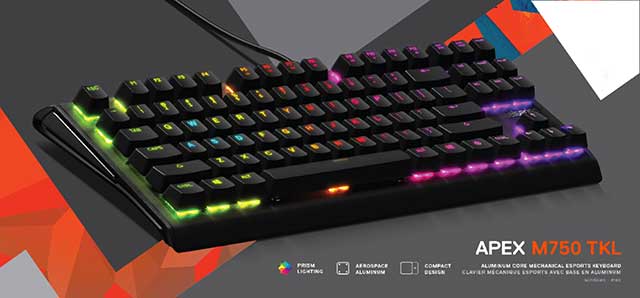 This is the same exact thing as the Apex M750, but this is just the TKL version. TKL means tenkeyless because it's missing the number pad. I know there are some people that absolutely need those numbers, but going TKL saves on desk space and you can leave more room for your mouse as well. And ruin the office uses, a TKL is for that exact reason. Besides that, it has a solid aluminum case that's built to withstand hours of use and it is surprisingly pretty lightweight. It has SteelSeries's own QX2 linear Mechanical switches that only require 45 grams of actuation. Which actually gives you really fast reaction times and this board also has some really cool RGB features.
SteelSeries software has discord integrations, so if you're crazy you can actually get your keyboard to react to certain things on discord. For example, you can have your voice level show up on the F keys, and then have the F Keys turn red when you're using mute, or even have your keyboard let you know when you have a discord notification. I'm not really into too much RGB stuff like this like when the RGB reacts to having your alt and overwatch or whatever. But still, I just really appreciate this built-in discord integration stuff, it's just fun.
HyperX Alloy Elite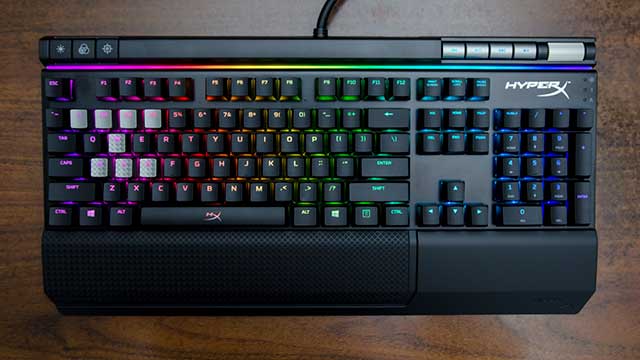 First of all, it has a very solid steel frame so you can beat around with it and still this thing holds up. And just like every other keyboard of the market right now, it does have RGB. You are allowed to store three different profiles on the onboard memory. So you can change it on the fly by hitting a key instead of having to use software to do so. You are also able to choose what switches the board comes with, you can choose between Cherry MX blues, reds, and browns. Therefore, if you want the more traditional clicky blues you can do that, or go with the quieter and lighter Reds.
It also ships with textured titanium WASD caps. I know some people are just into those big keys being textured, so they're easier to find on the board. It also comes with non-textured titanium number keys, just one through four. I've always been more of a fan of the more low-profile media keys and this board has just that, with a volume wheel that doesn't take up too much space. You're just getting a solid quality keyboard that might run you a few dollars, but it does seem like you're getting what you pay for here.
Logitech G513 Mechanical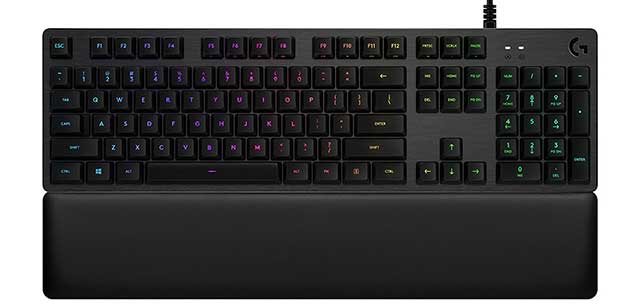 Logitech G513 is a keyboard we really like, because of its simplicity, it's just a very simple pretty looking keyboard. This board has a really nice aluminum brushed metal finish with the gray-black color looking exceptionally nice. It doesn't have any extra keys like media controls, you have to handle it through the function keys. If you want to change up the simplicity a bit, it does ship with gaming keycaps that you can swap out to give it a little bit of pop. And it also makes the typing gaming Keys a bit easier to use.
You can also change it up with the built-in RGB. You can either use the built-in profiles or make your own using Logitech's software. The same software also allows you to apply macro commands to the function keys if you're a macro kind of person. It also has a comfortable memory foam wrist rest. I can definitely appreciate it, not every keyboard ships with one of these. Besides that, the overall simplicity of the keyboard is what makes a Logitech G513 such an awesome keyboard.
Razer Huntsman Elite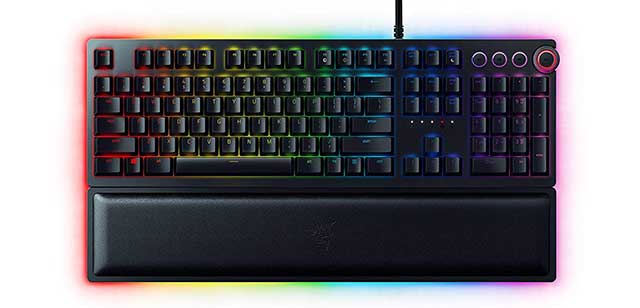 This is one of the more expensive boards on the list at a couple hundred bucks but it does have some cool tech. This is razor's newest keyboard and this one is pretty different from the rest of the keyboards Razor offer. Because it has razors new optomechanical switches. These switches feel like regular mechanical switches, but instead of actuation working via moving parts, it works via a light so when pressing the key it activates the light, which activates keystroke without any delay. This is really cool and we appreciate it. But for most of us using regular mechanical keyboards, we really aren't going to notice the difference.
It literally saves milliseconds, but the tech behind it is really cool and no one is denying it. The keys still feel like razor green keys which is pretty much like a cherry MX blue switch. So you'll have that clacky feel and sound. And it's also worth knowing that each key has a stabilizer so each keystroke is consistent, no matter where you press on the key. The board also has crazy RGB like every other Heiser product. But this time the wrist rest also has RGB, which is cool. It also has features like media keys and one of them is actually a dial. The dial is programmable via Razer synapse if you can get back to work. so, in that case, you can use it to adjust volume or brightness or something else you can think of.
There is also the Razer Huntsman which is the non-elite version of this keyboard.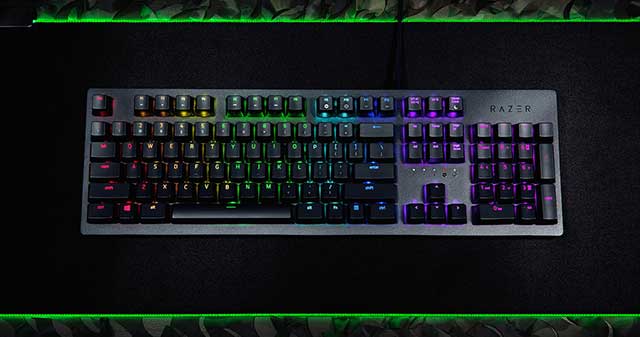 It lacks the multimedia controls, it's a little cheaper than the Elite version. Both the keyboards are over $100.
Corsair K70 MK.2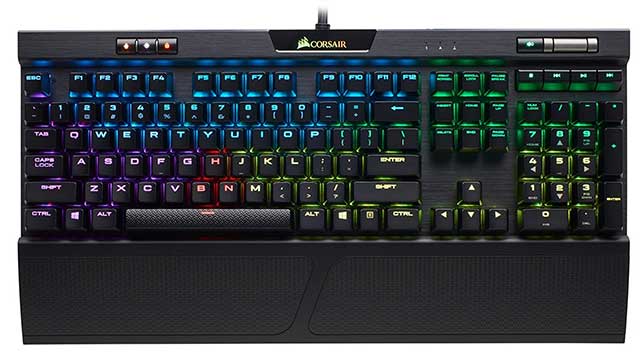 This one is a follow-up to the beloved Corsair keyboard. And with this mark 2 version, it seems like Corsair's approach was like "if it ain't broke don't fix it."
But visually they didn't change much from the last version, but it has a bigger wrist pad. That is just pretty sleek, I'm not gonna lie. It has cherry MX mechanical switches and a basic numeric-pad with slightly tweaked media control buttons. And this one has way better cable routing built-in on the bottom of the keyboard.
For gaming, it is a solid pick that just has stood the test of time. It is quick and it is easy to get used to. And as compared to $200 it still has a premium finish. If you're generally a fan of Corsair stuff, this is a safe bet, and we don't think it will disappoint you.
Now, those are ten gaming keyboards we can recommend for 2018. And we hope you liked our list of Top 10 Gaming Keyboards of 2018.