Season 3 has been exceptional regarding the game's meta, as no dominant meta prevails, resulting in a more balanced gameplay experience. 
However, Overwatch is undergoing significant changes as we approach the release of Season 4. 
Overwatch 2 players are very discerning regarding balance and fairness, prioritizing these aspects when playing the game. 
The Overwatch 2 Season 4 launch Overwatch 2 patch notes have been revealed by Blizzard a bit earlier than anticipated. 
As Blizzards Overwatch 2 patch notes typically come with these updates, they contain quite a few details. Notably, Mercy and Brigitte undergo significant changes. 
At the same time, the Overwatch 2 patch notes also delve into the abilities of the new hero Lifeweaver, welcome accessibility improvements, and important updates to competitive modes.
Let's dig for more details under the GamePike guide!!
Overwatch 2 Season 4: Launch Time and Release Date
According to an official confirmation from Blizzard, Overwatch 2's Season 4 launched on April 11, 2023, bringing a new Battle Pass to replace the current Season 3's. 
Additionally, players have been waiting for the Nascar Heat 6 release date and Titanfall 3 release date. So keep checking our site for more details.
Regarding the specific launch timing of Season 4, the developers have confirmed that the update was rolled out at 11:00 a.m. PT / 2:00 p.m. ET.
Players can unlock and utilize the new support hero, Lifeweaver, across the game's different modes. 
It is typically when most Overwatch 2 patches, including the beginning of new seasons, are released, adjusting for Daylight Saving Time.
Therefore, before it all comes to a head in April, get a head start with an early peek at the entire Season 4 Overwatch 2 patch notes. 
Full Overwatch 2 Patch Notes Season 4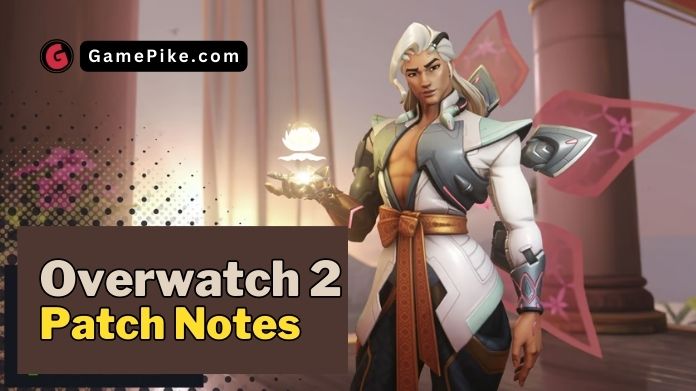 We have provided all Overwatch 2 patch notes; let's scroll down and explore more.
1.

Introducing Lifeweaver
Lifeweaver is now included in the lineup; it is the most highlighted thing in Overwatch 2 patch notes.
Healing Blossom:

 Hold for a healing blast to be charged. Release to heal a specific.

Thorn Volley: 

Quickly launch a swarm of missiles.

Petal Platform: 

Toss a platform that, when walked on, leaps higher.

Rejuvenating Dash: 

Rush towards the direction of your journey and softly heal yourself.

Life Grip: 

Bring an ally to your location while protecting them on the way.

Tree of Life: 

Plant a tree that quickly heals allies upon sprouting and continues to recover regularly as long as it survives.

Parting Gift: 

Drop a gift that heals the first opponent or ally to pick it up after you die.
2.

General Updates
Accessibility
A new feature that allows users to choose custom colors for health, armor, shields, and over health in health bars has been added. 
The preview feature for custom color settings has been enhanced, providing users with improved previews against different background options.
Stranded Spawn System
It's now easier to regroup with your team after being stranded in a spawn room! If a spawn room shuts down due to an objective being captured or lost, it will stay partially active for 7 seconds. 
Although hero swapping is still not permitted, other helpful features are now enabled in these "stranded spawns." 
The opposing team won't be able to access the locked doors, the healing field will continue to work, and players can utilize the Interact key to teleport quickly to the newly active spawn room.
MatchMaking
In Unranked modes, backfilling players will prioritize searching for individuals who are closer in skill level to the other players already in the match. 
Additionally, some minor optimizations have been implemented for larger groups to enhance the overall quality of the matchmaking experience.
3.

Competitive Updates
Competitive Mystery Heroes
Mysterious Heroes have been introduced to Competitive Play.

Season 1 premieres on March 14!
Competitive Screen Layout Update
Buttons have been incorporated into the Competitive Play menu, providing players with simple access to the tier legend, leaderboard, and competitive progress screens.
Top 500 Leaderboard Update
Players can now easily access the tier legend, leaderboard, and competitive progress screens by adding buttons in the Competitive Play menu.
4.

Tank Changes
Reinhardt
Armor health has been lowered from 300 to 250.

The base health level rose from 175 to 200.
While it may appear to be an unusual adjustment and perhaps even a power reduction, having a higher base of health is always advantageous in a world where Sombra's dominance is growing. 
600 HP remains a considerable number despite being altered for a hefty hero wielding a massive hammer.
Sigma
Accretion
Impact damage has been lowered from 60 to 40. (80 damage total with an explosion)

The knockdown time has been doubled from 0.8 to 1.1 seconds.
Blizzard doesn't like tanks getting one-shot kill combos. This change removes many of Sigma's ability to deal with dive Heroes such as Genji.
However, the ability to kill anyone with 200 HP with one cooldown and a single click as a Tank was maybe a bit much.
Cassidy
Base health reduced from 225 to 200
Magnetic Grenade
Damage reduced from 131 to 120
According to reports, Blizzard seems to be opposed to tanks having the ability to execute one-shot kill combos. 
Although this modification significantly reduces Sigma's effectiveness against dive Heroes like Genji, it is necessary since the ability for a Tank to eliminate a character with 200 HP using just one cooldown and a single click may have been potent.
Sombra
EMP can now disable Blizzard
Following a significant nerf to Sombra at the beginning of Overwatch 2, she has undergone three consecutive patches that have increased her power. 
As a result, she now serves as a formidable and direct counter to a more significant number of Ultimates than any other hero in the game. This may be necessary compensation, especially considering that Brig has regained her stun ability.
5.

Support changes
Brigitte
Rally
Brigitte now has a health pool of 100 restorable armor for the duration of Rally.

Brigitte, unlike her close companions, no longer progressively develops temporary health.

Rally has now upgraded her Barrier Shield, increasing its size and health.

During the ultimate, barrier health rose from 300 to 750.

Shield Bash now hits several adversaries and temporarily stuns them during Rally.

The bonus movement speed has been lowered from 30% to 15%.
Repair Pack
Range reduced from 30 to 25 meters
The change from providing allies with extra armor to temporary health reduced Rally's effectiveness and required significant time to accumulate its defensive advantages. 
This redesign aims to maintain its status as an ultimate defensive ability while providing an immediate impact by giving an increased armor health pool upfront and an improved barrier that can be employed to shield teammates as they accumulate temporary health or stun foes.
Ana
Sleep Dart
Tank heroes' maximum duration has been lowered by 30%, from 5 to 3.5 seconds.
Mercy
Caduceus Staff
The healing rate per second increases from 45 to 55.

Recovery is no longer boosted for teammates with less than half health.
Guardian Angel
The cooldown time has been shortened from 2.5 to 1.5 seconds.

The length of the Jump and Crouch cancel active ability state has been raised from 1.0 to 1.5 seconds.

The functional ability state of Jump and Crouch cannot be actively stopped to begin the cooldown early.
Valkyrie
Passive healing in the support position is now active during the duration of Valkyrie.
Moira
Fade
It may now be used during Coalescence.
Coalescence
The bonus movement speed has been lowered from 50% to 40%.
Biotic Grasp
The length of the lingering heal has been raised from 2 to 3 seconds.
6.

Map Updates
General Updates
Map Pools have been turned off, and all maps are in rotation.
New Arcade Map: Talantis
Talantis will be available for a short period between April 25 and May 1.
Season 4 Map Lighting
Push
New Queen Street – Dawn (New)

Colosseo – Morning

Esperança – Morning
Hybrid
Blizzard World – Morning

Eichenwalde – Morning

Hollywood – Night (New)

King's Row – Evening

Midtown – Morning

Numbani – Morning

Paraíso – Morning
Escort
Dorado – Night

Havana – Night

Watchpoint: Gibraltar – Evening

Junkertown – Morning

Circuit Royal – Morning

Rialto – Morning

Route 66 – Morning

Shambali Monastery – Night
Control
Antarctic Peninsula – Night

Busan – Morning

Ilios – Morning

Lijiang Tower – Night

Nepal – Morning

Oasis – Evening
7.

Workshop Updates
Introducing Workshop Projectiles
Three new Workshop actions have been introduced, providing the ability to create either a fully functioning projectile or a cosmetic projectile effect.
Make a Projectile 

Make a Homing Projectile

Make a Projectile Effect
There is also a similar workshop addon that adds 19 projectile visual effects.
Last Words
The Overwatch 2 patch notes reveal significant changes to heroes, maps, and game modes, and the community eagerly anticipates the release date.
So what are you waiting for? 
Get ready to dive into the latest changes and improvements in Overwatch 2 Season 4 with our comprehensive patch notes!