Looking to catch a shiny Pokemon Go Litten? Is shiny Litten still available? All your queries end here, as you landed on the perfect page.
This article has all the answers. Learn how to increase your chances of catching a shiny Litten and where to find them in the game.
Pokemon Go is indeed one of the first games that popularized Augmented Reality. Pokemon is an exciting free-to-play mobile gaming app developed by Niantic, Inc. in July 2016 for
The Pokémon Company. The gameplay of this application seems to be significantly simple to get, but it is not.
It depends entirely on the smartphone's GPS and the camera lens and allows the users to catch hold of and seek well-known creatures known as Pokemon in real-world locations around them.
Also, it will enable the players to capture the Pokemon while being in touch with the real world rather than in an entirely different virtual world.
This game also hosts various events where you can capture some exotic and shiny Pokemon, such as; Oricorio, Litten, Comfey, and more.
One such event is the 'Welcome to Aola' event, where you can find a famous Gen 7 Pokemon, Pokemon Go Litten.
So, if you have Pokidiction, this comprehensively detailed article is curated just for you.
Here we will share some important details about the Pokemon Litten and the Shiny Litten character in Pokemon Go that you should be aware of.
And also whether the Shiny Litten character is still available or not. If you are a gaming enthusiast, check out the top game releases in this running year.
So, now without any further thought, let's get rolling.
What About Pokemon Litten?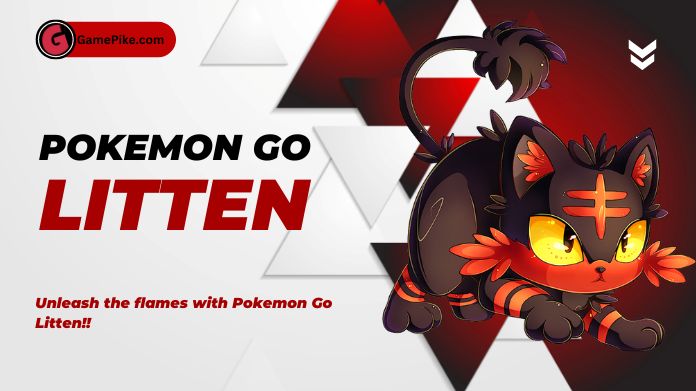 Pokemon Go Litten is an adorable cat-like Pokemon with black fur and red stripes. The stripes resemble a tiger, with yellow eyes and big tufts of red hair on his cheeks instead of whiskers.
You can find this Pokemon character as a 5 km Pokemon egg in the wild. The Fire Pokemon in the Welcome to Aola Event is also known as this Gen 7 Pokemon.
This character is much like an actual cat that seems to be highly emotionless and cold from the outside and is also quite difficult to open up with. But once it opens up emotionally, it is incredibly affectionate and kind.
The best moves of Pokemon Go Litten are the Flame thrower and Ember, which it uses while attacking in the gym area.
These moves are among the best in the PvP Battles and have one of the highest DPS. Not only this, but the moves of Litten also include Intimidating Swap Out, Will-O-Wasp, U-Turn, Fake Out, and Flare Blitz.
As it is a fire Pokemon, the Litten cat is the strongest when in contact with fire, steel, bug, ice, and grass, but on the other hand, it becomes the weakest when it comes close to objects such as; rock, water, and ground.
This Pokemon cat character can evolve in three stages. To upgrade Pokemon Go Litten into Torracat, you must feed it 25 candies.
You can upgrade the Torracat further into Incinerator later by spending 100 candies. But the developers have made certain restrictions regarding that too.
To convert a Pokemon Go Litten into a Torracat, you can only do so after it reaches level 17. Similarly, you can transform a Torracat into an Incineroar only after it reaches level 34.
Also, if you are a gamer with an active Discord user and while you upload your profile picture on Discord, you might experience a blurry PFP but don't worry; you can fix it by following our guide.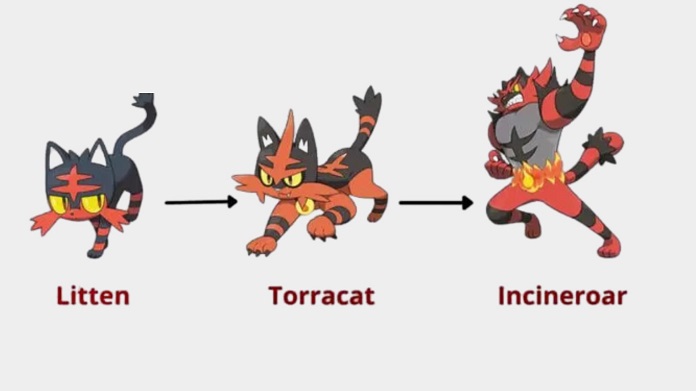 What is a Shiny Litten?
It is an extremely rare recolored form of Pokemon Litten that only differs from the original form in a few ways.
The only distinction between the Shiny Litten and the original Pokemon Litten is that the shiny version of Litten has white fur instead of black.
Rest all the features and properties in them are the same. But sadly, the Shiny Litten version of Pokemon Go Litten is currently unavailable.
Also, there is no announcement from the developers about the return of the same in the game.
So, you must all wait until the next announcement to equip it.
Frequently Asked Questions
Q. At What Levels Does Pokemon Litten Evolve?
Ans. At level 17, Pokemon Go Litten evolves into Torracat; at level 34, the Torracat becomes Incinerator by feeding a certain amount of candies.
Q. What Are the Base Stats of Pokemon Litten?
Ans. They are as follows:- HP- 45 Attack- 65 Defense- 40 Special Attack- 60 Speed- 70 Special Defense- 40
Q. Where Did the Poken Litten First Appear in Pokemon Go?
Ans. This cat-like Pokemon Go character first appeared in the Pokemon Sun and Moon series episode' Alola to New Adventure!'.
Q. What is the Gender of Pokemon Litten?
Ans. Pokemon Go Litten can either be a male or a female. But there are about 87.5 % chances for the male cat to appear in the game and 12.5% chances of that of the female version of it.
Q. What Does This Cat Do in Its Free Time?
Ans. Whenever Pokemon Litten gets the slightest free time, it sits down to brush its fur with its tongue. The loose fur present in its stomach acts as fuel for fiery moves.
Let's Wrap Up
As you saw in this comprehensively detailed article, Pokemon Go Litten is a perfect example of a powerful Pokemon character.
It is a fire starter Pokemon that is extremely fantastic and can be used in both competitive and casual gaming scenarios.
Now that you know about the characteristics of this wonderful character try to capture him and make him your companion in the terrific journey of Pokemon.