Twitch chat logs have given users a method to react to the video in real-time while also letting the streamer know what they're thinking.
Being a Twitch streamer, keeping your chat free of offensive or cruel comments, swear words, and hate speech is critical. But don't worry, as we are here to assist.
To provide a great conversation experience for all of your viewers, you must monitor and manage your Twitch logs.
Let's find out about them in a bit of detail.
What is Twitch?
Twitch is a famous gaming network where users can watch their favourite players stream live.
Following the emergence of the 2020 pandemic, Twitch's popularity skyrocketed, especially when many individuals have resorted to gaming for the entertainment of the shutdown.
It is surprising to know that over 26 million individuals utilize it every day(DAUs).
What is Twitch Chat Logs?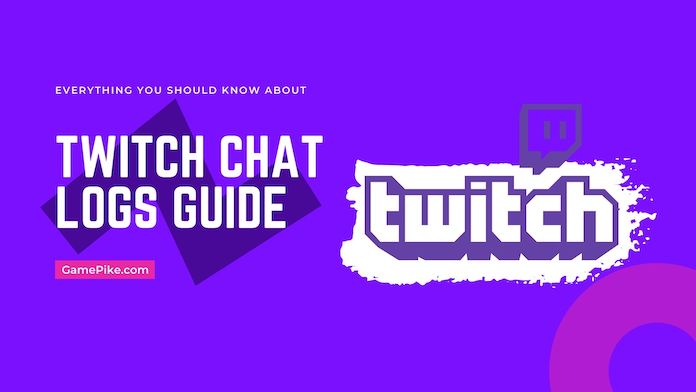 Twitch chat, as previously stated, allows streamers and viewers to interact while watching streams. The conversation logs are nothing more than a broadcast's whole chat history.
Checking the chat logs and taking the necessary action is one technique for streamers to monitor and manage their Twitch communities.
Streamers and moderators can use Twitch chat logs to remove abusive or harmful comments and suspend violators.
How to Check Twitch Chat Logs?
Here's the comprehensive guide to the different methods to check chat logs in Twitch.
Without further ado, let's get into it!!
1.

User Search Command

Twitch's user search feature allows you to look for specific viewers by their usernames. It's also a straightforward command that you may type into your chatbox.
Type'/user' followed by their username into the chat box of your channel and click Enter.
That's it; Twitch will now show all of the comments made by that specific user in your stream's chat.
You may also check how long that individual has been a follower when their account got created and their ban history.
The user search query does not show any comments that have to get removed by a moderator.
2.

Video on Demand System

A stream is preserved on your channel as a VOD once it has been completed (video-on-demand). As a result, you may see the entire stream and the live conversation that correlates to that stream when you watch the VOD.

Also, if you want to review the conversation logs in detail, you may view your video and monitor the live chat.

This approach takes a long time to complete because there are no filters, and you must view the entire broadcast.

It is good since it allows you to see comments entered by your viewers watching your stream, and you can also see any comments that got eventually removed by moderators on VOD.
3.

Using Third-Party Software to chatbox

You can also utilize a third-party chatbot tool like Chatty (Chatty — Twitch Chat Client) to keep track of your twitch chat logs.

Chatty is a Java-based open-source application with several features, including automating conversation moderation and downloading chat history.

This software has to be bought, registered, and authorized until it can get utilized. The bots will connect to your Twitch to start checking in on existing conversations.

Chatty has two versions: Nightbot and Streamlabs.
How to Download Twitch Chat History?
Downloading Chatty is the simplest way to see your conversation log after a stream. It is a free, open-source program that provides streamers with a variety of chat-related features.
One such feature is the option to save the database to your computer for future use.
A viewer-graph of your current session, auto-moderation assistance that approves or denies messages based on pre-set parameters, and a list of your most recent 100 followers and subscribers are among the other features.
The software may also display Twitch emotes, badges, and the colour of user names. While these elements aren't necessary, they do make it easier to read.
How to Review Twitch Chat logs as a Mod?
You may check the conversation logs of a specific viewer on a channel by clicking on their name when in Twitch's moderator view. Here's how it gets done:
Twitch's mod mode may get accessed by tapping the sword icon in the screen's lower right-hand corner.
When a person leaves a comment, click on their name or look for them in the channel's viewer list. Click on someone's name to contact them.
Scroll up in their messages to see what they've said earlier. That may help you better comprehend what they were trying to say in context.
Our Thoughts
This is all about the twitch chat logs. The users may want to review your chat history for various reasons.
Whether to see what your viewers thought about a particular segment of your stream or to check how they interacted with one another.
Your discussion can help you discover more about your audience so you can tailor your content accordingly.