FNaF, or Five Nights at Freddy's, is an American media franchise that started in 2014. Scott Cawthon developed this program, which many people worldwide have followed.
The game offers fascinating and unique gameplay. In this fictional horror survival video game, the main location is a family pizza restaurant, where the player plays the role of a night-time employee.
The players can use lights, doors, vents, and security cameras for defense. And during the gameplay, the player will meet several animatronic characters from whom he has to save himself.
If you are an avid player of this game, you might have noticed that it is like Poppy Playtime but with a large setup and more engaging storyline gripping gameplay.
This is a fictional game series that also includes some media and other spin-off games. The franchise of FNaF has a worldwide fanbase, and thus the game is available internationally.
Various characters in this game play an important role. In this descriptive article, we have mentioned all the FNaF characters names for you to know and be aware of.
Let's get into the list of names!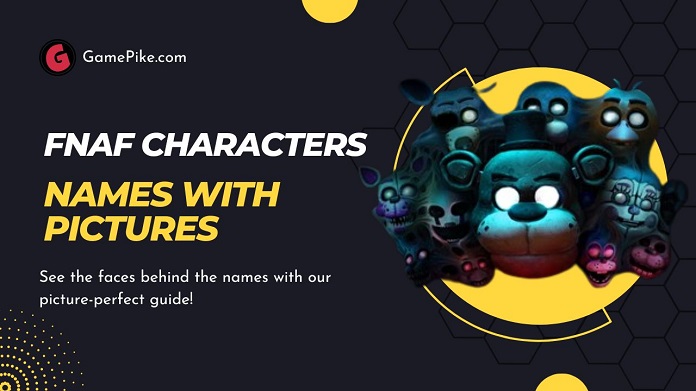 FNaF Character
FNaF is playable on PC, iOS, Windows Phone, Android, Play Station 4, Nintendo Switch, and Xbox One.
This fun and entertaining game is set up in a family pizza restaurant, running with name Freddy Fazbear's Pizza, where the player takes up extremely interesting roles.
The best part about this game is its expansion to the minigames, animations, fan-arts, and more that the players will get in between the main gameplay.
Due to its horrifying genre, all the characters you will meet in the game have a spooky appearance. The game uses Animatronics.
FNaF uses a wide range of animatronic characters who have distinct abilities and appearances. The entertainment industry and video game developers widely use robotic characters.
Keep scrolling further to learn about the FNaF characters names you will meet during the gameplay of Five Nights at Freddy and their major traits.
List of All the FNaF Characters Names
1.

Freddy Fazbear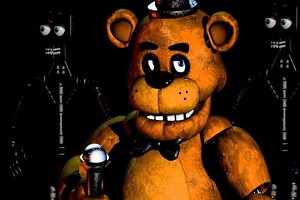 This character is the real antagonist of the FNaF game. An animatronic brown bear is a leader at the Freddy Frazbear Pizza store.
He is considered the most active character during the night time of the gameplay. The player must also keep a close eye on him to avoid being murdered.
His job is also entertaining children with his fellows, Chica and Bonnie. The character of Freddy also knows how to sing a song.
And he does the same before making a jumpscare. In the FNaF game, there are multiple variations of Freddy. Such as; Shadow Freddy, Nightmare Freddy, Phantom Freddy, Golden Freddy, and more.
2.

Chica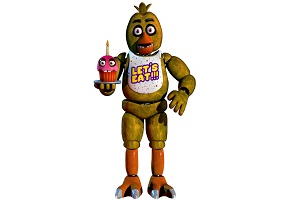 This character is an animatronic yellow chicken who roams around in the kitchen area during the night shift.
This duck-like-looking character has a sphere face, purple eyes, black eyebrows, and an orange beak and tries to fit humans into Freddy Frazbear's suit.
He is also one of the backup singers in the FNaF franchise. Chica also wears a bib that says, 'Let's Eat.' She has a gluttonous character and can be easily distracted by food.
This character can enter the office area if the player is not attentive.

3.

Bonnie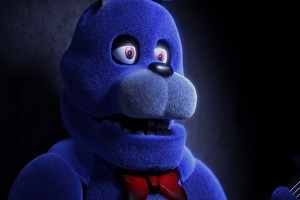 Bonnie- As the FNaF characters names suggests, Bonnie is the name of a rabbit who is the most active during the night shift at Freddy Frazbear's restaurants.
This blue animatronic rabbit is the guitarist of Freddy Fazbear's band. After four years of launching the horror game, Bonnie was replaced by the Toy Bonnie.
But, still, this character is quite vindictive, active, and sadistic during the night. People admire and enjoy this spooky puzzle-adventure horror game.
You may also check out Little Nightmares, one of the most popular horror game franchises.
4.

Foxy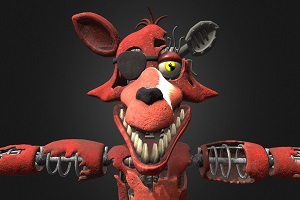 Foxy is a red animatronic fox character who is the least active in the restaurant during the night shift.
This character has the sharpest teeth of all the Animatronics, and his job is to entertain children and stuff humans into Freddy Frazbear's suit.
5.

Toy Freddy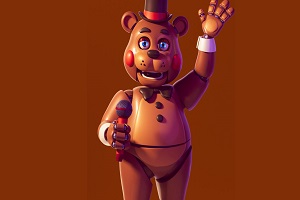 The character of Toy Freddy is an updated version of Freddy Frazbear, who is quite active and less aggressive than the original Freddy, who is seen in the central area.
Toy Freddy is a central animatronic in the game, often seen on the Show Stage with his toy counterparts, Toy Bonnie and Toy Chica.
He is one of the Animatronics that will try to enter the player's office in an attempt to attack them.
6.

Toy Bonnie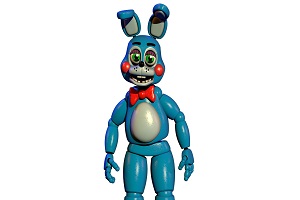 The upgraded version of the original Bonnie is less aggressive than it and often appears in the stage area.
Toy Bonnie is known for his playful and mischievous behavior, constantly moving around the restaurant and popping up unexpectedly to surprise players.
He is also one of the more active Animatronics, frequently appearing in the player's office or hallway and making loud noises.
7.

Golden Freddy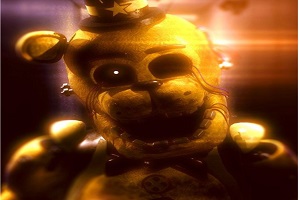 In certain circumstances of the game, you will see a golden version of Freddy Frazbear.
He can appear unexpectedly near the office area and can kill people if they are not careful.
Golden Freddy can occur in the player's office, often accompanied by a loud noise and the game's infamous jump scare.
8.

Toy Chica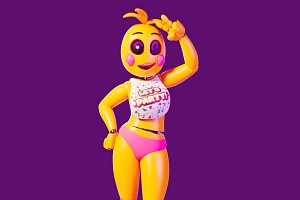 This is an upgraded version of the Chica character.
The Toy Chica character is highly active during the night shift and roams around in the stage area.
Toy Chica is one of the animatronic characters in the game that roam the halls of Freddy Fazbear's Pizza during the night.
9.

Balloon Boy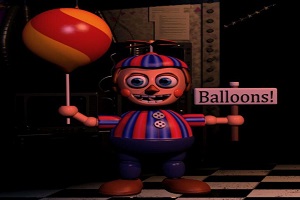 This name in FNaF characters names is another series antagonist with a cute yet scary outlook. It is an animatronic character with a round-balloon-like head.
He resembles a toddler who wears a propeller hat. He is a shy guy who only says dialogues such as 'Hi' and 'Hello.'
This character is not aggressive but can dim the lights of the setting so the player can be vulnerable to the other Animatronics.
10.

Mangle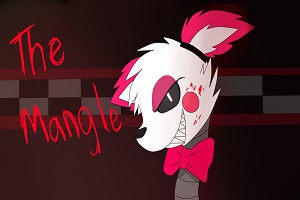 Mangle looks like a dismantled and twisted version of the Foxy.
This character is highly active during the night shifts and can move aggressively to the office if the player is not attentive.
11.

The Puppet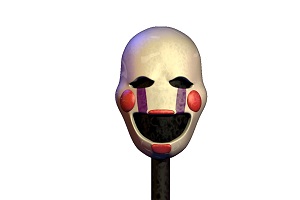 This animatronic character controls the other characters in the game.
It can kill the player at one instance if they are not careful and is only active in certain circumstances of the game.
In the game, The Puppet is often seen hiding in a music box, which players must wind up to prevent it from escaping and attacking them.
12.

Springtrap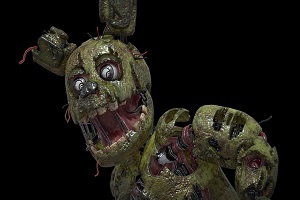 In the FNaF 3, you will find a yellow-green animatronic rabbit.
This name among the FNaF characters names is Springtrap, the main antagonist of season 3 of the game.
He is mostly found in the storage room and is considered the older version of Bonnie.
13.

Shadow Freddy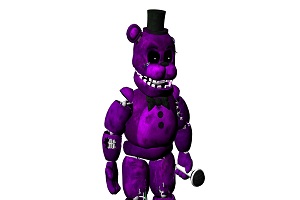 This character is a dark version of Freddy, which players can see occasionally.
Shadow Freddy does not move from its place and is also not aggressive.
Instead gives clues and hints to the player and assists them in moving to the next level.
14.

Phantom Freddy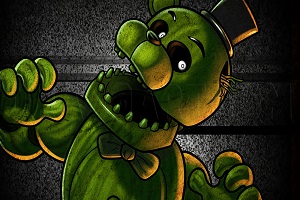 The main character of Freddy Frazbear has a ghost version of Phantom Freddy.
This character is active during the night and less aggressive than the original Freddy Frazbear.
Phantom Freddy is one of the many phantoms that haunt the protagonist in the third game.
15.

Shadow Bonnie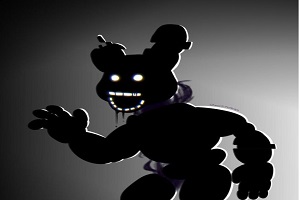 This character is a dark version of Bonnie which the players can only see in certain circumstances.
It is not an aggressive character but gives the players hints and clues.
Shadow Bonnie appears as a hallucination, and its purpose is to guide the player to a secret minigame called "Glitchtrap."
16.

JJ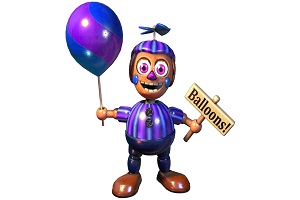 JJ's character resembles a female Balloon Girl, as she wears a propeller hat like Balloon Boy and has purple eyes. JJ keeps hiding from the players; hence she cannot be often seen in the game.
This character has a minor role in the Five Nights at Freddy franchise, part 2.
Listed below is the name of all the FNaF characters names that you must be aware of:-
FNaF 1 Character Names:-
Classic Freddy
Classic Bonnie
Classic Chica
Classic Foxy
Classic Golden Freddy
Cupcake
Endo-01
FNaF 2 Character Names:-
Toy Freddy
Toy Bonnie
Toy Chica
Toy Foxy
Toy Cupcake
Ballon Boy
Mangle
JJ
Shadow Bonnie
Paper Buddy
Withered Freddy
Withered Bonnie
Withered Chica
Withered Golden Freddy
Shadow Freddy
Puppet
Original Freddy
Original Bonnie
Original Chica
Original Foxy
Original Golden
Freddy Endo-02
FNaF 3 Character Names:-
Springtrap
Phantom Freddy
Phantom Mangle
Phantom Chica
Phantom Foxy
Phantom Ballon Boy
Phantom Puppet
Shadow Cupcake
Spring Freddy
Spring Bonnie
Golden Cupcake
Paper Bonnie
Paper Freddy
Shadow Classic Freddy
Withered Spring Bonnie
Spring Endo
FNaF 4 Character Names:-
Nightmare Freddy
Freddles (3)
Nightmare Chica
Nightmare Bonnie
Nightmare Cupcake
Nightmare Foxy
Nightmare Mangle
Nightmare Fredbear
Nightmare Baloon Boy
Nightmarionne
Jack-O-Bonnie
Jack-O- Chica
Jack-O-Pumpkin
Plushtrap
Nightmare Endo
Fredbear
Endoplush
New Spring Bonnie
Shadow Fredbear
Shadow Spring Bonnie
FFPS:-
Scrap Baby
Scraptrap
Molten Freddy
Rockstar Freddy
Rockstar Bonnie
Rockstar Chica
Rockstar Foxy
The Parrot
El Chip
Funtime Chica
Funtime Cupcake
Music Man
Mr. Hippo
Happy Frog
Pigptach
Security Puppet
Mr. Hugs
Pan Stan
Cleaning Bucket
Helpy
Candy Cadet
Lemonade Clown
Fruit Punch Clown
Gumball Swivelhands
Prize King
Egg Baby
Unwithered Scrap Baby
Unwithered-MoltenFreddy-Mask
Minigame Puppet
Scrap Baby Endoskeleton
Unwithered-MoltenFreddy-Mask Endoskeleton
Rockstar Endoskeleton
Funtime Chica Endoskeleton
Funtime Cupcake Endoskeleton
Sister Location:-
Circus Baby
Ballora
Funtime Freddy
Bon Bon
Funtime Foxy
Bidybabs
Electrobab
Little Joe
Magician
Gypsy
Baby Head's
Ennard
Baby Endoskeleton
Freddy Endoskeleton
Bonnie Endoskeleton
Foxy Endoskeleton
Bidybab Endoskeleton
Bonnet
Yenndo
Lolbit
Dark Springtrap
Beta Funtime Freddy
Beta Funtime Foxy
The Twisted Ones:-
Twisted Freddy
Twisted Bonnie
Twisted Chica
Twisted Cupcake'
Twisted Foxy
The Wolf
Twisted Endoskeleton
Scrapped Bunny Animatronic
Scrapped Bird Animatronic
Scrapped Chimp Animatronic
Scrapped Frog Animatronic
Scrapped Dog Animatronic
Their Unwithered versions.
The Silver Eyes:-
Ella Stanley
Theodore
UnwitheredTheodore
Unwithered Stanley
Henry Suicide Bot
Frequently Asked Questions
Q. What Are the Main Animatronics of FNaF?
Ans. Below mentioned is a detailed list of significant animatronic FNaF characters names found.:-
Bonnie
Freddy Fazbear
Foxy
Chica
Toy Freddie
Toy Chica
Toy Bonnie Mangle
Q. How Many Total Characters Are There in the FNaF?
Ans. If we include all the games of FNaF, there are about 130+ FNaF characters names in total.
Q. How Many Games Are There in the FNaF Franchise?
Ans. There are about number of games that are a part of this ultimate horror game franchise, namely:-
Five Nights at Freddy's
Five Nights at Freddy's 2
Five Nights at Freddy's 3
Five Nights at Freddy's 4
Five Nights at Freddy's: Sister Location
Freddy Frazbear's Pizza Simulator
Ultimate Custom Night
Five Nights at Freddy's: Help Wanted
Five Nights at Freddy's: Security Breach
Our Thoughts
Thus, that was all the necessary information about all the FNaF characters names that you should be aware of before starting to play this vast franchise game.
It is famous worldwide and entertains people who are into the horror genre.
So, if you are also looking for some spooky gaming vibes, then playing games of the Five Nights at Freddy franchise will be the best option for you to choose.