Iteration. That's the name of the game when it comes to sports titles. Whether you're talking about FIFA, NBA, NHL or any other series, as soon as the subsequent annual game releases, there'll be one question rocketing around: Is it that different from the previous title?
Well, amid bug fixes, roster updates, tweaked mechanics, and updated graphics NHL 22 is a step up from 21. But does that make it the best version of the game so far?
Get your hands on NHL 22 and any of its predecessors for a fraction of their retail price at Game Camp, the home of discount game keys.
One Step Forward, Two Steps Back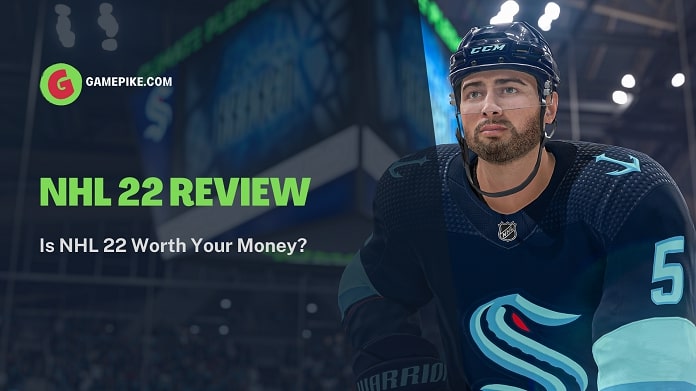 If you ask any long-running fan of the series what they thought about NHL 21, you'll likely get the same response—sheer disappointment.
On the surface, this was down to the bizarrely confusing tile system used for the menus in NHL 21, but that was just the start.
With known player exploits, such as unstoppable cross-crease passes, unstoppable goalie passes and frustrating tripping animations, 21 caused many players to skip out on an annual release.
When news came of NHL 22 porting the game into the frostbite game engine, players were worried about the latest game.
It might become another hiccup for the series — given that when the NFL games were ported to frostbite, the game became riddled with a massive amount of bugs making the game almost laughably glitchy.
Fortunately, NHL 22 didn't fall into the same trap as its footballing predecessor, leaving a lot to love about the new title, making it decisively the best NHL game in at least two years.
Refined Mechanics
Poke checks, passing, and targeting all see notable improvements from the game's previous iterations.
While this may not seem to be the case when players first pick up NHL 22, given that the increased accuracy requires more player skill, it opens the game up for much more precise play—rewarding those who have the time to master the mechanics.
Given cross-crease goals are still somewhat overpowered—but that's understandable as, well, they are in real life. But players of NHL 21 will be particularly thankful that poke checking has finally been improved to the point that they are usable.
As previous instalments saw, poke checks cause penalties more often than not. EA also added "X-Factor" abilities, providing players with an extra edge in particular aspects of the game—be it speed, control or keeping.
While veteran players will remember similar mechanics also existing within the 2000s versions of the franchise, most players won't notice the difference here apart from the "X-Factor" appearing in a player's stats.
All-star Modes
Being a pro mode offers you the chance to, as it says, become a pro. Working up into the big leagues while also looking after your player off the rink by interviewing and training.
The 'World of Chel' mode takes "be a pro" online, putting you up against others for the additional challenge—for those who are looking to get their competitive kick.
Hockey Ultimate Team enters its second season, allowing you to create and manage your team of cards playing online or against the CPU, competing for leader board kudos and other rewards.
Finally, NHL Threes switches up the game, reducing teams to, yes, three and exposing you to some crazy arcade-style hockey.
You can even pull out mascots in this mode, bolstering that arcade fun further and making it the perfect mode for casual players.
Next-Gen
Coming out on next-gen hardware and in the frostbite game engine gives NHL 22 a clear edge over its predecessors in terms of graphics. This is easily noticeable from the get-go, but let's be honest, we all anticipated this given the new hardware.
PlayStation 5 players will be indulged by plenty of haptic feedback through the DualSense controller, which certainly helps to refile play and give it a more tactile feel.
Ultimately, NHL 22 is what long-standing fans of sports games would expect—another iteration on a similar formula.
The game has stepped forwards and solved many of the issues of its immediate predecessor. They are bulking out the variety of game modes graphics and refining the mechanics in the process.
Although players are unlikely to lord NHL 22 as the next NHL 14—an almost holy title within this space—it is a game that will keep players hooked for hundreds of thousands of hours.
Our Opinion
After reading the complete article, the question is simple; do you want to play a hockey game? If so, NHL 22 is likely to scratch that itch, especially if you're playing online or with the most refined control system to date.
And, well, if the answer is no. then why are you still here?
Happy Gaming.!