Are you ready to take your gaming experience to the next level with some special bonuses? Look no further because we've got the finest Anime Warriors codes collection for you.
But wait a minute, have you ever wondered about the inner workings of these codes? Or have you thought about the enormous rewards they hold?
Now is the moment to immerse yourself in the exciting world of Anime Warriors and unravel the mysteries behind these game-changing codes.
In addition to Anime Warriors, we offer special game codes for titles like Roblox Soul War codes.
We're all ready to reveal the mysteries of Anime Warriors codes step by step in this helpful tutorial. We'll show you how to get to them, where to enter them, and what beautiful benefits await you.
In the realm of anime warriors, we must not overlook the extraordinary might of some of the most formidable female anime characters. Right here is our list of the finest powerful anime heroines.
Get ready to level up your gameplay, collect unique prizes, and shine brightly in intense confrontations. The universe of Anime Warriors is yours to conquer!
What Are Anime Warriors Codes?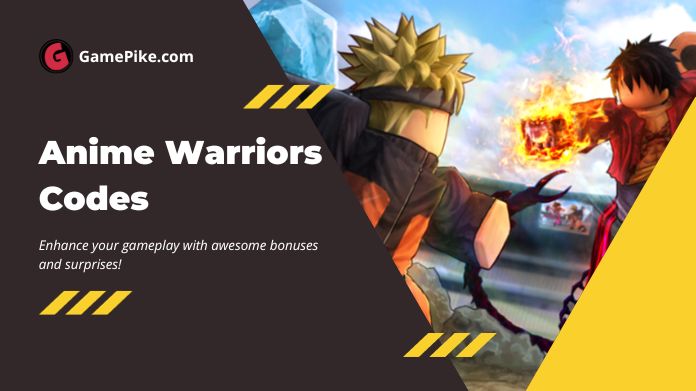 One of my favorite Roblox experiences is Anime Warriors, which allows me to recruit my favorite characters and conquer the leaderboards.
Because this game is a gacha, I met many renowned heroes from my favorite anime and manga.
Becoming the greatest of the best can be challenging, so I always want to receive a little more aid, free equipment, and in-game boosters to catapult my character to the top.
Using Anime Warriors codes is the fastest method to progress. If you're a newbie, these codes will assist you in enhancing your chances in this perilous environment.
These codes will provide several alternatives for improving your game by utilizing Crystals and other free goodies. Make certain
Use coupons frequently to keep your well-deserved spot at the top. These free things will help you prepare to level up your heroes and overcome the most deadly foes.
How Do Redeem Anime Warriors Codes?
While the process is pretty simple, don't hesitate to ask for help. Here's a friendly step-by-step guide to make sure you're on the right track:
Launch Anime Warriors from the Roblox app. This is where the journey begins!
Once you've entered the game and selected your character, search for the Twitter symbol labeled 'Codes.' You'll see it on the right side of your screen.
As part of the initial setup, follow the official Anime Warriors Twitter account. It's a simple click that keeps you in the loop.
Then, enter your Twitter ID in the supplied input box, including the "@" sign. To confirm, use the 'Verify' button. It's simply to make sure you're all set up.
After verifying your identity, enter one of the active Anime Warrior codes from the list above and click 'Redeem.' A notification will appear on your screen confirming your successful code usage if the code is legitimate.
Remember to click the Redeem button once you've correctly input the code. The magic happens here, and you'll receive your goodies immediately. Take advantage of the goodies!
All New Active Anime Warrior Codes
UPDATE2 – 250 free gems
Follow@NyxunRBX – Free Crystals
Follow@_DevCrow – Free CrystalsFollow@Robro1030 – Free Crystals
Follow@9sNoxxy – Free Crystals
Follow@ZartaniaRBLX – Free Crystals
Follow@dev_exile – Free Crystals
Follow@Mirzoldyc – Free Crystals
Follow@EchoZenkai – Free Crystals
Follow@oreI_orL – redeem for gems
2022RELEASE – 150 Crystals
RELEASE – 150 Crystals
Expired Anime Warrior Codes
BOOM350k—Redeem for 350 Gems
CRAFTINGSHERE—Redeem for 150 Gems
210kLikesJoeMama – 15 Product Essence
ApeirophobiaChapter2 – 10 Product Essence
ULTIMATES400KMATS—Redeem for 40 Random Materials
2022RELEASE—Redeem for 150 Crystals
RELEASE—Redeem code for 150 Crystals
UPDATE1MH – Redeem for 300 Crystals
WOAHFiftyKLikes – Redeem for 150 Crystals
ULTIMATES400KGEMS – 400 Gems (You can only use one of these!)
TWITTERWENTCRAZY150K – 250 Crystals
OPENTEST – Free Rewards
125KTHUMBSUP – 200 Crystals
THANKS4100KLIKES – 150 Crystals
SeventyFiveK – 100 Crystals
Twenty5kLikes – 150 Crystals
Incredible10k – 2x EXP Booster for 30 Minutes
5kL1kes – 2x Yen Booster for 30 Minutes
Our Thoughts
The Anime Warriors codes are your key to a world of adventure within the game. You're not simply playing with these codes but taking on new challenges and earning fantastic prizes!
So, why bother? Dive into the action; you may find even more codes on your epic anime voyage.
Are you ready to harness the power of codes and take your gaming to the next level? Let's go on this journey together!
Frequently Asked Questions
Q. How Can I Get More Anime Warriors Codes?
Ans. To discover Anime Warriors codes, make sure to follow the developers of the game, AnimeWarriorBZ, BlockZone, and etc on Twitter.
Q. Is Anime Warriors Available for Mobile or Console Play?
Ans. Anime Warriors is available on mobile devices, but it's not console-compatible, so you won't be able to play it on your Xbox.