The Clash of Clans is one of the best real-time strategy-based mobile games, with a massive audience of about 100 Million active users. 
However, this game's success and gaming trend has made many competitors enter the market that constantly launch games like Clash of Clans. 
The many players of this 2012-launched mobile game are constantly trying to make a perfect kingdom by forming clans, training soldiers, and attacking the kingdoms built in other clans. 
They also focus on creating more buildings, casting spells, collecting various in-game items, and completing clan missions. 
While fun gameplay COC has a worldwide fan base, users ask how to change the name on Clash of Clans. For that, check out our latest post.
Thus, this game of Clash of Clans developed by Supercell proves to be one of the best and the oldest RTS mobile game that features persistently in the world. 
Thus, here's presenting the list of 10 games like Clash of Clans that are amazing. 
Let's look at the same so you can try exploring and playing new games on your PC.
List of Games like Clash of Clans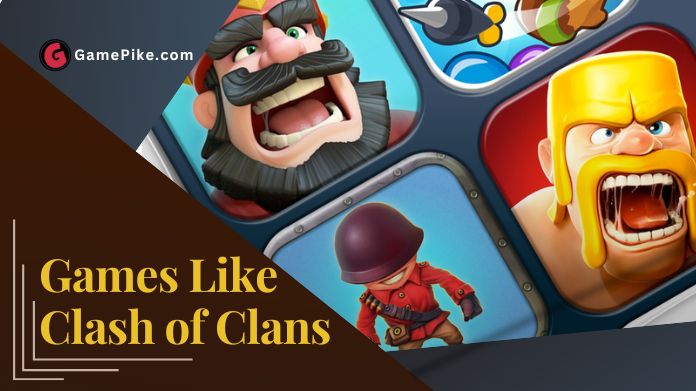 Are you looking for some clan-building and base-conquering games like Clash of Clans? 
Then look no further, as below mentioned is a numbered list, especially curated for you by scouring over the app stores. 
All the games mentioned below are strategy-based and will keep you hooked through their challenging missions and similar gameplay. 
If you crave virtual domination, we are sure the below-listed games will meet your gaming expectations. 
Before that, if you want to know how to hack Clash of Clans, read our latest post and earn exclusive in-game cash, gems, or rewards. 
So, let's not wait any further, and scroll down below to get acquainted with fun games like Clash of Clans.
1.

Lords Mobile: Kingdom Wars

Lords Mobile, launched in 2013 by I Got Games, is a fun strategic kingdom-building 

game like Clash of Clans

. 

Apart from compact gameplay and base building, players must build their armies and train heroes. 

While playing this game, you must go through the map, collect various items and treasure, and complete the said missions, leveling up your heroes and acquiring new abilities. 

Overall, Lords Mobile will give an exciting and engaging gaming experience, perfectly combining RPG elements, strategy, and base building. 
2.

Clash Royale

Developed by 

Supercell

, the game Clash Royale has a similar setting to that of Clash of Clans. 

This MOBA-style game focuses more on tactical combat instead of base building. The players of this game try to defeat their enemies through intense tactical battles, casting spells, and placing troops. 

Clash Royale excites players a little more due to the similar aesthetics, unit types, and similar quality, just like Clash Clans. 

But, the former has a little different mechanism than the latter. 
3.

Boom Beach

Boom Beach is another interactive game developed by Supercell. It allows the players to build a base, train troops, and defeat enemies. 

This mobile-based strategic game has a similar setting to the Clash of Clans but on a tropical island. 

The tactical and combat abilities of the characters in this game are more polished and refined, which assists the players in gaining more victory points. 

Boom Beach is an unmissable game where the players fight against the evils and free the islands from their dictatorship. 
4.

Plunder Pirates

This is a pirate-themed 

game like Clash of Clans

, launched in 2014 by Midoki Ltd for 

Android

 and iOS devices. 

This is a highly engaging game, where players can build bases, train pirate crew, explore the vast seas, and attack other players and loot them. 

The plundered treasure can then be used to strengthen your defense system. 

The players can also explore unknown islands, new ships, and areas while mapping various landmarks and monsters. Overall, this mobile game is worth checking out. 
5.

Total War: Three Kingdoms

Creative Assembly launched Total War in 2019 for macOS and Windows. The story of this strategic 

PC game

 is set somewhere in China. 

It has some of the most stunning graphics and deep strategy with immersive gameplay. 

With this game, the player can either conquer the whole of China or just a part of it; the choice depends on him. 

This game has garnered much praise in less time, so check it out today and build your territory through Three Kingdoms. 
6.

Jungle Heat: Weapon of Revenge

The game of Jungle Heat is similar to Clash of Clans with less intensity. 

Developed by My.Com, this strategy-based game is available for Android and 

iOS

 devices. 

This game also allows the players to see the enemy's camp before the attack by spending some gold. 

This freemium game can be run on iOS, Windows, and Android mobile devices. This game concerns the in-game heroes' abilities to build and defend the base. 
7.

Age of Empires: Castle Siege

Developed by Smoking Gun Interactive, this 

game, like Clash of Clans

, was launched in 2014. 

Age of Empires is a strategic mobile game that allows you to build castles, train armies, and conquer enemies. 

It is a unique base-building game where the players are allowed to choose from a variety of civilizations. 

Each civilization the player chooses has its technologies, buildings, and unique units. The player can choose according to their style. 

In each of the civilizations, the player chooses, he will get everything required for conquering the land and seizing the enemies. 
8.

Dawn of Titans

The game Dawn of Titans was developed and published by Natural Motion Games. 

This action strategy game is exciting as it has some of the most realistic and advanced graphics. 

It allows you to choose from many features and game modes to suit your gaming style and the access to take thousands of troops to war. 

This visually impressive game allows the players to command an army on the battlefield. It also has an option of live chatting while gaming to interact with the other players and gain a thrilling experience. 
9.

Cookie Run Kingdom

The exciting game Cookie Run Kingdom, developed by Devsisters, can be played on iOS and Android platforms. 

This action-packed RPG mobile game is quite engaging, with plenty of fights. The cartoony feel of this game will surely lure the players. 

This Kingdom game has a group of witches constantly searching for the perfect cookie recipe. 

The players must continuously search for new in-game items and resources to level up the cookie castle. 

More and more game cookies can be unlocked through different skills and classes. The cookies in the game can also be leveled up through other toppings. 
10.

Gods of Olympus

To be played on Android and iOS, the game Gods of Olympus was launched in 2026. Like

Clash of Clans

, this game focuses on the hero's performance and abilities. 

The players of this game engage in base attacks by taking commands from the ancient and powerful Greek Gods. 

The power given by the God of Olympus can be used to kill enemies and build and upgrade the kingdom. 

The major portion of the game is based on controlling the Gods and helping them make the right decisions. 

Hence, this game is a fun experience for the ones who love Clash of Clans. 
Frequently Asked Questions
Q. Can You Play Clash of Clans on PS4?
Ans. No, players cannot play Clash of Clans either on PS4 or on PS5. 
Q. List Some Games Like Clash of Clans That Can Be Played on PS4.
Ans. Mentioned below are some games similar to COC to be played on PS4.
Brigandine:The Legend of Runersia

Minecraft Legends

Mount & Blade II: Bannerlord

Wintermoor Tactics Club

Disgaea

Langrisser I and Langrisser II
Let's Conclude
Thus, that was a comprehensively made list of games like Clash of Clans, which you can play, if you want to explore something new and different. 
The games mentioned above offer players a wide variety of strategic gaming experiences. 
Whether you are a noob or a veteran of strategic games, the above list will have something for every player. 
Hence, happy gaming with the above-curated list, conquering various troops and defeating innumerable enemies.