It's no surprise that Cookie Clicker is one of the industry's pre-eminent names, and its hype among the players itself speaks for its popularity.
This thrilling game requires patience and an intelligent mind. Hence, it serves as an ideal option for all. There are plenty of hacks and codes available that let you collect the cookies quickly.
While Cookie Clicker gives the chance to collect cookies in a few days, some players want to make things quick to finish the game early. That's where Cookie Clicker cheats come into the role.
Curious to know more? The guide will walk you through the Cookie Clicker cheats codes and use them effectively.
If you are a fan of Roblox and need free Roblox gift card codes that are not covered, you will get daily updated codes on our post.
What is a Cookie Clicker Game?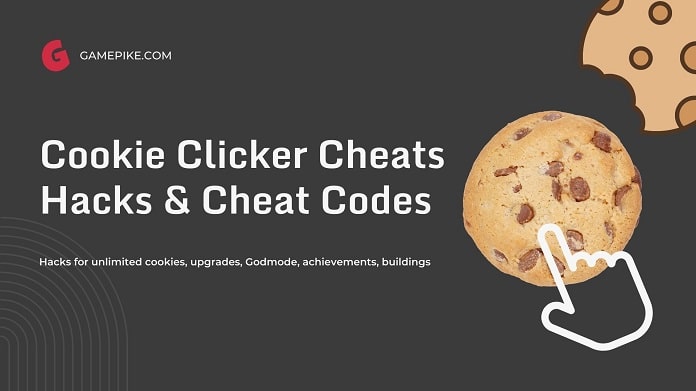 Cookie clicker was first made available in 2013 and is a game of advancement. A French programmer, Julien Orteil Thiennot, designed this thrilling game for the players. It has regularly get upgraded since then.
In this game, you must bake an excessive number of cookies, and for this, you might need the cookie clicker cheats codes.
To aid you in your endeavour, you'll recruit the support of a variety of helpful cookie producers, including friendly Grandmas, Farms, Factories, and otherworldly Portals.
You can upgrade this game which can boost the efficiency of clicks and constructions, and various additional mechanisms that allow the player to earn cookies in many ways.
A Brief Guide to the Gameplay
It has a bad rep for being addictive and may now get played without the usage of a human. Each click on a cookie on the screen rewards the player one biscuit.
They can then use their earned cookies to buy assets like cursor, grandmas, farms, mines, factories, banks, etc. Golden cookies come regularly.
The player can climb after earning a particular amount of cookies. They can lose their progress, but they gain heavenly chips and prestige levels.
Prestige levels increase the pace of cookie creation in subsequent playthroughs, while heavenly chips can get spent on a range of prestige enhancements. Wrinklers, the Cookie Dragon, mini-games, and sugar lumps are a few other game features.
Achievements get earned by completing specified tasks or goals, such as generating a certain number of total cookies, owning a certain number of buildings of a specific type, or clicking a certain number of golden cookies.
The game features geometric development, in which the player begins by making a few handfuls of cookies and quickly increases to billions. The game does not have a definitive ending.
Best Cookie Clicker Cheat Codes List
Here are the best Cookie Clicker cheats codes list in 2022:
Game.Earn(number)
Game.cookies=Infinity;
Game.cookies=number
Game.cookiesPs=number
Game.lumps=number
Game.RuinTheFun();
Complete Cookie Clicker Cheats Hack and Cheat Codes
So, now that you know the Cookie Clear game and how it is played, it's time to enlist some of the ultimate hack and cheat codes.
Keep scrolling the page and use Cookie Clicker Cheats to make the game more thrilling and exciting.
| Description | Cokkie Clicker Cheat Code |
| --- | --- |
| Add Cookies to Your Current Cookie Supply | Game.cookies= Game.cookies + ; |
| Ascend | Game.Ascend(1); |
| Build Ascend Tree | Game.BuildAscendTree(); |
| Calculate Gains | Game.CalculateGains(); |
| Change Ascend Timer | Game.AscendTimer= |
| Change Mouse Pointer | Game.mousePointer=0; |
| Change Your Milk | Game.Milk = ; |
| Change Your Milk Progress | Game.milkProgress = ; |
| Change Your Mouse Cookies Per Second | Game.computedMouseCps=; |
| Change Your X# Buy Amount | Game.buyBulk=<1/10/100>; |
| Check if User Has Achievement | Game.Has(''); |
| Compute Mouse Cps | Game.computedMouseCps; |
| Debug Prestige | Game.DebuggingPrestige=false; |
| Debug Upgrades Cps | Game.DebugUpgradeCpS(); |
| Get +10 Lumps | Game.gainLumps(); |
| Get 1k Cookies | Game.cookies/=1000;Game.cookiesEarned/=1000; |
| Get All Debugs | Game.GetAllDebugs(); |
| Get All Upgrades | Game.SetAllUpgrade(1); |
| Hard Reset Game | Game.HardReset(2); |
| Load Local Save | Game.LoadSave(local); |
| Load Save | Game.LoadSave(); |
| Max Specials | Game.MaxSpecials(); |
| Refresh Bakery Name | Game.bakeryNameRefresh(); |
| Remove All Shimmers | Game.killShimmers(); |
| Remove Game Popup Notifications | Game.popups=0; |
| Reset Game | Game.SesameReset(); |
| Reset X# Buy Amount | Game.buyBulk=Game.buyBulkOld; |
| Ruin the Fun (Unlock Everything) | Game.RuinTheFun(1); |
| Save Save | Game.localStorageGet(Game.SaveTo); |
| Sesame on/off | Game.sesame=0; |
| Set Dragon Level | Game.dragonLevel=; |
| Set Santa Level | Game.santaLevel=; |
| Set Your Bakery Name | Game.bakeryName=""; |
| Set Your Cookie Count | Game.Earn(); |
| Set Your Cookies Per Second | Game.cookiesPs=; |
| Track Milk Timer | Timer.track('milk'); |
| Turn on Debug Timers/off | Game.debugTimersOn=0; |
| Unlock Achievements | Game.Achievements[''].won=1; |
| Unlock All Achievements | Game.SetAllAchievs(1); |
| Unlock an Achievement | Game.Win(''); |
| Update Particles | Game.particlesUpdate(); |
How to cheat in a Cookie Clicker?
You can buy and unlock everything you want with your cookies, and hence, you may acquire an infinite number of cookies if you use the Cookie clicker cheats codes mentioned here in the guide.
To perform this Cookie clicker cheats hack, follow the instructions below.
STEP 1:
STEP 2:
Open the source inspector in your browser. It varies according to the browser you're using.
In Edge, You can select the "Inspect element" from the context menu when right-clicking a vacant spot on the page.
In Safari, you can press ⌘+⌥ Option+C.
In Internet Explorer, you can press right-click a vacant place on the page and select the "Inspect element."
In Firefox, you can select Ctrl+ Shift+K (Windows) or Ctrl+ Option+K (Mac)
In Chrome, you can press Ctrl+ Shift+J (Windows) or + Option+J (Mac), or right-click and select examine.
STEP 3:
Click on the Console tab. It's at the very top of the source inspector window.
STEP 4:
Then enter the "generate cookies" code. In the search box, type "Console Game." In Earn, you must replace the number with the number of cookies you want to produce (number). For example, write a game if you desire an unending supply of cookies. Earn (99999999999999999999999)
STEP 5:
Now press Enter Button. Now you can add the number of cookies you requested to the game. By doing so, you'll run the program.
STEP 6:
By using your generated cookies, you can purchase any item or structure In the game. Purchasing items such as the Time Machine, Prism, or Changemaker will increase the number of cookies generated every second.
STEP 7:
You can experiment with different Cookie Clicker Codes and hacks using the same manner as stated in the previous sections. To have extra fun type the cheats listed below into the console.
Game. RuinTheFun(); You can repeat this command as much as you need. This command unlocks and applies every upgrade and building in the game. This command also add 999,999,999,999,999,999,999 cookies to your bank.
Game.cookies=number; –You can use this command to decrease and raise your cookie count. This command replaces the number in your cookie balance with any number you choose.
Game.cookies=Infinity; – This command resets the cookie balance to infinite. If you wish to undo this, type Game.cookies=0 in the console.
Game.cookiesPs=number; – This command sets the number of cookies generated per second to the value you specify instead of a number.
How to Use Cookie Clicker Cheats Code Hacks?
Since now you know how to cheat in Cookie Clicker, it's time to learn step-by-step how to use these clicker codes and hacks to win the game.
Follow the instructions mentioned below, and don't miss out on any step to avoid further hassle.
To begin, access the Cookie Clicker game interface by clicking on the link.
Use the following shortcuts for source inspector, depending on your browser:

For Firefox: You can press Ctrl+⇧ Shift+K (Windows) & Ctrl+⌥ Option+K (Mac Os).
For Google Chrome: You can Press Ctrl+⇧ Shift+J (Windows) & ⌘+⌥ Option+J (Mac Os).
For Edge: you can press F12.
For Apple Safari: Press ⌘+⌥ Option+C.
For Internet Explorer: press F12

From the top of this window, select the Console tab.
Press Enter once you've copied and pasted the Cookie clicker cheat codes from our list.
If necessary, save your game.
Our Opinion
So, that's all about the Cookie Clicker Cheats. We hope you have enjoyed reading the guide and found these codes and hacks beneficial.
Cookie Clicker is an interactive game for when you're bored. This game is quite popular since it is appropriate for people of all ages.
Moreover, this game is free to play, making it an ideal option for everyone. By clicking on a cookie, you can bake millions of tasty cookies.
The cookie clicker game is available for play on web browsers, iPad, iPhone, Samsung, Android, and Windows Phone. Just click on the button and enjoy this fantastic game.