Merge Mansion is a casual puzzle game where the story revolves around an old mansion that has now been left abandoned.
The mansion has hidden various secrets in itself. And through this game, the players can accompany Maddie, the main game character, to uncover the secrets of the spooky mansion and redesign it to add a new life.
One of the most coveted items in the game is the golden tree in Merge Mansion, a stunning centerpiece that adds a touch of elegance to any player's estate.
Also, you can easily get hood ornament in the Merge Mansion game using this guide. This game hooks the players by offering them various useful in-game items, such as a golden tree in Merge Mansion.
These items help the players to earn more coins and XP during the gameplay. This particular item of golden seed is one of the most important entities of the game that can be earned either by matching puzzles or obtaining an item called the golden seed.
If you are also looking for some viable information that could tell you the steps or the ways to get the golden tree in Merge Mansion.
Then hey! You have just landed yourself in the right place.
This comprehensively curated article here will provide all the necessary details regarding obtaining the golden seeds and converting them into the golden tree in Merge Mansion, one of the most frolic games.
Also, if you love multiplayer survival games, then you must check muck seeds that can elevate your existing equipment and buff your character to a higher level.
How to Obtain Golden Tree in Merge Mansion?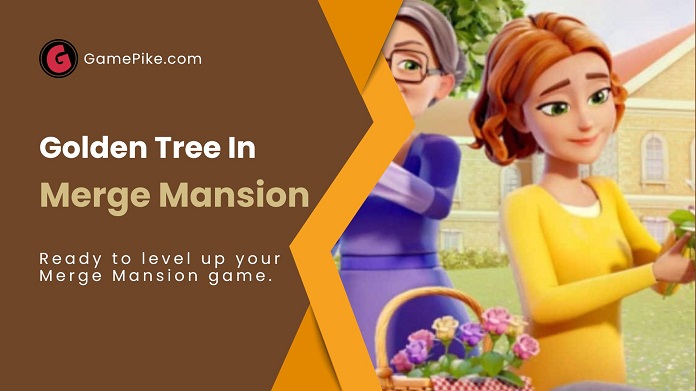 Collecting the golden tree in Merge Mansion can start from the beginning of the game's initial levels by merging and collecting.
It is a basic truth that a tree can be formed only by seed. Thus, you should know where to get golden seeds before learning to obtain a golden tree.
Go through the steps mentioned below to know about the same.
Go to the garage area to find pot fragments.
By merging these at level 3, you will get seed pouches.
Merge these seed pouches in level 4 and obtain a large seed bag.
Once you drop all the items in this large seed bag, it becomes empty.
After reaching level 5, merge the empty seed bags to fetch your desired golden seed.
This was all about getting a golden seed in Merge Mansion. Now go through the process below to learn how to get the golden tree from the golden seeds.
Merge two of the golden seeds and get a golden sprout.
After this, merge two golden sprouts to get a golden seedling.
Finally, merging the golden seedling about 5 times, you will obtain the golden tree.
So, as you saw, the process of obtaining a golden tree in a Merge Mansion includes the achieving and merging of golden seeds, golden sprouts, and golden seedlings.
The various levels involved in this process are mentioned below.
Level 1:- Golden Seed
Level 2:- Golden Sprout
Level 3:- Golden Seedling
Level 4:- Golden Tree (I)
Level 5:- Golden Tree (II)
Level 6:- Golden Tree (III)
Level 7:- Golden Tree (IV)
Level 8:- Golden Tree (V)
The Golden Tree (V) has a recharge time of 4 hours. After every recharge, the player will get exciting rewards or drops such as; Bronze Coin, Bronze Coin (I), Bronze Coins (II), and 1 XP Star.
Each recharge will help the players to obtain 5 bountiful rewards. You can also stack up two recharges to get a maximum of 10 items at a go.
Frequently Asked Questions
Q. Does Merge Mansion Have Some Recent Working Cheat Codes?
Ans. The game of Merge Mansion does not have any running cheat codes, but the game can be effectively played by using certain tricks that can help you on your way.
Q. From Where Can You Find Trees in Merge Mansion?
Ans. To find the Golden Trees in Merge Mansion, you need to combine and merge the chests and the golden seeds
Q. From Where Can You Get Unlimited Energy in Merge Mansion?
Ans. At a certain time during the gameplay, you can get an unlimited energy booster on your event board. As a player, you have to double-tap it to activate it. During this period, no other energy will be consumed.
Q. What is the Highest Level of the Merge Mansion Game?
Ans. Merge mansion is one of the most loved online games, with about 50 gaming levels for the players to play and love.
Last Words
That was all the information we wanted to share with you regarding obtaining golden trees in Merge Mansion. By now, you must have understood how to achieve the same by bringing golden seeds, sprouts, and seedlings.
After you obtain these three items, you will be able to get golden trees and precious rewards such as; gems, coins, and other things.
So, start your journey to Merge mansion today and collect the golden trees.