Muck is a multiplayer survival game. In this game, as a player, you have to protect yourself from the waves of enemies.
This roguelike play is about collecting resources, building a base, and finding items. This fun and exciting game is free on streaming platforms like discord, twitch, etc.
During the gameplay, you will require muck seeds as an item to get the kick or jumpstart that the game needs.
Using those seeds will give you access to various weapons like arrows and bullets and the game, eventually assisting you in looting, survival, and more.
Are you interested to know some of the latest muck seeds that can provide you with easy & quick access to the resources?
Below is a list of some popular multiplayer seed codes that would help you add a new elevation to the game.
So, without thinking further, let's be aware of these codes.
Some Latest Muck Seeds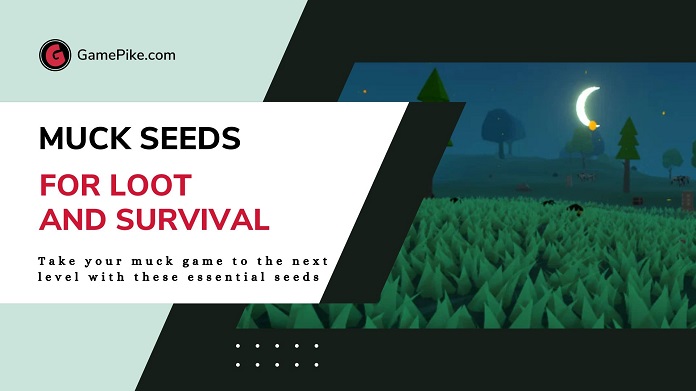 The Muck Seeds are predominantly a location in the gameplay of Muck where you can find various items.
Unlike other survival games such as Minecraft, Valheim, or any other, the world of Muck is based on the seed system.
The location of muck seeds has many buildings and chests that can elevate your existing equipment and buff your character to a higher level.
Use the below-mentioned seeds and load the same in your game by simply entering it in the Muck client.
sussy: Pitman hut with useful items such as a steel pickaxe, boots, food, and 65 coins.
Dev: Start with the night blade sword.
Rain: Start finding food from the get-go, making survival much easier.
slythergames: Inside this, you will be able to find a gold pickaxe.
-184745390: Spawn near the chef's spear.
Drugs: Night blade weapon, a wagon with some basic materials, and a chef's hut
poopoo: Starts near a shed containing a mithril axe, steel sword, and steel pick.
221294511: You will be spawned in a seed close to a cave containing the Night Blade weapon by this code.
402526048: Appear at a place where a Renaissance statue stands with a piece of coal on its head.
-1038521939: Upon spawning, you'll find a nearby cave containing a Hammer Shaft in this seed.
7155564: Spawn near a hut with a mithril sword, steel helmet, boots, pickaxe, supply of coins, wood, coal, and two maps!
Spear Seed: It gives users quick access to a busted weapon.
689132638: Spawn next to two huts, one containing a Mithril Sword.
69420: Spawn near two chief's huts, two chest-loaded carts nearby.
BigChunk: Chock full of resources, including trees, rock, iron, mithril, and adamantine.
7326963: Spawn near a supply of mithril, obamium, and adamantine.
R O C C: This will provide spear in the spawn village.
570259: Start on a hill with lots of chests and a hut with a stove.
7933219: Appear next to a statue of a guardian with a green gem
Daniisking: Start near a hut with some helpful early-game tools.
banana: Start near a hut with a steel pick and boots.
896066: Spawn near a cave with rubies, adamantine, obamium, mithril, and gold!
3284124: Spawn near a cave with rubies and gold, but you'll have to take down two stone golems to reach it.
1351518951: Spawn near a supply of mithril and adamantine bars, as well as a mithril axe!
Frequently Asked Questions
Q. How You Can Join Muck Seeds?
Ans. Follow the below-mentioned steps to know the right way to enter Muck Seeds:-
Launch the Muck server on your PC.
On the left side of the screen, you will find a Host Lobby Button.
A seed text box will open on the screen's right side.
Enter the seed code in it and click on the start button on the left side of the screen.
Then the game will load all the necessary information from the seed code entered.
Q. Which of the Muck Seeds Has a Lot of Chests and Rewards?
Ans. The Sussy muck seeds contain several chests that offer powerups and buffs to the players when the code is used.
Q.what Are Some of the Rarest Items You Can Get in the Muck?
Ans. Some of the rare items that you can get by using Muck Seeds are; Ancient Bone, Fireball, Waterball, Lightning Ball, Windball, Sword Hit, Wolf Caves, Hammer Shaft, Black Shard, Gem, Chunkium, Chunky Hammer, Gronks Sword, Ancient Bow, Water Arrow, Ancient Core, and many more.
Q. What is the Maximum Limit of Players in a Muck Server?
Ans. Although the game has no hard player limit, the maximum suggested no of players is 8 at a time in the gameplay.
A user creates a server, then shares the server id, and asks his friends to join the server through the same.
Q. What Are Some of the Powerups of the Muck?
Ans. In totality, there are about 25 powerups in Muck, and they are divided into 3 major categories. They are:-
Common Powerups
Rare Powerups
Legendary Powerups
Each power-up helps you survive through the night and provides various perks to boost health regeneration and improve defenses.
Conclusion
Muck is one of the latest survival simulator games on the Steam platform. It is a simple game that can attract new players.
The main point of this game is earning the Muck Seeds, which can boost your character. We hope that by reading the above article, the concept of the seed codes is clear to you.
So, use them efficiently and fully take advantage of the same during the gameplay.