Merge Mansion is a fun play game where the players merge and match various game elements necessary to renovate the Mansion, plant up the garden, and unveil various secrets of it.
This game has multiple in-game events, where the players are supposed to earn particular items, combine them, and get new items.
You can then power up these newly formed items and create tools to help you progress in the game.
One such item is the butterfly in Merge Mansion, which is a little hard to obtain. But worry not.
If you are also looking at how to get the butterfly in Merge Mansion game, then here in this guide, we will share every detail step-by-step about the same. You have landed at the right place, as we will detail the entire process.
Also, one of the most coveted items in this game is the golden tree in Merge Mansion, a stunning centerpiece that adds a touch of elegance to any player's estate must check it out.
Let's get started with this guided article.
How to Obtain a Butterfly in Merge Mansion?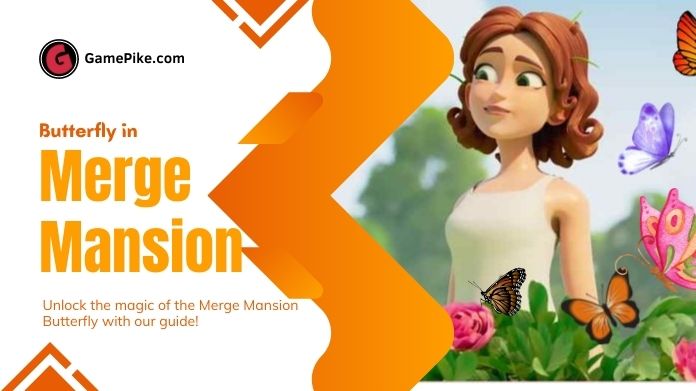 To obtain the butterfly in Merge Mansion, the players must get level 6 of the Orange Flower, from which the butterflies will be dropped out.
First, the players need to obtain the orange flower seed. You can receive it in a large seed bag. Now you must be wondering where you can get the large seed bag. Right?
Keep scrolling below to gather information about the same.
You can obtain the large seed bag from the flower pot, shop, or green box. The players can obtain the orange flower seed and proceed further.
After you obtain the same, merge them to get orange flower seedlings. The seedlings can merge to get the orange flower bud (I).
On merging them, you can fetch orange flower buds (II). Players must merge them to acquire orange flower buds (III).
It is the last item on the list, on merging, which you can finally reach to get the orange flower. This orange flower will now drop butterflies with six different levels.
The butterfly in Merge Mansion you will get on each level will be of different colors. It can mainly find in colors such as; yellow, orange, blue, red, white, and black.
Each orange flower can drop up to 2 Butterfly of level (I), which individually comes up with a recharge time of 30 minutes.
The butterflies merge according to the requirements of the mission currently playing. It cannot stack these up, but you can speed up the process of butterfly merging by spending in-game gems.
The butterflies collected can further fuel the pool toys and create the items for the Casey and Skatie event.
Also, in Merge Mansion, there is an event called Lindsay's New York Story, and by completing the event, you will get a reward for Hood Ornament; you must play this event.
For those unaware, Casey and Skatie is a story event in the popular puzzle game Merge Mansion.
It can only be unlocked at the Sign Fix Task at the beach. Each event is available for 72 hours, where you can collect event Xp and exclusive pool toys.
The level (VI) of the butterfly in Merge Mansion and the moths use pool toys to feed, which further surprises you with the Casey & Skatie event items.
The list of pool toys is as follows:-
Level I– Beach Ball
Level II– Swimming Mattress
Level III– Inflatable Donut
Level IV– Inflatable Crab
Level V– Inflatable Turtle that drops 1 XP Star
Level VI– Inflatable Dolphin that drops 1 XP Star and Casey & Skatie event items. For this, they can require 1 Moth (III) & 1 Butterfly (VI) or I Moth (VI) & 1 Butterfly (III) or 1 Moth (V) & 1 Butterfly (V).
You will achieve the following list from Casey & Skatie:-
Level I– Flip-Flops
Level II– Roller Skates
Level III– Sunglasses
Level IV– Sandals
Level V– Surf Board that drops 1 XP Star
Level VI– Beach Towel that drops 1 XP Star
Level VII– Necklaces that drop 1 XP Star
Level VIII– Pinwheel that drops 1 XP Star
Level IX– White Surrender Flag that drops 1 XP Star
Level X– Skateboard that drops 1 XP Star
Level XI– An Idol that drops 1 XP Star Level XII- Sign that drops 1 XP Star
Frequently Asked Questions
Q. How to Get Moths in Merge Masion?
Ans. There is a Bulb Box in-game item; here, 6 levels of items are combined to finally obtain Post Light (IV), attracting moths in the in-game empty field setup. The moth will have 6 merging levels to get Casey & Skatie items.
Q. At What Level Will the Players in Merge Mansion Get Inside?
Ans. After completing all the games and quests upto the level 14 of the game, the doors of the Mansion will automatically open. And the players will have access to move across the Mansion.
Q. How Can You Get Unlimited Energy in the Game of Merge Mansion?
Ans. To get unlimited energy in Merge Mansion, the players must click on the Unlimited Energy Booster sign on the event board.
Also, double-clicking on the energy booster will add the period for the same two times. When the unlimited energy booster is activated, it won't consume any additional energy.
Let's Wrap Up
That was all about what we wanted to share with the players regarding the butterfly in Merge Mansion.
We hope that you found this guide extremely helpful and will now be able to easily use them for progressing in the game.
So what are you waiting for? Get merging and start creating your butterfly oasis in Merge Mansion today! Who knows, you may even attract other beautiful creatures to your garden as well.