Prepare yourself for an extraordinary experience as we enter the highly anticipated realm of Persona 6, the next thrilling chapter in the beloved Persona series.
The Persona franchise has garnered a devoted following with its unparalleled blend of enthralling narratives, unforgettable characters, and immersive gameplay.
Anticipation and speculation consume fans and PlayStation gamers as swirling rumors and gradually emerging leaks captivate their attention.
Here, we dive deep into the fascinating universe of Persona 6, investigating the latest leaks and rumors circulating within the gaming community.
We shed light on the potential release date, new features, and exciting surprises that await this upcoming RPG sensation.
Also, if you are a fan of horror games, then you can also play Little Nightmares; it was fantastic game.
Prepare to embark on an extraordinary journey through the shadows as we explore the enchanting world of Persona 6.
What Will Be the Persona 6 Release Date?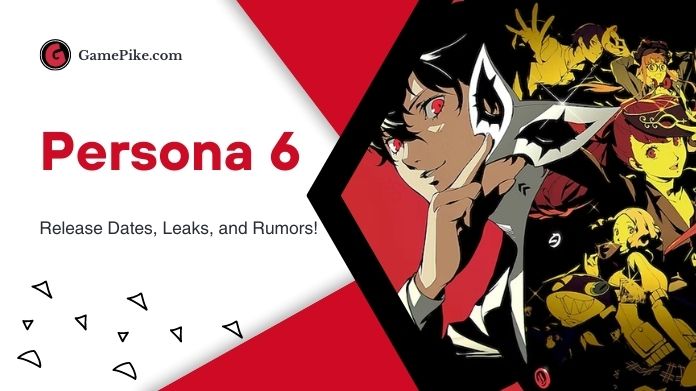 Persona 6 has yet to receive an official release date. However, considering the time gap since Persona 5's launch in 2016, fans eagerly anticipate news about the game sometime in the coming year.
Unfortunately, a recent post on ResetEra suggests the game has faced internal delays, making a 2023 release doubtful.
While this doesn't completely rule out the possibility of sharing news this year, it's best not to expect the game to be playable anytime soon.
Adding to the anticipation, the director of Persona 3, 4, and 5 is currently immersed in a project called Project Re Fantasy at Atlus, announced back in 2017.
Unless Atlus decides to assign a new director for Persona 6, updates on the game are likely when fans can finally experience Project Re Fantasy.
However, considering the prolonged silence surrounding the last project for six years, its actual status and development progress still needs to be determined.
Is Atlus Working on Persona 6?
In the most recent update from Atlus regarding the Persona series, they hinted at exciting announcements awaiting fans on Twitter.
While this didn't explicitly confirm Persona 6, it suggested an imminent reveal, especially considering that Persona 5 was initially teased at a similar event.
However, the company subsequently dashed hopes with a disappointing update on their website, stating that no new game titles would be announced at the live event.
Despite this setback, Atlus assured Persona fans that participating in the event would still be fulfilling.
So, the highly anticipated reveal of Persona 6 will have to wait a little longer, leaving fans eagerly anticipating what's to come.
Persona 6 System Requirements
The system requirements provided for Persona 6 are speculative, based on the predictions of one of our gaming experts.
It is vital to note that these prerequisites are subject to change, as an official release about the game has yet to be released today.
Nevertheless, these predicted system requirements serve as a helpful indication of what the game's demands might be, giving you a rough idea of what to expect in terms of hardware specifications.
Operating System: Windows 10, Windows 11
GPU: 8GB
Storage: 50 GB
RAM: 12 GB DDR5
More About Persona 6 and Trailer
Persona 6 is currently in development but remains quite distant from us.
Consequently, there have yet to be any official trailers or teasers released for Persona 6. However, you can enjoy the Persona 5 Royal Cinematic Trailer provided below.
While the plot of Persona 6 has yet to be revealed, we can speculate based on the patterns established in previous installments.
Our central protagonist will likely be a recently transferred high school student who embarks on a remarkable journey.
A group of allies will accompany them, supporting their battle against a formidable evil. These fundamental elements form the foundation of a typical Persona plot.
The game will continue incorporating social elements and combat mechanics, but what truly piques interest are the new elements introduced by Atlus, the developer, in Persona 6.
Having gained a deep understanding of what resonates with players and what aspects they find less appealing, Atlus aims to enhance the gameplay experience by introducing fresh concepts and features.
What About the Persona 6 Rumors?
Recent leaks about Persona 6 suggest that the game is improbable to launch this year. These leaks emerged on Reset Era, shared by a user named "Im A Hero Too," who appears to have some affiliation with Atlus.
According to the user, an internal delay has further postponed the game, eliminating any possibility of a 2023 release.
Although Atlus had previously committed to providing more information about the game in the current year, they have refrained from addressing these leaked details and rumors.
It is worth noting that Atlus has other titles scheduled for release this year, and it is plausible that these commitments have posed challenges for the highly anticipated sequel.
Wrapping Words
Atlus, the acclaimed Persona series developer, has officially confirmed that Persona 6 is currently developing, with a team brainstorming and exploring various creative ideas.
As fans eagerly anticipate the next chapter in this beloved franchise, there is an optimistic belief and hope that Persona 6 will deliver an enthralling and exclusive experience, much like its predecessors on the PlayStation 5 platform.
Stay tuned with us as we eagerly await the official announcement of the Persona 6 release date from the developers themselves!!