Starfield is a science-fiction role-playing video game that will be released by Bethesda Softworks and developed by Bethesda Game Studios.
The game is set in an original sci-fi universe and promises to offer players a vast, immersive, open-world experience.
Bethesda says Starfield will be a "next-generation" game, taking full advantage of the latest hardware and technology to deliver stunning graphics and gameplay.
The Starfield release date is quickly approaching, and we've got an incoming Starfield Direct, trailers, news, and gameplay for the latest Bethesda RPG game.
Also, if you are a game enthusiast, check out the top game releases this year, from thrilling action-adventure games to immersive RPGs.
Can't wait to share all the exciting details about Starfield releases with you. Let's jump right in and get started!
What is Starfield?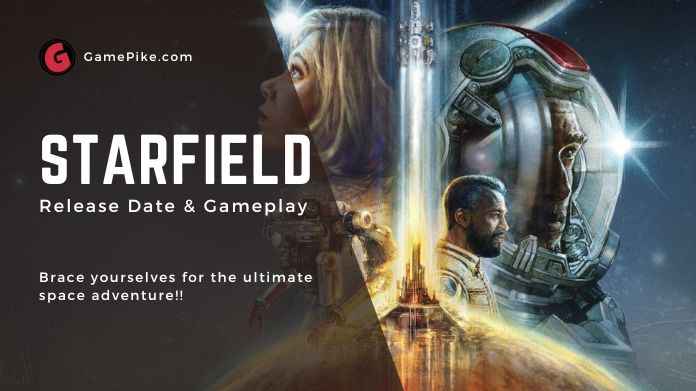 Bethesda Game Studios is developing, and Bethesda Softworks is publishing Starfield, an upcoming video game that falls under the science-fiction and role-playing genres.
It occurs in an entirely original universe and guarantees its players a vast and immersive open-world gaming experience.
Developers use the latest hardware and technology to create Starfield, delivering stunning graphics and gameplay.
Bethesda Game Studios expects Starfield to be a "next-generation" game and will release it exclusively on Xbox and PC platforms.
Bethesda has yet to release an official Starfield release date for the game, but gamers worldwide highly anticipate it.
Starfield Release Date
The release date for Starfield is September 6, 2023. The Starfield release date was revealed in the 'Official Launch Date' video, which alluded to the player discovering the source of it all.
According to Microsoft's Matt Booty, Starfield release in the "early half" of 2023, following Arkane's Redfall.
However, the possibility of Starfield releasing in the first half of 2023 has always been remote, considering that Bethesda Game Studios released it in May.
On June 11, the space game will have a standalone demonstration in the form of a Starfield Direct. This game-specific program should give us an in-depth look at the game's mechanics.
Bethesda planned to release Starfield on November 11, 2022; however, in May 2022, they announced that they would postpone the game until 2023.
The official Starfield support page confirmed the Starfield release date, noting that the open-world game will come in the first half of 2023.
With this launch date confirmation, we now know that Starfield will be launching in September.
What Will Be the Price of Starfield?
The official price of Starfield has yet to be announced by Bethesda. It will likely be priced similarly to other AAA games, which typically range from $60 to $70 for the standard edition.
With Sony, Activision, and now Microsoft boosting the normal game price to $70, we're approaching a very costly gaming era.
There may be additional editions or DLCs with varying prices, but we will have to wait for official announcements from Bethesda for more details.
Gameplay of Starfield
Bethesda Game Studios initially revealed the Starfield announcement trailer way back in 2018, but they only provided a small preview of the game via a teaser trailer in June 2021.
However, during the Xbox and Microsoft gameplay showcase in June 2022, we were finally given a more comprehensive look at the gameplay of Starfield.
The showcase featured footage of the game in action, its dialogue and persuasion mechanics, and additional glimpses of space flight with commentary from Todd Howard.
Furthermore, rumors have been circulating that Starfield might receive a survival mode, which is exciting and daunting.
The demo begins on a bug-infested planet, where the player harvests iron in a cave before entering the Kreet Research Lab. One of the various Starfield groups, the Crimson Fleet, is raiding the region for wealth.
These pirates are hostile, which provides an opportunity to witness multiple Starfield weapons in action, like the Grendel machine gun.
The combat is similar to Fallout 4, and there is no VATS mechanism to rely on. We observed something like the base-building in Fallout 4 and Fallout 76, but we have yet to get any information.
Following a briefing from the Starfield Constellation faction leader on an artifact we discovered, we are introduced to the other faction leaders, who explain their stand.
We also witness more hostile aliens, ranging from dinosaur-like animals with mandibles to eldritch horrors skulking around an abandoned facility's halls. It was accurate, with a large portion of gameplay displayed in June 2022.
You may see it below:
What Can We Play Starfield on?
Last August, Microsoft Studios' general manager Aaron Greenburg confirmed that Starfield's exclusivity is here to stay, and the game is "not a temporary exclusive."
On November 11, 2022, Starfield will be available only for Xbox Series X|S and PC and will not be released on PlayStation consoles.
Game Pass members may play it on Xbox and PC from the start. "I know we've said it all before, and nothing has changed or will change," Greenburg continued.
Starfield is currently available for pre-order for £59.99. The game will also be accessible on Xbox Game Pass from the start, allowing anybody with a membership to play it without paying the total price.
Wrapping Words
Although the information on Starfield's gameplay mechanics and features is still limited, we can expect it to fully use the most recent hardware and technology, resulting in spectacular graphics and smooth gameplay.
Fans of the genre may expect to discover more about this fascinating new game as more information becomes available.