Searcing for how to strikethrough on Discord? Well, in that case, you've clicked the rightmost link. If you are new to Discord, then this platform might seem a bit overwhelming.
One of the features on Discord you'll want to master is strikethrough or cross out the text while chatting with your friends.
Curious to know more? Keep on reading and find out the keyboard shortcuts with the help of GamePike.com. You can quickly strike through Discord in the least possible time.
Let's get into it!!
What is strikethrough on Discord?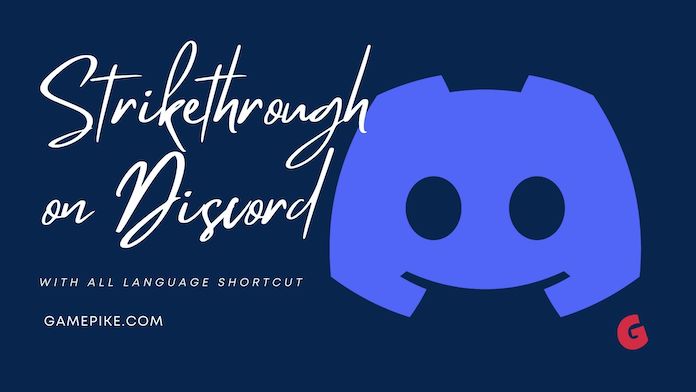 Strikethrough on Discord is a font effect that causes tet to appear as though it is crossed out. It is often used to indicate that the text is no longer valid on Discord.
This is a typographical representation of words with a horizontal line through their centre. You can do this by using the tilde key on your keyboard.
Thinking how to strikethrough on Discord? Scroll down and get a rundown of keyboard shortcuts here.
What is cross-out text in Discord?
The cross-out text in Discord reflects that the word or sentence is not valid, and it indicates that the sentence is wrong or recently deleted.
The users need to put the double "~" tilde keys on both sides of the text they wish to cross out.
You can also use the "Context" menu in the browser and desktop version of Discord to get the job done right.
The keyboard shortcut for ~
Here's a guide to insert tilde and crossout text discord on different keyboards.
Keyboard
Tilde (~)
English (US)
⇧ Shift +
English (UK)
⇧ Shift + #
Spanish (Latin America)
Alt Gr + +
Portuguese
~ followed by Space
German (Germany)
Alt Gr + +
French (Canada)
Alt Gr + ç followed by Space, or
Alt Gr + çç
French (France)
Alt Gr + é followed by Space, or
Alt Gr + éé
⌥ Option + n (on Mac OS X)
Turkish
Alt Gr + ü followed by Space, or
Alt Gr + üü
Arabic
⇧ Shift + `ذّ
Hebrew
⇧ Shift + ~
English (Canada/ Australia)
⇧ Shift + `
Our Thoughts
This is all about strike through Discord. We hope you find this guide helpful and informative. Striking through or crossing out the text on Discord is all about using the appropriate keys on the keyboard.
Bookmark the page right away and use the keyboard shortcuts mentioned above to cross out the text easily.