We have lots of lists for the best monitors. But for now, we want to tell all of you about some of the best Gaming Monitors money can buy. This list is made according to our choice, it can vary from your own choice. So, here is the list of top 5 Gaming Monitors that have released in 2018.
5.VIEWSONIC VX2758-CMH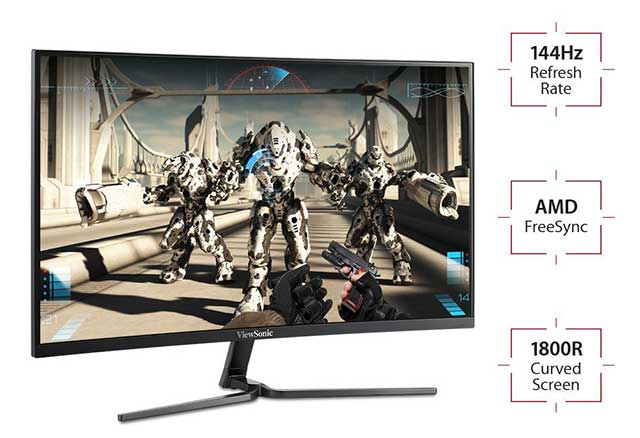 This one is a bit more on the budget side of things. It comes in under $300, it is a 27-inch curved display providing a 1080p resolution with 144 Hz refresh rate. It also supports AMD's FreeSync. For a lot of people 1080p at 144 Hz is totally fine and acceptable. Because if your PC isn't the greatest you aren't gonna be taking full advantage of this crazy monitor anyway.
The way we look at it, some Gamers want no-frill monitors. So to make this a well-rounded list the ViewSonic makes sense to include in your Gaming PC. No frills mean nothing can go wrong with it, it's simple it's dependable and still nice quality. If the other monitors on this list are over your budget, consider checking this one out.
4.SAMSUNG CHG70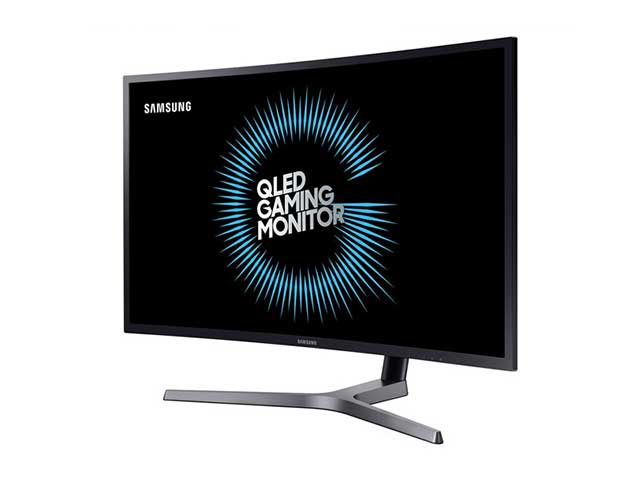 For those curved monitor lovers out there, we have the Samsung chg70. This is a VA panel and I know a lot of people refuse to get anything but IPS. So you're gonna have to make some compromises with this one even though when it comes to monitors "compromise" is the name of the game. It provides a 2560 X 1440 resolution, which I personally think is the resolution sweet spot.
If we talk about the 144Hz refresh rate it can be brought down to 120 Hz and 60 Hz if you need so. It also has a 1 millisecond response time. With that high response time and refresh rate mixed with the HDR and the AMD FreeSync to help prevent screen tearing. You are getting a really solid curved 1440p display. When we look at its design it's pretty normal there's nothing special about it. Although it does have a light on the back, it pulses on the wall behind it.
If you are into that kind of thing you may like this monitor. It also has something called eye saver mode. It is designed to cut back on the blue light emissions which helps to reduce eye strain. I don't know if this is a gimmick or not, but eye strain is a real thing and it's cool that this monitor has something in place that's actively working against it.
3.AOC AGON – AG352UCG6

This is a monitor that was released last year. And AOC recently got a new version of it for 2018. The AG352UCG6 Black Edition is still 35 inches with 3440 X 1440 display with a four millisecond response time. However, the changes they made this time is, the refresh rate has been enhanced from a 100 Hz to 120 Hz and it still supports G-Sync.
The stand was silver in color and it has also been changed to black so that the entire monitor looks very smooth and shiny. sadly those are the only changes that AOC has made. There is still no HDR, which is really getting popular in gaming monitors nowadays. Besides that, going from 100 Hz to 120 Hz is great, but you can get 144 Hz and a lot of monitors nowadays. 120 Hz isn't totally mind-blowing but for someone like me. I think I am totally fine with 120 Hz considering the price plus G-Sync option.
But there are a lot of spec braggarts out there that might not even look at a monitor because it isn't 120 Hertz. So, while this monitor isn't perfect by any means doesn't mean it is a bad monitor. We could use a better refresh rate, but the 21 by 9 aspect ratio could be an issue with certain fps. Seeing that some don't support that aspect ratio at all. But because of the VA panel the colors popup and that 1440 resolution looks really sharp, making this an ultra-wide monitor worth considering.
2.ACER PREDATOR X27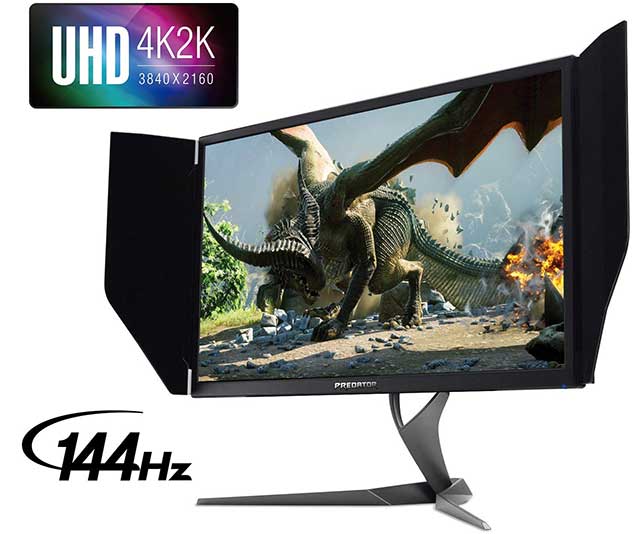 This is a beast of a monitor with a 27-inch 4k resolution display. It has a 144 Hz refresh rate with a 4 millisecond response time and HDR. These Gaming Monitors also features a predator game view. It lets you dial in the picture a bit more with settings that you wouldn't find in a normal monitor. For the price, you'd think you'd be able to adjust the monitor however you'd like. But unfortunately, it cannot turn into portrait mode, because it only moves up, down, left, right, and forward.
However, when you see this monitor for the first time, the first thing you're going to notice is the anti-glare panels. It works to prevent other light sources to create any sort of glare on the display. Besides those panels this design isn't too loud, there's a lot of black and metal and a flat design. I'm sure you've realized it already that this one also supports G-Sync. I'm a big fan of G-Sync because it makes games run too smooth. This monitor is worth $2,000 so it's pretty expensive, which means it definitely isn't for everyone. But I know a lot of people have been waiting for the release of this one since it was announced last year and I hope it lived up to everyone's expectations.
1.ASUS ROG SWIFT PG27UQ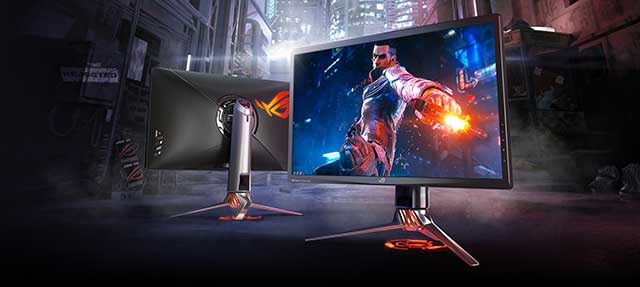 This thing is a monster of a monitor. If you want to talk about overkill this thing is over ridiculous than overkill. If we look at the specifications it has a 4k resolution with HDR support, a 27-inch IPS display, which has a 144 Hz refresh rate, with a 4 millisecond response time. So if you're really into those high frame rates, you're satisfied here. It also has G-Sync support which means you'll be getting that high frame per second without screen tearing being an issue.
When we talk about design this thing screams PC gaming. It has the ROG logo on the back of the monitor that will glow whatever color or effect you want. Because it also has two projectors built-in as well so you can project the ROG logo onto your desk and onto the wall like it's the bat-signal.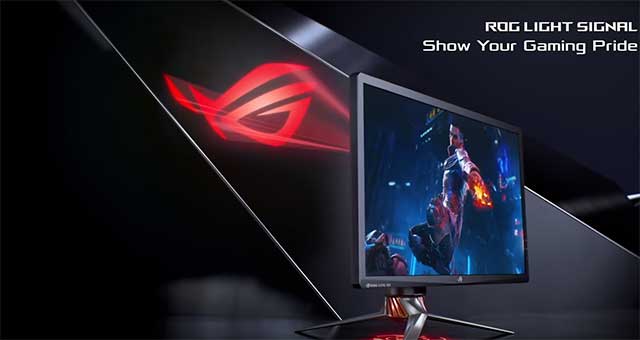 This is a little ridiculous but everyone their own preferences. I do appreciate the fact that the arm that holds the monitor does have built-in cable management support. So you can hide all of your cables and the i/o is hidden as well. ASUS ROG SWIFT PG27UQ is worth close to $2,500, so it definitely isn't for everyone. But this thing is so ridiculous we just had to talk about it
And these are the 5 Best Gaming Monitors of 2018 which were recently released.