Are you looking for the best Elden Ring Arrows and bolts to add thrill to your gameplay? Well, your search ends here as our experts have compiled a comprehensive list of all options you can obtain and use when playing this dark, fantasy game.
Elden Ring has been around us for quite a while now. Its popularity is increasing daily, thanks to the significant upgrades, classic gameplay, and one-of-a-kind gaming elements that you probably haven't heard of earlier.
One such element that's worth giving a thought to is Elden Ring arrow and bolt. Just like magic and talismans, these weapons are capable of doing enough damage, thus making specific encounters challenging and gruesome to overcome.
If you are pretty new to the game and have no idea how to obtain Elden Ring arrows and bolts, then worry not, as we are here to help.
Keep scrolling the page and find a complete guide on these weapons. The page also outlines some of the best ways to find these arrows and bullets.
You can play best-unblocked games from your office and school to pass the time. We are created a top-rated unblock game listing for you.
7 Best Elden Ring Arrows and Bolts for Your Gameplay (2023 TESTED)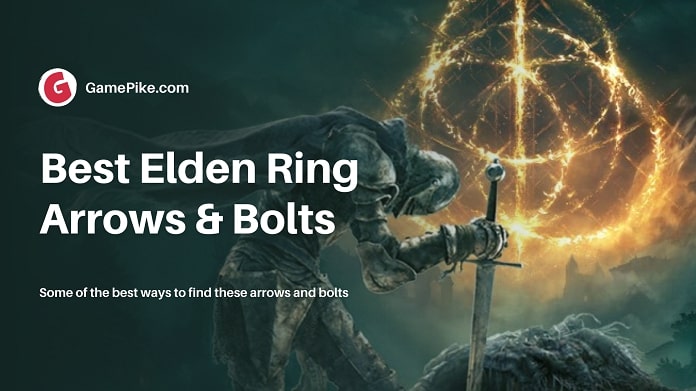 Since players usually prefer going on the attacking side in Elden Ring, knowing about the best weapons is mandatory to make others' games downrightly difficult.
Here, we have put together the 7 must-have Elden Ring arrows and bolts that can take your game experience to a new level.
1.

Black-Key Bolt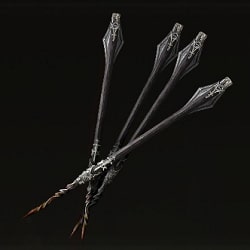 Let's unwrap the list with the most potent Elden Ring weapon, which is none other than the Black-Key Bolt.
It is primarily designed to use Crepus' Black-Key Crossbow, a popular assassin tool in the game.
Speaking of its structure, Black-Key Bolt features a spiral tip and deep bores.
This bolt is added to the game with the intent to rot the flesh of the target completely, making your enemy challenging to heal.
How to get Black-Key bolt? On a dead body in Sellia gateway.
2.

Bloodbone Arrow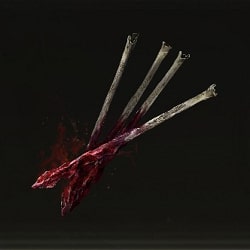 Counted among the best Elden Ring arrows of all time.
Bloodbone Arrow is widely applauded for its inflicting blood damage.
It is mainly created using animal bones with a tip coated with a blood tincture.
As far as gaming rules are concerned, a player can hold up to 99 Bloodbone arrows and store up to 600 Bloodbone arrows at the maximum.
You can earn this arrow by following below instructions.
How to get Bloodbone Arrow? Craft using the materials: Thin Beast Bones and Bloodrose Icon Bloodrose.
3.

Ballista Bolt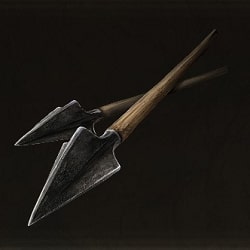 Yet another mighty name that we cannot afford to miss to mention on the list is Ballista Bolt.
It is listed among the bolt ammo items in the game and can be paired only with Hand Ballista and Jar cannon weapons, owing to its massive size.
Although you can use Ballista Bolt with limited weapons, that doesn't make it rare.
There are many locations where gamers can buy it, such as Nomadic Merchant, Isolated Merchant, Hermit Merchant, and much more.
How to get Ballista Bolt? Purchase from the merchants: Gatekeeper Gostoc, Nomadic Merchant, Isolated Merchant, Patches, Hermit Merchant, Nomadic Merchant, and Hermit Merchant.
4.

Dwelling Arrow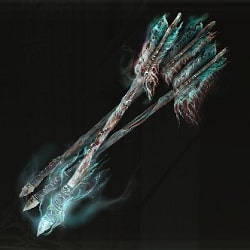 Sounds amazing? Indeed, it is!! Both weapons and magic talismans can do massive damage in the game, but what if you get a blend of these two powerful elements?
Dwelling Arrow is one of the few options in the Elden Ring that deals additional magic damage, giving your avatar an edge over others.
Since this arrow can be coupled with ranged weapons, including crossbows.
It helps players do extensive damage to their enemies.
Wondering how an arrow can feature magical properties? Well, it is believed that Dwelling Arrow has spirits of small animals that are thought to dwell, making it a magical blend.
How to get Dwelling Arrow? Purchase from the merchants: Abandoned Merchant and Imprisoned Merchant.
5.

Bone Bolt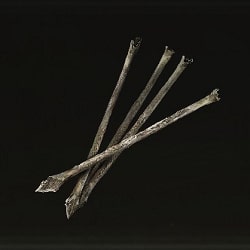 Are you still searching for Elden Ring arrows and bolts? Then turn to the Bone Bolt and give your enemies tough competition.
Bone Bolt is created by using a skin of a thin element with a sharp tip to carry out the ranged damage.
This craftable item can be used with Bows and Crossbows and perform 40 physical damage.
While it has a sharp tip, it cannot particularly fly and cause no passive effect.
How to get Bone Bolt? Craft using the materials: Thin Beast Bones x2.
6.

Saint Trina's Arrow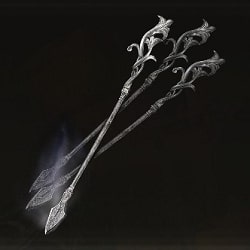 Also written as St. Trina's arrow, this weapon is undoubtedly one-of-a-kind.
It is introduced to induce a sleep effect in the game, automatically giving the player an edge.
It looks like a water lily and sometimes uses a pierce enemies' armor to do the most damage.
This weapon worth adding to your Elden Ring arrows collection is its feather fletchings, mainly incorporated to add accuracy.
How to get St. Trina's arrow? Purchase from the merchants: Nomadic Merchant and Isolated Merchant.
7.

Explosive Bolt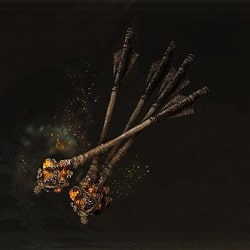 Are you looking forward to adding explosion power to your armor?
If so, do not overlook the Explosive Bolt and buy it immediately to amp up your energy.
While it sounds like a bolt, this weapon is an arrow in the Elden Ring.
Its tips are daubed with a shard of explosive stone, enabling it to deal with the fire damage.
You can earn explosive bolt by using below information.
How to get Explosive Bolt? Purchase from the merchants: Nomadic Merchant.
How to Obtain Elden Ring Arrows and Bolts?
Now that you are well acquainted with the Elden Ring arrows and bolts, it's time to move on to the effective and practical methods to obtain them.
Below are mentioned 2 simple ways to add these powerful weapons to your ER collection.
Via Merchant
The easiest way to obtain arrows and bolts in the Elden Ring is to connect with the respective merchants to get what you want.
There's no shortage of merchant options, and you can easily buy these weapons without putting a hole in your wallet.
Some famous options in merchants are Nomadic Merchant, Hermit Merchant, Imprisoned Merchant, etc.
Using Crafting Kit
Not interested in shelling out money? Fret not, as you can craft these Elden Ring arrows and bolts using the game's in-built crafting kit.
Gather all essentials and turn on your creative side to craft your favorite weapon without spending money.
Final Thoughts
So, there you have the complete information about Elden Ring arrows and bolts. We hope you have liked our homework and found the research informative and exciting.
The list of weapons and talismans in this role-playing game is endless, but not all of them are worth spending on.
So, it's better to save time and energy for other gaming tasks and obtain any of the arrows and bolts mentioned above to fuel your gaming experience.