Minecraft is one of the prominent games that fascinate both newbies and experts alike. This video game series offers a variety of options to gamers out there, hence leaving them with the desire to come back for more.
There're plenty of Minecraft skin editor options available over the web that help you make the desired alterations to your character.
However, what adds thrill to the game is its option to change the avatar's skin and looks. Interesting, isn't it?
But since the options are endless, choosing the best among the rest might be intimidating for the players. Hence, GamePike has compiled the 10 best alternatives to create skins in 2022.
Just go through the guide till the end and make an excellent selection.
What is Minecraft Skin?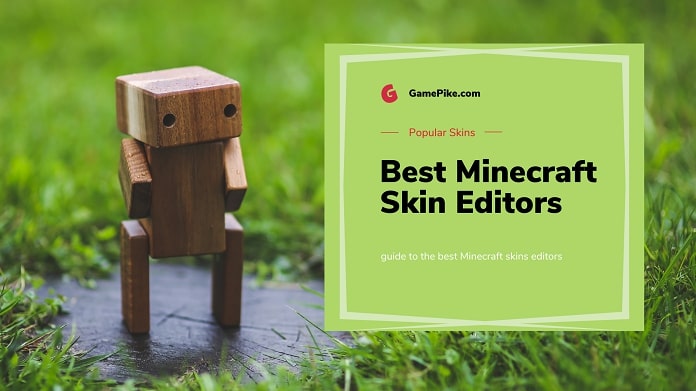 The texture of the main character in Minecraft gets referred to as skin, and it can get altered in an unlimited number of ways.
However, please do not confuse it with Minecraft texture or resource packs or Minecraft house ideas, which are typically used to change the texture of blocks and other creatures in Minecraft.
In technical terms, the skins are simply an image superimposed on the character's blocky design. You can use the Minecraft skin editor to make the desired modifications.
These skin graphics are used in both versions of the game in the same way. Unlike the best Minecraft seeds, most Minecraft Java skins are compatible with the Bedrock edition.
You can also utilize skins on Minecraft Pocket Edition (MCPE) for Android, Windows 10, iOS, and Fire OS, thanks to the integrated Bedrock environment.
While using Minecraft on a Chromebook, you can even change the skins.
10 Best Minecraft Skin Editors to Create Skins
Curious to know more about the skin editor Minecraft? Here's the comprehensive guide to the 10 best options you can add to your app drawer.
So, without further ado, let's take a deep dive into the list, and we are sure you'll install the most appropriate option that fits your requirements well.
1.

The Skindex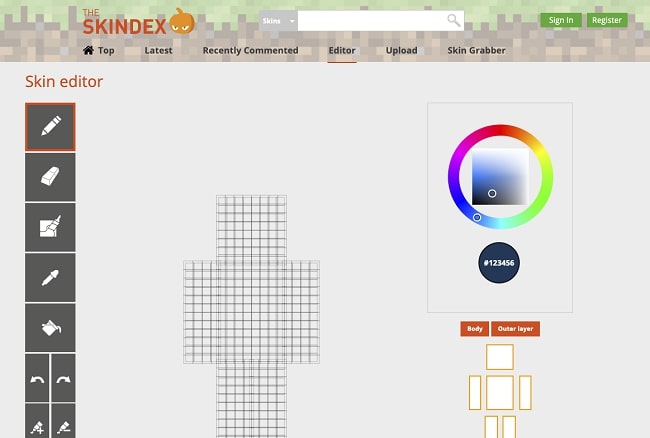 Skindex Minecraft Skin Editor is loaded in a fraction of a second, which was the first thing we noticed when we opened it.
A lightning-quick response is always a good sign, but the rest of the features kept surprising us.
All of the tools you'll need to get started are on the top bar, including the ability to establish an account or login in with an existing one, all sorting options (filters), and the skin upload button.
What else is needed?
Features:
It allows you to upload and download your skins easily.
De-select particular body portions of your character's skin visibly.
Pros
The user interface is simple to use.
A variety of tools are available.
Cons
It doesn't have the most advanced editor.
2.

minecraftskins.net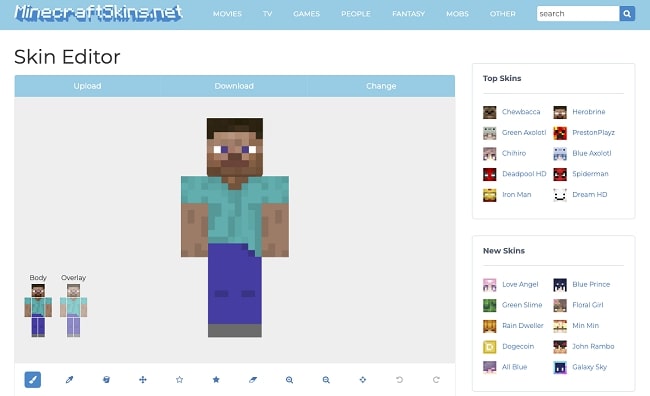 Yet another Minecraft Skin Editor is Minecraftskins.net. This website contains skins for characters from different video games, fantasy films, and other media.
You can either edit one created by a member or create one from the ground up based on your creative vision.
Don't forget to look at the ones made by other users if you need inspiration. Websites offer a variety of skins to choose from and an editor to add a personal touch to your skins.
Features:
The Wardrobe feature assists you in keeping track of your skins.
Skins can get added to your outfit.
Pros
Easy to use
Beginners friendly
3.

Minecraft Skin Editor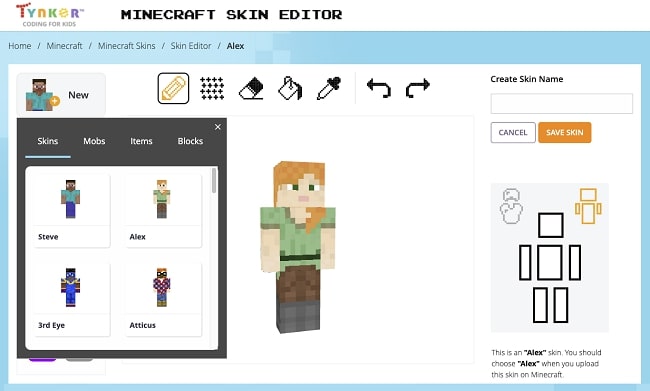 This editor offers a straightforward user interface that makes it simple to use.
The texture brush allows you to add colour with tiny variations so that surfaces on the model don't look flat, which may be the best feature.
This skin editor lacks some helpful features, such as hex colour support, due to its simplicity, which might disappoint advanced users.
To save your work to your computer, you'll need a Tynker account.
Features:
Rotating the model and revealing/obscuring its various components
Users can share their works with others.
Pros
A hassle-free option to go for.
No ads
Cons
To save files locally, you'll need an account.
There is no support for hex colours.
4.

Nova Skin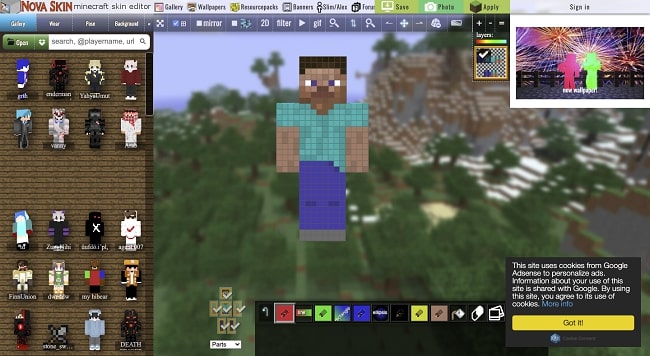 We put Nova Skin to the test to see if it lives up to its reputation as one of the best Minecraft skin editor options are truly satisfied with the results.
When you first load the NovaSkin website, you might feel a little overwhelmed by all the choices and options on your screen.
They appear a little over-the-top at first, but after you start polishing your Minecraft skins with the editor, you'll be glad they're so "out there."
Features:
There is a great deal of power to be discovered.
Toggle the grid option is present.
A mirror tool with zoom in/out is available
Plenty of Shapes of a gradient
Pros
It is more sophisticated.
It suits both beginners and pros.
Cons
There is no support for hex colours.
5.

MC skins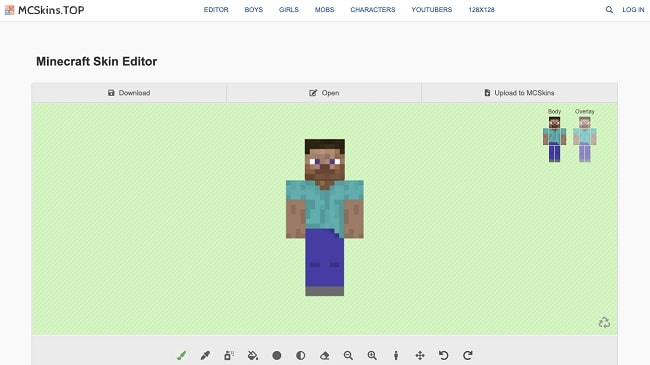 Mcskins, like the other sites on this list, provides similar colour options and the ability to browse skins designed by others in an animated format.
If you dislike your skin, don't worry. You can go back to the beginning by pressing the recycle button.
Overlay allows you to increase the volume of your body by adding a second layer to each area.
You have complete creative freedom to draw whatever you want, including hair, a hat, and outfit details.
Features:
The skin's location can get altered.
You can increase the size of your gaming avatar.
6.

PMC Skin 3D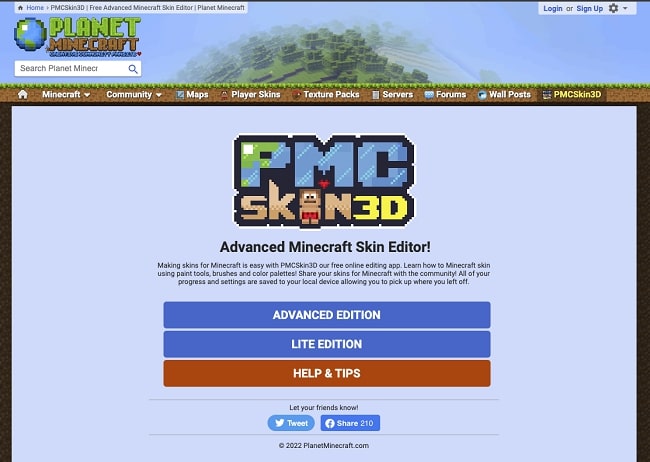 Planet Minecraft is a welcoming community where people may share and respect one other's creative endeavours and hobbies, making it the best Minecraft Skin Editor 3D.
They offer a variety of entertaining ways for you to find and post content, network, and meet like-minded creative people that enjoy the game of Minecraft from all around the world.
Some users have spent their lives on Planet Minecraft, forming lifelong friendships!
Keep in mind that they aren't government-approved sources of information. Instead, it's a fansite for the community.
Features:
Work and interactions get used to getting to know each other.
3D skin editing is possible.
Pros
It's relatively risk-free.
Cons
A variety of colour options and advanced features are missing out.
7.

Minecraft Skin Stealer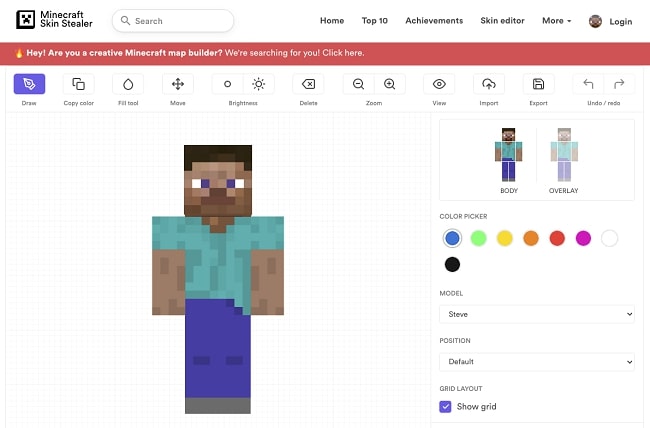 This skin editor gives you colour options, tools, and the chance to see the character in several poses.
After you've completed changing all of your adjustments, click the Download skin button to start using the skin right away.
You could make your character skin with a simple image editor, but you'd need to know which parts of the image correspond to which parts of the model.
It is a simple and easy-to-use online Minecraft Skin Editor, Stealer, and Viewer that includes tools for improving your Minecraft skin.
Features:
Several colour options
Characters in various positions
Pros
You can start using it right away as no account creation is needed.
Simple to use and understand
8.

Need Cool Shoes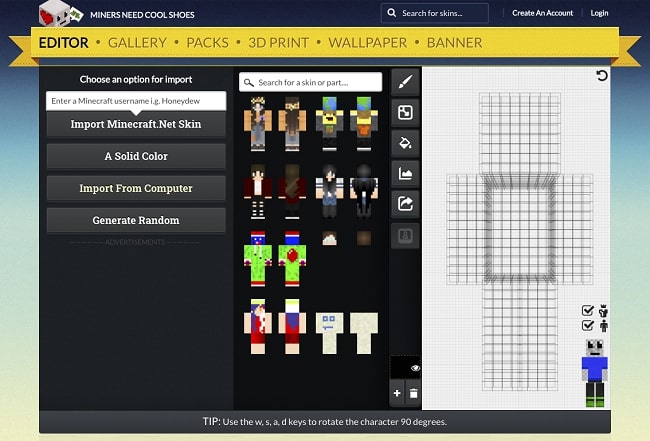 Miners Need Cool Shoes is another excellent Minecraft skin editor. It has a unique name but some of the most advanced customizing features.
You'll find a few skin templates on the website's home page, which should be plenty to get you started.
The designs are one-of-a-kind and entertaining, and they should encourage you to experiment with your skin.
Features:
You can upload files that get locally stored on your computer.
Pros
Everything you'll need for your Minecraft adventure can get found here.
You can develop designs even if you have no prior design knowledge.
9.

MC Skinner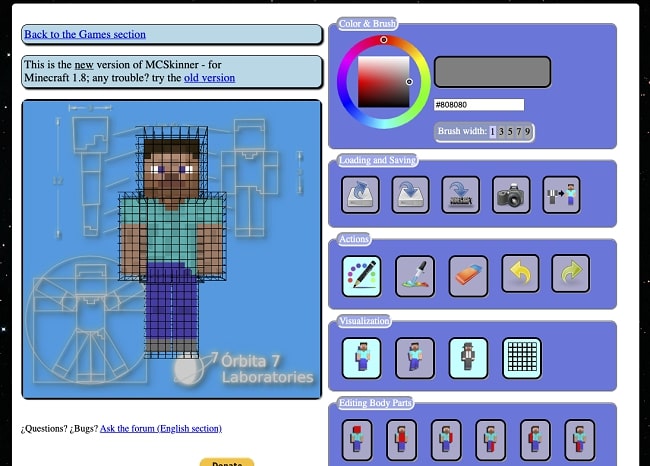 The next Skin Editor Minecraft is none other than the MCSkinner. The website boasts a simple, user-friendly interface, and players can use this tool without undergoing lengthy tutorials.
This web-based skin editor features a colour brush whose width can be changed according to your preferences.
Gamers can choose the brush width from the five available options, namely 1, 3, 5, 7, and 9.
Features:
Different brush widths are available to choose from.
You can edit the body parts as well.
Pros
Export to the old skin format is possible
You can visualize the character before saving the changes.
Cons
The colour palette is not much enticing.
10.

Skin Stealer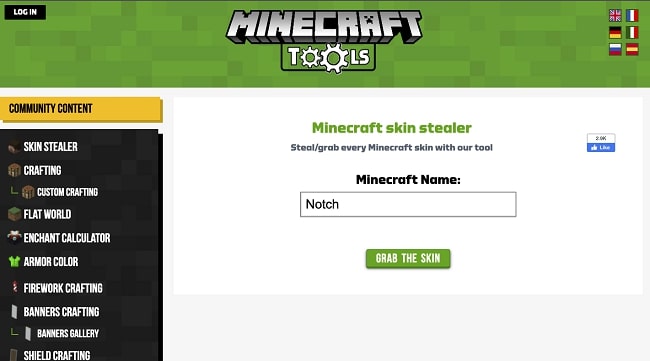 It's time to wrap up the list of the Minecraft Skin Editor with yet another best option, namely Skin Stealer.
This editor stands apart from other options on inventory because of the variety of tools available on its website.
You'll find many options, ranging from custom crafting, armour colour, banners crafting to fireworks crafting, mob generator, custom potions, etc.
Features:
A variety of chat colour codes are available.
It can create banners according to the game crafting recipes.
Pros
Plenty of tools are available.
Customize the avatar skin your way
Supports classic, 1.8, and Alex skin models
Cons
A bit confusing for a beginner
How to Use Downloaded Minecraft Skin?
The best part of Minecraft is that you can alter your gaming character's skin several times by using the skin editor Minecraft.
So, after downloading the skin, all you have to do is build or change a similar skin on the Minecraft website, then download and upload the skin to the game on your PC.
Go to the Minecraft official website.
Log in using your Mojang or Microsoft account.
On the left side of the Profile, click the 'Skin' tab.
Choose between 'Slim' or 'Classic'
Click 'Upload Skin,' then look for the skin on your computer.
Upload the.png file that you selected.
Your game's Minecraft skin has now to get updated.
Our Thoughts
Minecraft is entertaining, but it's even more so when you use a custom skin of your favorite character or style.
Now that you know how to make your own Minecraft skins, you should never go another day without looking good while crafting or mining. That's it for now!
We hope you have found our homework exciting and worth your time. Pick any of these editors mentioned in the list and make your gaming avatar as lively as possible.
Remember that you may always create a unique style for your character, although this usually necessitates some design experience.