Roblox is a leading online gaming platform that features many games to entertain players of all tastes and preferences.
Since the popularity of this gaming platform is increasing day by day, makers are now adding more features to it to facilitate gamers out there. One such feature is Roblox Bypassed Audios.
This gaming marketplace features a stack of Roblox song ID codes that players use and jam out to listen to their favourite songs while playing the game.
After Roblox Bypassed Words, these audio stacks have created a buzz amongst gamers worldwide.
These song IDs don't appear as loud as others, making them an ideal choice for players to add some thrill to their game.
Are you looking forward to using them but have no idea how to begin? Without further ado, let's get into it!!
Continue scrolling the page, and the guide will take you through the detailed description of Bypassed Roblox Id, how to use them, along the latest codes to use in 2022.
What Are Roblox Bypassed Audios?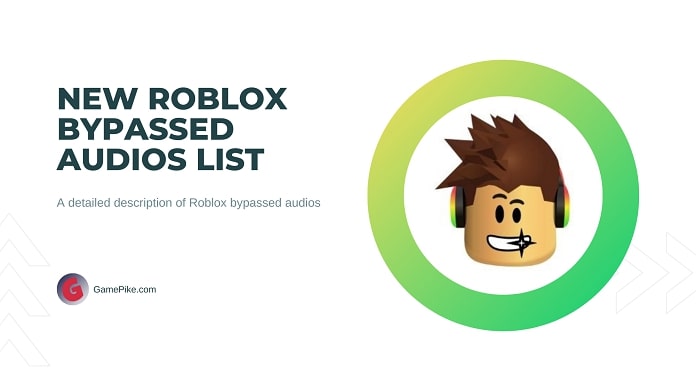 Before jumping into the list of the best Roblox Bypassed Audios, it is essential to know what they are.
Bypassed Roblox audios are the files you can use in your game, but they generally upload in a way that doesn't make them look as loud as they are.
In a nutshell, these are the numerical codes that offer players the opportunity to listen to something they like while playing Roblox games with their friends.
It's no wonder that such audios add thrill to the game while offering a better gaming experience. Most players love using these bypassed Roblox IDs to create chaos in the game.
The best part is that you can easily use these ids without interfering with the existing game or interface.
You can purchase the Roblox premium or Boombox to use these ids hassle-free. Moreover, these ids are easy to copy into your game and inserted within a few simple clicks.
How to Use Roblox Bypassed Audio?
To use Roblox Bypassed Audio, players must have Boombox to play the song. However, if you don't have the Boombox, you must purchase it from Roblox's catalogue page or from here to use these song ids.
Here's how you can do it.
At first, log in to any of the Roblox games that let you play the songs.
After that, click on the Boombox.
A pop-up appears on the screen, asking you to enter the song ID code. You can put any other ID codes mentioned below in the article.
Press the Enter button, and the song will start playing.
List of Roblox Bypassed Audios Id in 2022
So, now that you are well aware of the bypassed audio Roblox definition and the process to use the same, it's time to unwrap the list of the bypassed audio ids you can use in 2022.
Bookmark the page and use the song ids listed below to play the song in your Roblox game.
| Roblox Audio Name | Music Code |
| --- | --- |
| The Detective | 4618794396 |
| Bài ca danh tửu | 1269108916 |
| This Day Aria GLaDOS Version | 189292933 |
| Falusi Mix | 2923101066 |
| Shining Sea (Maplestory) | 183060200 |
| Please, Mr. Fazbear | 1227174320 |
| Friday Night Funkin | 7265424791 |
| Burzum | 2181912854 |
| LMFAO background theme | 2622402346 |
| Sailor moon | 3601270962 |
| Ryan Higa - Despacito Parody | 947749738 |
| One Piece OP 7 | 5715627267 |
| Destroid 10 Funk Hole | 145693356 |
| Inuyasha Ending 7 | 378868507 |
| Love Like You | 287579036 |
| Cool fight music | 6853057466 |
| Squidward Zone | 187985574 |
| I m scared | 1187483329 |
| Ice scream - scary music | 4593300173 |
| electro peaceful | 2502183333 |
| Pak 40 sound effect | 394253848 |
| Candy Man | 5481030156 |
| New Billy Bounce Music | 3237438406 |
| Yo Im Whitty | 6493788029 |
| Pokemon Pikachu singing | 515394280 |
Our Thoughts
That's all about the Roblox Bypassed Audios. These Roblox song ids codes are easy to use and can instantly add an oomph factor to your game.
All you have to do is purchase the Boombox from the Roblox catalogue, enter the song id, and let the party begins.
Don't forget to bookmark this page and use any of the ids to enjoy Roblox games to the fullest.
So, do you like our research?
Feel free to share your feedback in the comment section below. We would love to hear from you.