Live roulette has emerged as one of the most popular options for gamers wanting a more interactive casino experience from the comfort of their homes.
In recent years the world of online gambling has undergone substantial growth. These real-time gambling experiences allow players to connect with live dealers quickly and from anywhere with an internet connection.
These are reasons why live roulette has become more prevalent in recent years. This post explores the rise of live roulette games and delves deep into the reasons behind their growing popularity.
Let's get started!!
What Are the Advancements in Technology in
Live Roulette

?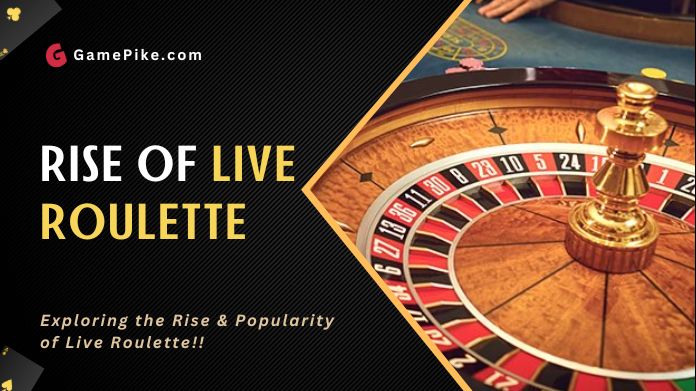 One of the primary reasons for the popularity of live roulette is the technological developments that have enabled it.
Live roulette games are broadcasted in real-time from professional studios or real land-based casinos. Many cameras capture every game perspective, including the roulette wheel, dealer, and betting table. 
This replicates the feeling of playing at a traditional casino which is appealing to many players. 
With the advancement of high-speed internet, live streaming technology, and enhanced audio-visual capabilities, online casinos can now provide a highly interactive gaming experience just like other online PC games. 
1.

The Social Aspect

Another factor contributing to the rise of live roulette is social interaction. Unlike traditional online casino games, where players typically play against a computer program, live roulette allows interaction with actual human dealers and other players. 

Players can chat with the dealers and other players using a live chat function, creating a sense of camaraderie and community among players. 

This social aspect adds a layer of enjoyment to the game, making it more engaging and appealing to those who crave human interaction while playing.
2.

Trust and Transparency

The level of trust and transparency provided by live roulette games is a crucial aspect contributing to its growing popularity among online casino gamblers. 

Players regularly argue about the fairness of traditional online casino games, which rely on random number generators (RNGs) to generate outcomes. 

However, with live roulette, players can see the spin of the roulette wheel and the ball's placement in real-time, removing worries about the game's fairness. 

The presence of live dealers is one of the key benefits of live roulette. To ensure fair gameplay, dealers are thoroughly trained and monitored. 

They give the game more authenticity because players can engage with them in real time and witness their actions. 

This human aspect in live roulette increases players' trust and confidence in the game by providing accountability and transparency, which do not exist in regular online roulette games.
3.

Enhanced Betting Options and Convenience

Furthermore, live roulette offers players more betting options than online roulette games. The ease of use of it is another vital aspect of its popularity.

Aside from the standard inside and outside bets, live roulette frequently offers additional games such as neighbor bets, announced bets, and racetrack bets that are not accessible in standard online roulette games.

Players can access live roulette games from the convenience of their homes at any time of day or night, eliminating the need to drive to a physical casino. Plus, they have lots of options regarding payment methods. 

This adds complexity and variation to the gameplay, attracting players who prefer experimenting with various betting methods and seeking more unique wagering alternatives. 

These games are compatible with various platforms, including gaming computers, laptops, tablets, and smartphones, allowing users to play on their favorite devices whenever they choose. 

If you want to test something new, try online gaming sites that give you any grief with payments, you will instantly replace them with another site from competitors' troops.

Because of its accessibility and flexibility, live roulette is a popular alternative for players who lead hectic lives and may not have the time or chance to visit a land-based casino.
What Challenges Faced in Live Casino Games?
Live games present a unique set of challenges that players and operators alike must address. One of the primary challenges is ensuring seamless connectivity and low latency to prevent disruptions to the game.
Balancing speed and authenticity can also be a challenge as operators strive to deliver an exciting and engaging game without sacrificing the integrity of the experience. 
Managing risk and uncertainty is another challenge, as players must be prepared for random outcomes and adapt accordingly.
Disruptive players pose a challenge, as they can disturb the game and negatively impact the experience for other players.
The Bottom Line
The rise of live roulette can be attributed to a combination of technological advancements, social interaction, trust and transparency, diverse betting options, and convenience. 
With its growing popularity, live roulette is likely to continue to be a significant trend in online gaming, providing players with an exciting and engaging way to play roulette from wherever they want.
Happy Gaming!!