As we all know, Poppy Playtime is one of the most popular and exciting horror games available. It is being set up in an abandoned toy factory; the best Poppy Playtime toys are most lovable.
MOB Entertainment, the publisher and developer of the game, has now floored the game on platforms such as iOS, Android, macOS, and Microsoft Windows.
This horror adventure survival single-player game was launched on October 12, 2021. The spookiness and thrills that the players of this game experience are entirely because of the strangely looking Poppy Playtime characters.
These weird-looking creatures usually combine curvy and curly and cute-looking toys. The game includes many characters, from Huggy-Wuggy to PJ Pug-a-Pillar, and offers players a frightening and expansive experience.
Curious about what's next in the spine-chilling saga? Get the scoop on the next chapter's release date in our latest post!
This comprehensively detailed article will guide you about some of the best Poppy Playtime toys.
These toys are available online, and we are sure you will enjoy them if you are a true game fanatic. Do not worry; these would neither scare you like the ones in the game nor will they come to life.
But, they are mere toys made of different materials, based on the popular Poppy Playtime series.
Best Poppy Playtime Toys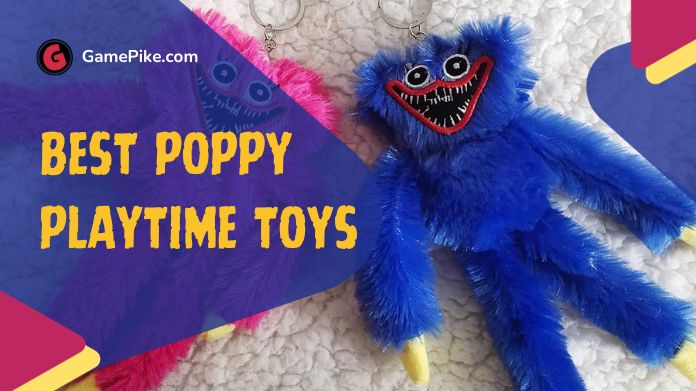 If you are a fanatic of this horror game of Poppy Playtime, then you would be waiting to bring the physical element of this spooky game to your homes in the form of the best Poppy Playtime toys.
The story of this hit horror game is also about bringing all the toy elements to life in the game.
Sorry to burst your bubble. These are not like other figures in other horror games. Instead, they are on a mission to torment the game's players.
Some of the available in-game characters that are super exciting and fun to play with include:-
Huggy Wuggy
Kissy Missy
Bron
Poppy Playtime
Candy Cat
Cat-Bee
Boogie Bot
Mommy Long Legs
PJ Pug-a-Pillar
Boxy Boo
If you want a detailed explanation of all these Poppy Playtime characters, read our extensive article on our blog post site of GamePike.
After you enjoy being chased down the hallway, Let's dive into the best Poppy Playtime toys guide.
List of the Available Best Poppy Playtime Toys
Some of the available best Poppy Playtime toys have been listed and explained below.
1.

Huggy Wuggy Costume

Although Halloween has already passed this year, next year, make sure to dress up your kid in the best Poppy Playtime toy costume of the character Huggy Wuggy if he likes playing this game.

This packet would consist of unsettlingly realistic costumes with a mask, which could be the perfect way to dress them for the Halloween Party or scare their friends.

Also, a plushie Huggy Wuggy toy is available on the Amazon website.
2.

Kissy Missy Figure

As we know, the character of Kissy Missy is Huggy Wuggy's female counterpart. This character of Poppy Playtime is also equally creepy as the previous one. The looks are similar, with Kissy Missy having pink fur instead of blue.

On Amazon, the best Poppy Playtime toy is available for this character. You would find a 12" doll of Kissy Missy with a face-changing feature.
3.

Mommy Long Legs Figure

The in-game character of Mommy Long Legs is the matriarch of the set of furry friends.

This is a humanoid figure with a warm yet creepy smile that would give a friendly appearance in the game.

Well, here we are talking about the best Poppy Playtime toy, so for that, you would get a 5" posable figure doll, along with a plushie toy of the same character.
4.

Collectible Figures

This is the best Poppy Playtime toy with a collection of exclusive minifigures of the in-game characters, including Huggy Wuggy, Kissy Missy, and Poppy herself.

This would be an ideal gift for someone who is a massive lover of this thrilling horror game. You can use them as a decorative item for table tops and window shelves, include them in your collectibles, or keep them intact in the box.
5.

Lunchbox Bundle

If you are a huge Poppy Playtime fanatic or know someone who is, this would be the best Poppy Playtime toy you can give as a gift.

This lunch box gift based on the Poppy Playtime series consists of a metallic lunchbox with a lenticular cover. This type of cover uses the 3D effect to show a lunging Huggy Wuggy.

Inside the metal box, you would find a silver figure of Huggy Wuggy, a grey Huggy Wuggy plushie, and an exclusive poster.

This box is worth every buck, so if you want to show off your fandom to friends, spend your bucks on this.
6.

Huggy Wuggy You Tooz Figure

If you do not like plushies and prefer something more solid, then the You Tooz Figure of the character Huggy Wuggy would be the best Poppy Playtime toy to invest your money in.

This is a 4.4″ standing toy made up of Vinyl. This creepy creature looks excellent both inside and outside the box. You can gift it to a fanatic and use it as a decorative piece.
Frequently Asked Questions
Q. Which is the Most Popular in-game Character of Poppy Playtime?
Ans. This Indie horror game, Poppy Playtime, has unexpectedly made the kids fall in love with the character. This giant blue-haired character is the main monster in the game. Its gnashing teeth and in-game tactics appeal to the players the most.
Q. Who is the Bad Character in Poppy Playtime?
Ans. All the toys or the characters in the game are indeed the main antagonists of this game. It has been known that these characters were former humans who were modified as living toys. They all were trapped in the cage, and one day, they started creating havoc in the factory.
Let's Wrap Up
Thus, that was all we had to share with you about the best Poppy Playtime toys available online.
If you know of any game store or other platform where people could purchase more such games related to the series, please let us know in the comment box below so we can update this guide.