Poppy Playtime is a super exciting horror game that is being set up in an abandoned toy factory. Published and developed by MOB Entertainment for platforms such as; Microsoft Windows, macOS, iOS, and Android.
This adventure survival horror game was first launched on October 12, 2021, and will be played by only one player at a time. 
The spookiness and the thrills people experience in this game is entirely because of the Poppy Playtime characters. The creatures or the beings that antagonize the players in the game are usually a bend of cute-looking, curvy & curly toys.
Thus, they are one of the worst-looking creatures, just like a bad nightmare. From Huggy Buggy to PJ Pug-a-Pillar, this game has many Poppy Playtime Characters that the player should be well aware of for having an expansive and frightening experience.
So, without any further ado, let's start with this informative article, where there is a curated bulleted list with an explanation of the central character that you will be meeting during the gameplay.
Let's get started!!
List of All Poppy Playtime Characters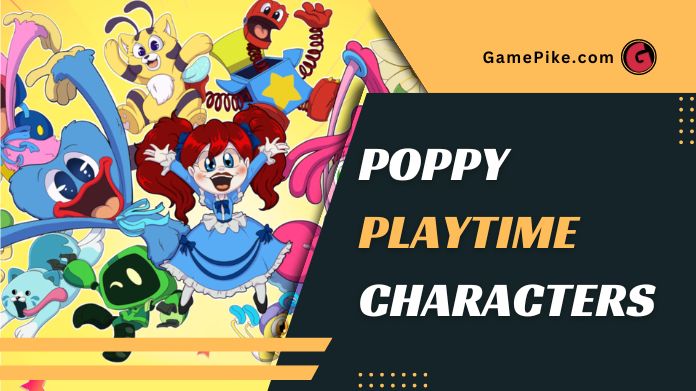 The Poppy Playtime characters are the entire heart and soul of the game. Their job is to give an iconic gaming experience to their players. All the characters in Poppy Playtime are pretty spooky and terrifying. 
Thus, familiarize yourself with some of the fearless foes of the game of Poppy Playtime. 
1.

Huggy Wuggy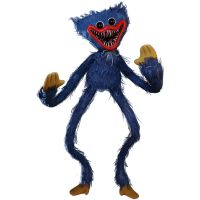 Huggy Wuggy is one of Poppy Playtime's most popular and monstrous characters.
He is a fragile and tall creature with bright blue furry hair all over his body.
Not only this, but he also has long yellow hands attached to his body with the help of velcro.
The hands and feet also have detailed fingers and thumbs that cannot move apart as they are bonded together. Huggy Wuggy also has bright pink cartoon-style lips, black beady eyes, and a cheerful and cuddly personality. 
He also has an aggressive nature, with a demented grin, and has an array of sharp razor-like teeth, which makes it look more scary and vulnerable, and he uses it against his victims.
Besides being aggressive, this Poppy Playtime Character symbolizes warmth. As his name is, he is always seen welcoming people by giving them hugs, as he prefers to be quiet most of the time.
If you are an avid player of this game, you might have noticed that it is like FNaF, various characters in this game play an important role you can check all FNaF characters' names.
2.

Kissy Missy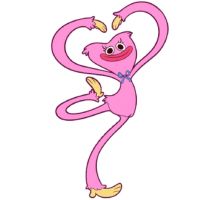 Kissy Missy is another popular toy of the Playtime Co., developed in 1985, i.e., one year after the launch of Huggy Wuggy. She is his perfect counterpart and almost resembles Huggy Wuggy in terms of looks.
She has appeared in banners of Chapter 1: A Tight Squeeze and played a minor role in Chapter 2: Fly in a Web.
She also is a tall and skinny creature with pink fur all over her body, unlike Huggy Wuggy, who had blue instead. 
Other features like cartoon-style lips, blue bow, and yellow hands and feet resemble the Huggies. In addition, the Poppy Playtime character of Kissy also has long eyelashes and a different eye color than Huggy's.
More than acting as an antagonist character in the game, Kissy Missy appears as an ally or a supporting character to Huggy, as she also possesses aggressive razor-like teeth.
Huggy used to hug people around him; similarly, the character of Kissy kisses the children she encounters with. Thus, her toy form of character is presumed to be kind and gentle. 
3.

Bron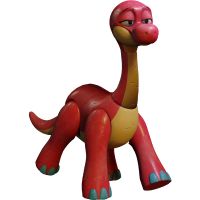 Bron is a bright red colored dinosaur with a yellow underbelly area. This Poppy Playtime character is inspired by the real-life animal Brontosaurus.
This character is quite cute and consists of features such as; a rounded head with a small nose, twinkling black eyes with eyelids, a long red & yellow neck, a fat round torso, two pairs of stubby limbs, with bright blue toes, and a pointed long tail. 
This red guy is regarded as a hardworking character of the Poppy Playtime Co. He keeps his goals and objectives set for himself and strictly pursues the same.
He is also seen restricting himself to just about 400 calories a day which is also quite complex, and he does a lot of labor by the day. Bruno also has a good sense of humor and is often seen cracking jokes and puns on fellow species of dinosaurs. 
4.

Poppy Playtime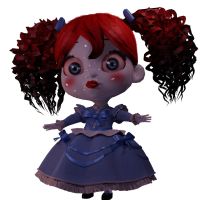 This is the first ever toy created in the Poppy Playtime Co. factory. Poppy Playtime is a doll-like character in the game that first appeared in Chapter 1: A Tight Squeeze.
As her name suggests, she is the most critical Poppy Playtime character and the only human-like toy.
She is a little doll-like character with pale skin, bright red cheeks, and freckles. Poppy is seen making two pigtails on her red curly hair with the help of two royal blue ribbons.
For her makeup, she wears dark red lipstick with black narrowed eyebrows and uncannily realistic blue-colored eyes framed by lengthy lashes. 
Her appearance is quite spooky, as when light passes through her face, it glazes as if made from porcelain. She is also seen wearing a high bouncy blue colored dress, which is decorated with long, ruffled sleeves and various frills, bustles, and bows.
Poppy also wears a pair of black Mat Janes on her feet. Poppy has a mysterious personality and is not as kind and bubbly as she appears. As you progress in the game's story, you will find her motives becoming dark and emotionless. 
5.

Candy Cat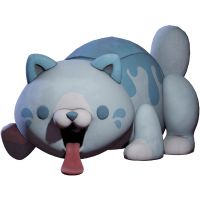 As the name suggests, this Poppy Playtime character is a selfish and greedy cat who only wants to eat every time of the day and is particularly interested in eating sweets.
She also encourages the children in the game to accompany her in eating sweets.
However, later in the game, her habit of overeating takes a dark turn, resulting in her death in the future story. 
She is a cute-looking plump cat of sky blue color. Candy Cat is fair-skinned and has brilliant blue dotted eyes with a long rounded edge tail, and a perfect little nose, which is a combination of two shades of blue, and two blue marks on the cheeks presumingly being identified as whiskers.
She has small pointed ears, an elongated pink tongue of longer than average size, a short torse with a hint of pale cerulean color on it, a long rounded-edged tail, and two pairs of stubby legs with white paws. 
6.

Cat-Bee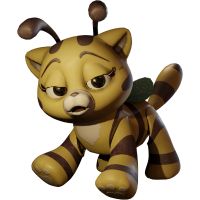 As the name implies, this Poppy Playtime characters is a combination of both a cat and a bee.
This is a cute-looking character who has yellow fur with black stripes on his body.
Besides that, she has two small pointed ears, and between them are two black bee antennas, transparent wings, a rounded-edged tail, and two cute striped pair of limbs. 
Cat-Bee also has detailed facial features: a small black nose, narrow black brows, beautiful black eyes with a white snout and perfectly rimmed eyelashes, two black stripes on the head region running parallel to her antennae, and one on both cheeks.
She also has a small mouth with a cute little pink tongue. This fun character likes to joke around with the players by giving them false instructions. 
7.

Boogie Bot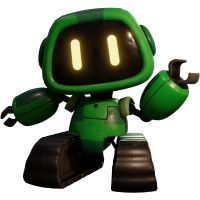 Boogie Bot is a short-height green robot toy with conveyor-type legs and feet, a robotic clasp in place of hands, and a huge head.
The limbs of these characters are attached to the main body through bending iron wires, and his ears are shaped like dark circles. This is a fun battery-operated type toy that is enjoyed by children a lot.
It is an enthusiastic character that wants lots of singing and dancing with the players, especially children. Boogie Bot breaks his moves, grooves, and dances whenever the music is being played in the game.
He has an in-built speaker in his chest area through which sound can be emitted and played rather than the mouth.
He has no major significance in the amazing game but is a minor counterpart of other characters. This Poppy Playtime character is fun and delicate, making the audience feel that he is someone among them only. 
8.

Mommy Long Legs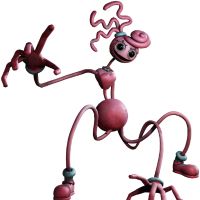 Mommy Long Legs is one of the strongest characters in the game Poppy Playtime; what makes it unique is that the other four long limbs resemble that of a spider.
It is known that her limbs can stretch to extreme lengths so that she may reach her prey faster than they expect.
Overall she has a luring character that attracts the players towards itself and incites them to play various games with her.
She also promises to shower them with specific rewards. However, players will later realize in the game that Mommy Long Legs is not such a promising Poppy Playtime character, as her charming grin slowly turns into scowls.
Later in the game, she would also treat the players to follow the rules if they are not interested in facing dire consequences like death.
This character is entirely made of different shades of pink color, including her limbs, skin, and hair. She has curly and tangled noodle-like hot pink hair that is fashioned into a high ponytail with the help of a bright blue hair ribbon.
Her face is of the baby pink complexion, on which you would find wide-set green eyes with small pupils and just three eyelashes, a hollow mouth decorated with dark pink lipstick, and she lacks a nose. 
9.

PJ Pug-a-Pillar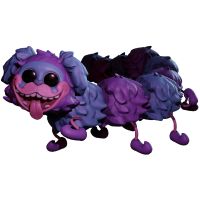 PJ Pug-a-Pillar is a strange monster-like looking Poppy Playtime characters that looks like a cross-breeding of a pug dog and a caterpillar.
The entire body of this in-game character is made of fuzzy and fluffy segments of magenta, pink, and light blue segments. He has an enormous head, black dilated eyes, indigo colored heart-shaped nose, a pink muzzle, and dark pink colored cheeks.
Under each of his eyes, this pug-faced caterpillar character has two teardrop marks. He also has a long body with uncountable pair of legs, and in each of his four, you will find him wearing pointy slippers matching the color of his body.
PJ is best known for its high moving speed and jumpscares. He is not the main antagonist character of the game; instead, he plays a small counterpart in it. 
10.

Boxy Boo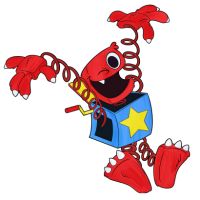 One of the monstrous Poppy Playtime characters in Project: Playtime is Boxy Boo. He is a strange box-shaped figure with springs connected to his body.
This can perform a wide range of actions that requires accuracy and speed. 
Boxy Boo is a colorful and energetic jack-in-the-box toy. The primary body of this toy is a square-shaped blue-colored box on each of the sides, i.e., two parallel circles, a square, two stars, and a heart.
Because of his build-up, the character of Boxy Boo is quick and capable of bouncing to great heights and catching unexpected victims. He also can close like a box and mix himself with the surrounding toys in plain sight. 
Apart from this list, more Poppy Playtime characters are in this horror adventure game, classified under three heads.
REJECTED
Barrel o' Huggys

Surprise Hare

Love dog

Sir Poops-A-Lot

Kick-me-Paul

Owen the Oven

Sunni Buddi

Pet Stone
OTHERS
The Prototype

Barry

Love Bug

Petite Pooch

Daddy Long Legs

Baby Long Legs

Bunzo Bunny

Mini Huggies

Daisy

The Players
EMPLOYEES
Jaren

Avery

Rich

Matteo Lata

Leith Pierre

Elliot Ludwig

Sharon

Scientist

The Player

Sarah Abell

Jimmy Roth

Interviewer

Dr. Matthew Wayson

Eddie Ritterman

Marcas Brickley

Stella Greyber
Frequently Asked Questions
Q. Which Ones Are the Main Poppy Playtime Characters?
Ans. According to the reports, the Poppy Playtime characters of Huggy Wuggy in Chapter 1 and PJ Pug-A-Pillar in Chapter 2 are the two primary antagonists of the game. 
Q. Name the Two Chapters of the Indie Horror Game Poppy Playtime.
Ans. The two chapters of the adventurous game of Poppy Playtime are namely;
Chapter 1: A Tight Squeeze

Chapter 2: Fly in a Web
Q. Do the Players Have to Pay Any Fees for Playing the Game of Poppy Playtime?
Ans. Before the date of May 4, 2022, i.e., before the launch of Chapter 2, Chapter 1 was available for playing for $3.99, and it was announced that the next chapter would cost $4.99 to the players.
But after this date, when all the chapters were published, the first chapter became free of cost, and the second cost $9.99. 
Let's Wrap Up
That was all we had to share regarding the major Poppy Playtime characters.
We suggest you bookmark this page for the future, as we will keep updating this guide with fresh characters now and then.
So, after acquainting yourself well with all the in-game characters, start playing the spooky, adventurous game of Poppy Playtime today and enjoy.