Diablo 4's official release date of June 6 remains a few months away. However, gamers can preview the struggle against Lilith's minions over two Diablo 4 open beta weekends in March.
With promises of revamped gameplay, an expansive open world, and a dark, gritty storyline, Diablo 4 has left fans eagerly anticipating its release.
However, before the official launch, players will get to try out the Diablo 4 open beta version, allowing them to provide feedback on gameplay, mechanics, and overall feel.
This article will give you all the knowledge you need to prepare for and play the open beta for Diablo 4.
If you're a fan of such adventurous games, you must try Destiny 2; also, we have the perfect guide for getting Deterministic Chaos in Destiny 2; you must check it.
Let's review what you'll need to do to access the beta periods and when they'll occur.
When is the Diablo 4 Open Beta Released? (Diablo 4 Open Beta Release Date)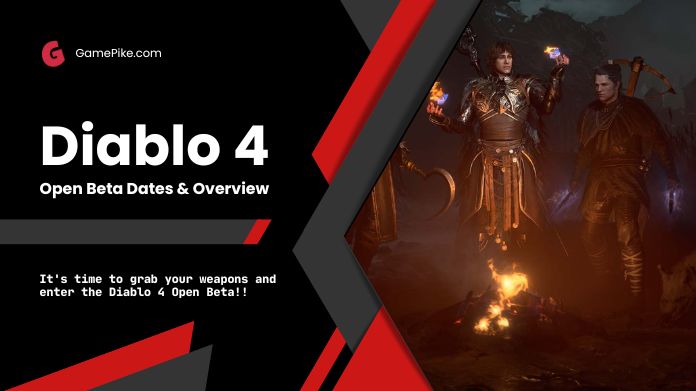 The early access weekend took place from March 17 to March 19, with pre-orders as the first phase's admission ticket.
This time, it continued until March 20, with connectivity issues prohibiting users from participating for several hours after it went live.
If you still need to get in, the Diablo 4 open beta will be held from March 24 to March 26.
Pre-loading is already accessible for those who have gotten their invitation code, and the file size is substantial—more than 70GB on Xbox Series X.
The Diablo 4 open beta will begin at 9 a.m. PT/noon ET and finish at noon PT / 3 p.m. ET.
How to Get Into the Diablo 4 Open Beta?
Both betas will need you to sign in using your Battle.net account, so you'll need one if you still need to get one.
According to Blizzard, if you pre-ordered the game digitally, you should also have automatic access to the Diablo 4 open beta on whatever platform you purchased the game for.
Also, you can check Marvel Ultimate Alliance 3 tier list; if you are a fan of Marvel series games, try it out to make your team unbreakable.
No special invitation or access code is required for the Diablo 4 open beta weekend. Early access to the general beta begins on March 22 at 9 a.m. PT/noon ET.
You do not need to download the early access beta client again if you already have it.
Diablo 4 Open Beta Platforms
Blizzard is making the Diablo 4 open beta available on various platforms, including PC, PS5, PS4, Xbox Series X|S, and Xbox One.
For all platforms, beta downloading for the early access week begins on March 15 at 9 a.m. PT / 12 ET.
The Diablo 4 open beta's early downloading period starts on March 22; however, individuals who downloaded the original beta client cannot re-download it for the Diablo 4 open beta.
Couch co-op will also be accessible throughout the test period on both the Xbox and PlayStation platforms.
To enable this, both players must utilize their own Battle.Net accounts, and they can have up to 10 characters during the beta period.
What's in the Diablo 4 Open Beta?
Early access and open beta will grant players access to the introduction and the entirety of the first act in the Fractured Peaks location.
A Worldwide Boss will also be available to take on at "certain moments" over both weekends. These very difficult bosses will require numerous players to work together to defeat.
During the Diablo 4 open beta, there will be two possibilities for co-op. A two-player sofa co-op or a four-player internet co-op is available.
Only one person must have a pre-ordered couch co-op during the early access weekend. All four members must pre-ordered online co-op during the early access weekend.
Your characters have a level maximum of 25; however, you may create up to ten characters per Battle.net account.
Even during early access weekend, your character will be limited to 3 of the game's 5 classes: Barbarian, Rogue, and Sorcerer.
The remaining two classes, Druid and Necromancer, will become available during the Diablo 4 open beta weekend.
Frequently Asked Questions
Q. Is Diablo 4 Beta Free?
Ans. Users may receive a Diablo 4 Early Access Beta code for free by pre-ordering the game on Amazon, which will not accept payment straight immediately.
When you pre-order Diablo 4 on Amazon, you'll receive an email with a voucher for Beta Early Access.
Q. Is Diablo Immortal Beta Free?
Ans. Diablo Immortal is a free-to-play, hugely massive multiplayer action role-playing video game created by Blizzard Entertainment and NetEase.
A Diablo series chapter takes place between Diablo II and Diablo III events.
Q. How Much Will Diablo 4 Cost?
Ans. Diablo 4's standard edition is available for $69.99 in physical and digital forms through Best Buy, Amazon, GameStop, and Battle.net, as well as the PlayStation and Microsoft digital shops.
Wrapping Words
The Diablo 4 open beta is gearing up to be an amazing opportunity for fans to experience the game's redesigned gameplay, immersive open environment, and dark, grim storyline live.
Reserve your seat in the beta and be among the first to explore the game's environment by following our guide.
So, what are you holding out for? Prepare to enter the Diablo 4 world and begin the struggle against the forces of darkness.