Hey! We all must have seen pigeons, but have you ever wondered what goes in their tini tiny head? Or what is the reason they keep banging their heads to and fro?

Well, we do not have any answers to such stupid questions. But what we know and want to share with you is some exciting information that would exhilarate you as a gaming freak.
Today through this article, we will introduce you to a fun game Headbangers Rhythm Royale, which is based on pigeons, or dancing pigeons. 
This newly announced game has extremely cool rhythm-based battle gameplay for multiple players to enjoy simultaneously.
Headbangers Rhythm Royale release date is said to be this year and available on platforms such as Play Station 5, Play Station 4, Nintendo Switch, Xbox One, Xbox Series X|S, Switch, and PC.
If you are developing an interest in this head-banging pigeon-based game, wait no further and switch to the below-curated article to learn about the gameplay and features of the thrilling game of Headbangers Rhythm Royale. 
All the details mentioned below will surely escalate your excitement for the game to another level. So, what's stopping you now?
Quickly jump into the below-listed facts and familiarize yourself with this compelling rhythmic game.
Gameplay and Features of Headbangers Rhythm Royale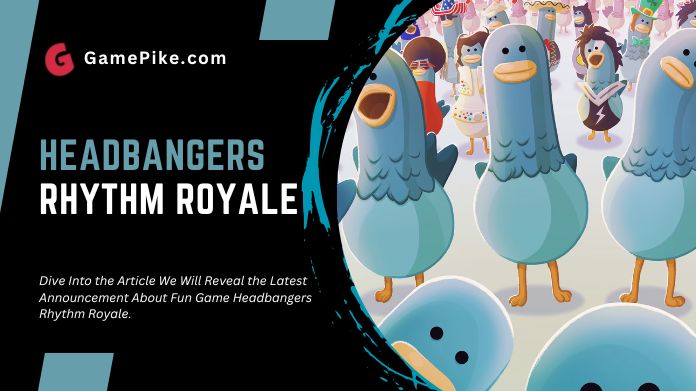 Team17 and Glee-Cheese announced the development and release of a super-exciting multiplayer game, i.e., Headbangers Rhythm Royale, and is supposed to be available on platforms such as; PlayStation 5, PlayStation 4, Nintendo Switch, Xbox One, Xbox Series X|S, Switch, and PC.
This musical battle royale is a light-hearted game where 30 crazy pigeons can compete against each other to win the title of Master Headbanger. 
Players must play 23 mind-bending musical minigames to acquire the title. The player can play these minigames in four unique rounds, along with a musical twist and certain unique challenges.
Each level keeps escalating due to its difficulty level. It also keeps progressing the musical frenzy until the final round to grab the title of the Master Headbanger in their name.
These 23 minigames are entirely rhythm-based, for playing which the players should have a good sense of music. It also judges or checks the player's ability to follow the beat and hit the right note at the right time.
The amazing game also tests its players' reflexes, memory, rhythm, and reaction time. The minigames also present the players with certain power-ups upon completing a particular level.
They can use them either for their advantage in the game or to avoid the obstacles that come their way. The players will also be able to collect the Crumbs and XP after successfully playing each minigame or through bonus rounds and power-ups.
With them, they can customize their pigeon uniquely. The players in Headbangers Rhythm Royale could design their pigeons from various unique items, such as; outfits, glasses, hats, toys, sounds, taunts, and much more.
Players can spend their earned Crumbs in the shop to purchase full costumes, unique sounds, and more. This exceptional customization feature allows the players to experiment with the pigeon's looks and use their creativity to assemble a unique masterpiece by mixing and matching various items. 
The controls of Headbangers Rhythm Royale are quite simple. And entertains from hardcore gamers to a noob and someone who likes fun, electrifying music.
The player with the highest score in minigames moves up in the leaderboard and proceeds to the next round of the game. The players who reach the final round compete with the others to win the title of Master Headbangers. 
Apart from the standard Battle Royale mode, Headbangers Rhythm Royale also offers various other in-game modes to the players. These modes include Cooperative Mode, Deathmatch Mode, and Party Mode.
Before going for the list of mods you can check the top-release games this year. Check the list and add your favorite game to your list.
Listed below are the different mods available in the game that can improve your gaming skills and excite you more to play the game on a loop. 
Battle Royale Mode – This is the classic mode in the game of Headbangers, where the player has to go through all four rounds and minigames, and the one to win the last round first wins the title. 
Cooperative Mode – In this mode, players cooperate and work as a team to complete whatever challenges come their way. 
Deathmatch Mode – Deathmatch Mode is a thrilling in-game mode of Headbangers Rhythm Royale,

 where the players compete against each other and see which one gets the most kills. The player wins the round to get the most of them in the period. 

Party Mode – It is an extremely casual mode, without any competition. In this, the players can have fun with each other, dance to music, and have fun without making any mess. 
After gathering so much information about the game and its gameplay in detail, we know you must be excited about the expected release date of Headbangers Rhythm Royale on various platforms.
Well, the trailer of this game was released in June 2023 as you see below, and the expected release date is said to be October 31st this year.
The game's trailer is quite fun and exciting and has given some major details about the game to its viewers. It gave a glimpse of customized pigeons, fun musical elements, and highlights of the minigames. 
That was all about the gameplay; now, let's switch to some of the most asked questions about the game. 
Frequently Asked Questions
Q. Is Headbangers Rhythm Royale a Multiplayer Game?
Ans. Of course, the game Headbangers Rhythm Royale is a music-focused, multiplayer party game where about 30 players can play together at a time to win the title of Master Headbanger. 
Q. Who Developed This Fun Pigeon-oriented Game?
Ans. Glee-Cheese Studios are the developers of this fun musical party game, along with Team 17 as the publishers.
This game will likely come out on October 31st this year on platforms such as; Play Station 5, Play Station 4, Nintendo Switch, Xbox One, Xbox Series X|S, Switch, and PC.
Q. How to Play Headbangers Rhythm Royale?
Ans. The gameplay of this music-based battle game is quite simple. In this, 23 minigames can be played in four rounds by 30 players.
The first player out of them to reach and cross the final level first wins the game and earns the title of Master Headbanger. 
Let's Summarize
That was all about the comprehensively detailed article about the Headbangers Rhythm Royale. 
We hope that you enjoyed reading this article and will now be excitedly waiting for the release of this musical pigeon game on October 31st.
So, wait no further, and list down this game in your wishlist and enjoy playing it on the platform of your choice once it releases.