if you want to know how old is Scaramouche in Genshin Impact, then scroll through the article and stick to the end to get details about it.
HoYoverse has created an immersive experience for the players to enjoy through Genshin Impact. This is a mainly made open-world role-playing game, which is closely knit around the imaginative world of Teyvat.
It is a multi-platform game where you can explore to unveil the secrets of the inhabitants of Tevyat. The storyline of this game is extended over four different regions where a massive plethora of characters fight to defeat the enemies and protect their area. 
As players, you would be in the role of either twin siblings, Lumine or Aether, who are on a beautiful and adventurous journey in Teyvat, to find each other.
Since its launch, the developers have constantly added and introduced various in-game characters in Genshin Impact all characters list with unique skill sets, talents, and backstories. 
One such in-game character is Scaramouche, popularly known as Wanderer. This character entered the Genshin Impact during the quest of 'Crisis Deepens' in the Stone Gate area, found at the beginning of the Unreconciled Stars event.
Until now, you must have already started to think about how old is Scaramouche, what he looks like, the unique features of his personality, etc. 
Thus, here in this curated article on Genshin Impact, we have covered you by sharing every detail about this character.
So, all you have to do is to keep scrolling further to gain information about how old is Scaramouche.
Who is the Character of Scaramouche in Genshin Impact?
Scaramouche is a new addition playable character of Genshin Impact, made available in update 3.3 of the game. You can also check the games like Genshin Impact.
This slender, figured, handsome man with a youthful appearance first appeared in the Unreconciled Stars Event. 
The character of Scramouche of Genshin Impact is also known by the name of Kunikuzushi or by his codename 'Balladeer.'
He is not just any familiar in-game character; instead is the sixth of the Eleven Fatui Harbingers. Scaramouche is also a reputed lieutenant of the Tsaritsa and Fatui. 
Other Harbingers in the game do not like Scramouche because of his aggressive and opinionated behavior and often find him difficult to talk or work with.
He is a short-tempered man who thinks that the wrong actions performed by others are a betrayal towards him.
After debuting at the Unreconciled Stars Event, he was also seen in Chapter II of the Archon Quest Delusion and Archon Quest Dreams, Emptiness, Deception. 
Scaramouche was a creation of Electron Archon, Raiden Ei, as proof that building a perfect puppet is possible. There is a little backstory behind this.
It was told to the audience that Ei took the single tear that Scaramouche shed during his birth, and Ei did so to test his purity.
He then decided to leave him in that slumbering state, and when Scaramouche woke up, he took his decision as an abandonment.
After facing the betrayal, his outlook was tempered towards God and humanity. He decided to be a wanderer in the Inazuma region until he met the Fatui Harbingers and joined them. 
This storyline clears the fact that Scaramouche is the oldest character and an immortal being; it is difficult to calculate his exact age.
In other words, the game offers the players a wide variety among the all characters, there is the character of Albedo. If you want to know how old is Albedo check our latest article.
Keep scrolling further to gather more details about how old is Scaramouche and about his appearance & personality. 
How Old is Scaramouche and What Are Some Details About His Appearance and Personality?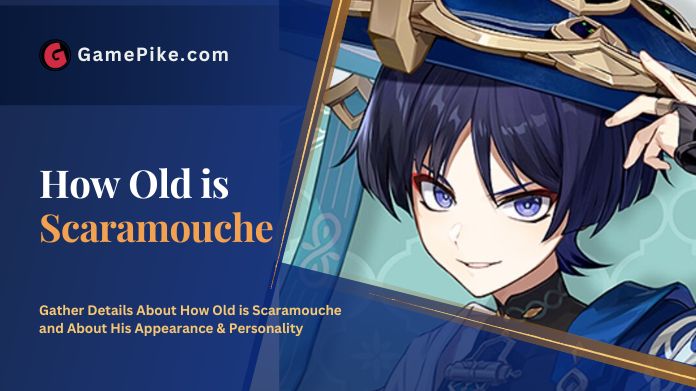 Scaramouche is a male antagonist immortal character who Ei created. This eternal feature of the character makes it difficult to predict and calculate the age of Scaramouche.
Thus, if you are wondering how old is Scaramouche, the answer is still unrevealed. He came into existence on the 3rd of January and had a height of 1.63 or 5'4" ft. This information is not very intimidating. 
Well, no one can analyze his actual age due to his fresh, youthful, and young appearance. Talking more about the appearance of Scaramouche, he is a slender figure with beautiful facial features. He is short in height, has indigo hair covering his ears, and wears bold red eyeliner. 
For his attire, Scramouche like to wear black sandals and black shorts. He also wears a large hat with four hooks facing upwards along his circumference.
A couple of ornamental accessories hang from the red thread from the two back hinges of his hat.
He is also seen wearing a short-sleeved shirt resembling the Electro symbol on it; apart from it, his apparel also has a purple-checkered pouch on its back.
Overall, the attire of Scaramouche depicts a completely traditional Japanese ensemble. Scramouche, one of the Harbingers, is often seen scolding and abusing his fellow Fatui subordinates.
Because of this, he is not liked among all the Fatui in the game. He is a disagreeable personality and is not able to keep his mouth shut at any point in time.
Overall, Scramouche is an unpredictable and cunning individual who depreciates his own emotions because of all the past sufferings he felt for his experiences before being labeled as a 'Wanderer.' 
Frequently Asked Questions
Q. What Are Some Popular Platforms on Which You Can Play Genshin Impact?
Ans. The game Genshin Impact can be played on platforms such as; PS4/PS5 platforms, Android, iOS, and PC. You can check the Genshin Impact Switch release date too.
Q. What Are the Four Major Regions of Tevyat in Genshin Impact?
Ans. The four regions in which the story of Genshin Impact is based are; 
Mondstadt

Liyue

Inazuma

Sumeru
Q. In the Game of Genshin Impact, How Old is Scaramouche?
Ans. Scaramouche, an immortal in-game character, makes it difficult to predict his age. But when you see his personality and appearance, it is relatively youthful and fresh so that no one can hint at his age. 
Q. What is the Codename of Scramouche in Genshin Impact?
Ans. 'Balladeer' is the famous codename of Scaramouche in the game of Genshin Impact.
Q. Why Do the Other Fatui Harbingers Not Like Scramouche?
Ans. The character of Scaramouche has a careless attitude and a dominant in-game personality. He dislikes being told or tamed and reacts aggressively whenever his colleague fails to obey his orders.
His partners found him to be highly irritating due to his habit of excessively talking every time. Thus, the other Fatui Harbingers are not very fond of Scramouche due to all these negative personality traits. 
Q. What is the Name of the Japanese Voice Actor Who Gave His Voice to Scramouche?
Ans. Tetsuya Kakihara is a trendy Japanese voice-over artist who has given his voice to various Japanese Anime characters, including Scaramouche of Genshin Impact. 
Let's Conclude
Thus, that was all we wanted to share with you regarding how old is Scaramouche, his personality & appearance traits, and all the other necessary information.
This role-playing game of Genshin Impact is one of the most played and well-known RPG games that have the best Gacha system.
The world of Genshin Impact set up in Teyvat is built from an excellent storyline and amazing graphics.
By reading this above curated descriptive article, we hope now you have clearly understood every detail about the character of Scramouche.
So, what's stopping you now? Go and play this game today on the platform of your choice and enjoy the same.