If you are looking for viable ways of acquiring the Maplestory 2 Cornelian Cherries to progress further in the game, this is precisely where you will get the correct information. 
The game Maplestory, launched initially in 2003, was a huge hit. Hence, after seeing its extreme popularity among gamers in the year 2015.
Nexon added some more features and relaunched an updated game version named Maplestory 2. 
This sequel version of the game is one of the most solid MMORPGs, i.e., Massively Multiplayer Online Role Playing Game. 
Like other MMORPGs, Maple Story 2 also contains various items that significantly assist players. 
With Maplestory private servers, you can play with anyone you want, with other players in your privacy.
While some items you come across during the gameplay are easy to obtain while others are tricky. 
Maplestory 2 Cornelian Cherries are one of the best examples of the same. This particular item is helpful during the game but is hard to obtain. 
So, without thinking any further, scroll down below, as this article will be of great use to you if you are an avid Maplestory 2 player. 
But before going forward, we shared an overview of the Maplestory 2 Archer Skill Build. Check out our latest guide.
Let's get started!!
Overview of Maplestory 2 Cornelian Cherries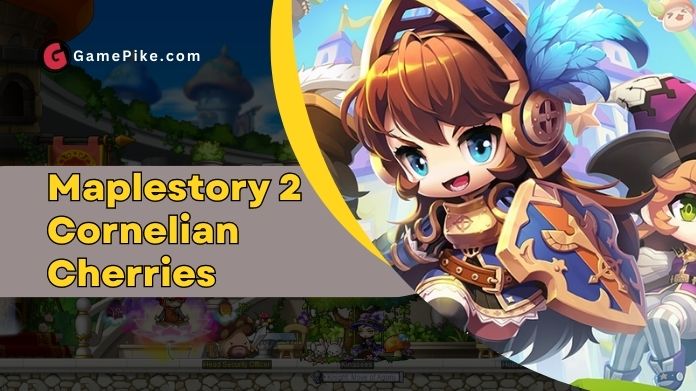 The item of Cornelian Cherries in Maplestory 2 is undoubtedly one of the most important. The players will have to complete certain quests in the game with the help of this object. 
For example, players can barter a certain number of Cornelian Cherries with another in-game character or use ingredients for making portions. 
Maplestory 2 Cornelian Cherries, when combined with other items available in-game, make the most powerful potions. 
Such as 2 Cornelian Cherries, merged with 4 Orange Herbs, make up a Warrior Tonic. 
Also, combining 3 pieces of Cornelian Cherries with 4 special Red Herbs is the right way to create a Special Warrior Tonic. 
That was a couple of uses of this item. Scroll down the steps below to get acquainted with how to pick up the Cornelian Cherries in the game.
Want to play Maplestory on MAC? After so many years since its release. So keep reading our post.
Ways of Picking Up Maplestory 2 Cornelian Cherries
There are several possible ways to get Maplestory 2 Cornelian Cherries. You will get a few of them by playing various quests and killing enemies.
But if you want them in huge quantities, look at the methods below. 
1.

Beast Type Mobs

From level 15 onwards, if you play and battle beast-type mobs, you will get a lot of Cornelian Cherries.
2.

Spectrumwoods

If you want Cornelian Cherries quickly, then Spectrumwood will be the best. At each kill, the mobs in the Spectrumwood drop Cornelian Cherries. 
3.

Black Market

If you have a certain amount of cash, purchasing Cornelian Cherries from the Black Market will be best. Due to the black market feature, players also have the power to store and stock up on various Cornelian Cherries. 
4.

Aquatopia

Aquatopia is also a location in Maplestory 2, where mobs carry Cornelian Cherries. Thus, by spending some time with the mobs of Aquatopia, you could get your hands on the Cornelian Cherries. 
5.

Rainbow Mountain

Another way of earning Cornelian Cherries quickly is to visit Rainbow Mountain and unlock maps. When you kill insects and beasts in the Rainbow Mountain, they drop Cornelian Cherries in reasonable amounts. 
Frequently Asked Questions
Q. Which is Probably One of the Best Methods of Acquiring Cornelian Cherries?
Ans. For getting more Cornelian Cherries in less time, killing the enemies in the Spectrumwood area will be the best. 
Q. What is the Most Effective Way of Using the Cornelian Cherries?
Ans. The ingredient of Cornelian Cherries can be best used for making energy portions. For example, combining two or three Cornelian Cherries with other supportive elements will be the best if you want to make Warrior Tonic or Special Warrior Tonic. 
Let's Wrap Up
Thus, that is all that we have to share about the Maplestory 2 Cornelian Cherries. 
This is an extremely useful ingredient of the game, which can help you do wonders during the gameplay and while completing certain in-game quests.