Microsoft announced its NEW TRANSLUCENT XBOX ONE CONTROLLER. The Phantom Black Special Edition and the Grey/Blue controllers will be available next month.
The new, translucent Xbox One controller is getting released on the 11th of September. It is named the Phantom Black Special Edition, it worth in the USA is going to be $69.99. The one named Grey/Blue is getting released for the markets of the USA and Canada on the 25th of September. And its value will be $64.99 USD.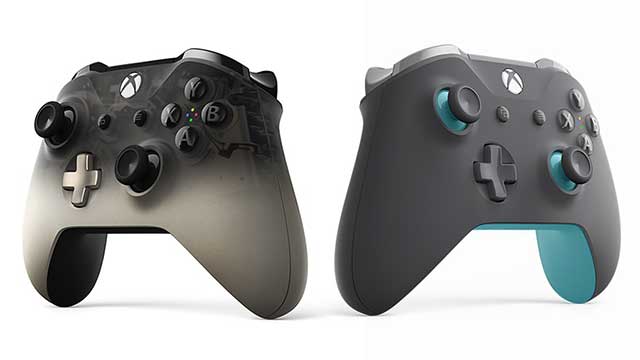 However, the worldwide release of both the controllers is set on the 9th of October. And both of the controllers are available for pre-order at Microsoft Store locations, Microsoft Store online and select retailers worldwide.
NEW TRANSLUCENT XBOX ONE CONTROLLER – Grey/Blue
Grey monochrome ABXY, menu, and navigation buttons reinforce the modern minimalist design. For a pop of color, there are eye-catching blue accents at the base of the thumbsticks and on the back of the controller. All Xbox Wireless Controllers are compatible with the Xbox One and Microsoft Windows. As usual, it has your favorite features such as a 3.5mm headphone jack and Bluetooth technology for gaming on Windows 10 devices or Samsung Gear VR. You can also take advantage of the custom button-mapping feature through the Xbox Accessories app. In select markets, these controllers come with 14-day trials for Xbox Live Gold and Xbox Game Pass.
Phantom Black Special Edition
Its design is inspired by the idea of getting a look inside. This controller is about mystery meeting luxury to reveal the technology within the controller. The sleek design "fades from a high-tech translucent matte black" at the top. Black buttons, triggers, thumbsticks, and bumpers are emphasized with a champagne gold D-pad. On the back, textured grips will help you stay on-target when games get serious.
Sport White Special Edition
Microsoft recently released another Xbox One controller, the Sport White Special Edition. The white controller features mint accents, as well as grey and silver patterns, and will set you back $69.99 USD.