Have you ever tried playing Roblox on your school PC and found the website inaccessible? It happens because of restrictions your institution has placed on certain websites.
There is nothing to be worried about as we've got a way out, which is Node unblocker for Roblox. This software helps unlock Roblox while allowing you to play your favorite game.
Wish to enjoy your favorite Roblox game on a restricted device? Get the best node unblocker and play Roblox at any time and anywhere.
The article will take you through the complete information related to the node unblocker, a guide to using the software, and the best option to use.
Keep scrolling the page and learn about Node Blocker for Roblox to play games.
What is Node Unblocker?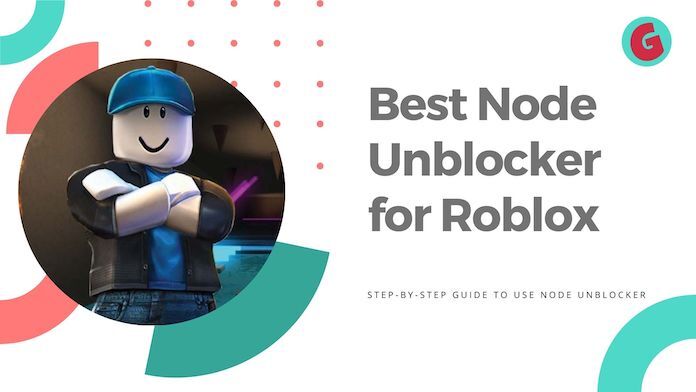 Before jumping into the best Roblox unblocker, it's essential to know precisely what the Node Unblocker means. It is simply a web proxy for evading internet censorship but written in Node.
Unlike Roblox Script Executor, designed to run scripts in Roblox, this unblocker lets the users access the forbidden sites.
The entire data is processed and relayed to the client on the fly without unnecessary buffering, making it one of the fastest and most reliable web proxies available to date.
A node blocker is used for the entire URL or site. It mainly leads to another available version of that restricted website.
How to Use Node Unblocker?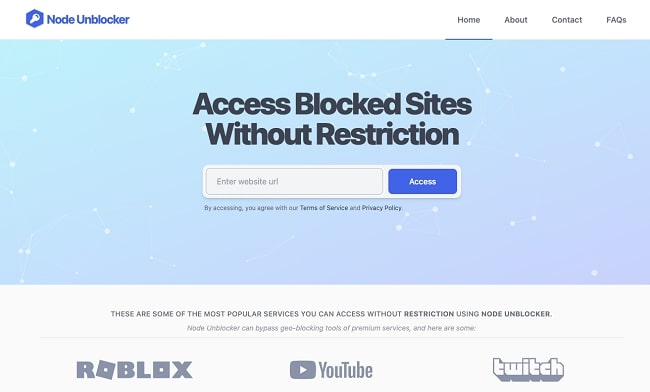 By using Node Unblocker, the users can access the banned sites in no time. If you need a node unblocker, then you have two options.
You can make a node unblocker by using the below node unblocker script on the Heroku app.
And if you do not have any technical knowledge, you can go with NodeUnblocker.net.
Proxies are way faster than VPNs and work on application levels. While using a node unblocker or proxies may not be as secure as VPNs.
It serves as a great option to unblock restricted websites on public PCs that won't allow you to install VPNs. One of the most popular node unblockers to go for is Heroku.
Find the step-by-step guide to use that unblocker here:
Set-up

Install the Heroku CLI to manage and scale your applications, view your app logs, provision add-ons, and run your application locally.
As soon as the installation completes, use the "Heroku" command from the terminal.
Start the Command Prompt or Powershell on Windows to access the command shell. It will take you to the Heroku login page.
Click on the "Log in" button if your browser is already logged in to Heroku. This authentication is mandatory for both the Heroku and git commands to work appropriately.
Make sure you have all the prerequisites installed before you move ahead.

Prepare the app.

To clone a local version of the sample application you want to deploy on Heroku, execute the following commands in your local terminal.
git clone https://github.com/heroku/node-js-getting-started.git
cd node-js-getting-started

Deploy the app.

Create an app on Heroku to receive the source code.
While you create the app, a git remote is also created and linked with your local git repository.
This Node Unblocker generates a random name for your application.
Once the app is deployed, visit the app at the URL generated by the app name.

View Logs

This web proxy treats logs as streams of time-based events from your apps' output streams and Heroku components.
Visit the application in the browser, and you'll find another message.
Press Ctrl + C to stop streaming the logs.

Define a Procfile

Use Procfile to explicitly declare what command should be executed to launch the app.
It mainly declares the single process type and the command need to run it.

Scale the app.

Your app is deployed on a free dyno by default. However, you can upgrade the dynamo to a hobby or professional type.
Scaling an application on this node unblocker for Roblox is equivalent to changing the number of dynamos running.

Declare app dependencies

The platform recognizes an app as Node.js due to a package.json file in the root directory.
The package.json determines the version of Node.js and the dependencies installed with your application.
Be ready to run the app locally.
2 Best Node Unblockers for Roblox to Play in School
Since the market is loaded with plenty of node unblockers, choosing the best option that works without unnecessary hassle is essential. One such unblocker is Heroku, and another one is NodeUnblocker.net.
It is a cloud-based platform that lets users build, deliver, monitor, and scale apps. This is the fastest way to go from idea to URL, surpassing all obstacles.
Heroku enables developers to develop and deploy apps to start producing value immediately. But if you are not a technical person, you can directly go with the node blocker website instead of development.
Heroku makes deploying, configuring, scaling, tuning, and managing the apps as simple as possible.
Similarly, the node unblocker website also helps you through simple and user-friendly technology. It focuses on apps and delivers experience around applications.
The platform entertains companies of all sizes without any distractions from hardware and servers. It builds on trust and security with over 60 billion requests per day.
You will be glad to know that around 13 million+ apps are already created using this software.
Since Heroku and NodeUnblocker.net quickly adapt to your requirements at every stage, it is a proven solution for all, ranging from growing startups to large enterprises.
A Guide To The Powerful & Innovative Features of Heroku
Here's the rundown of this node unblocker's powerful features that differentiate it from others.
Heroku Runtime

This platform comes with an effective runtime to manage your app fully. It handles everything needed for production, configuration, orchestration, load balancing, failovers, security, and more.

Instant Scaling

Heroku instantly scales your application, both vertically and horizontally. The users can quickly run everything from little hobby projects to enterprise-level handling.

Heroku Redis

It provides effective data types, built-in support for top languages, and excellent throughput.

Add-Ons

Heroku features many add-ons to extend, enhance, and manage your applications.

Code and Data Rollback

The platform's build system lets you roll back your code to a previous state in no time.

Continuous Delivery

Heroku uses pipelines, review apps, and integrations to make an easy, visual, and efficient application-making process.
How to Unblock Roblox on School PC?
There are four significant ways to unblock Roblox on a School PC. These are – using a NodeUnblocker.net, VPN, Proxy, and Tor.
Let's get to know about them in a bit of detail.
Using NodeUnblocker.net
Node Unblocker is a web proxy that helps you access your premises' restricted or censored content. Millions of platforms make your lives easy, from learning tools to gaming platforms.
Using a VPN
One of the safest and easiest ways to unblock restricted websites is to use a VPN. It secures and encrypts your data. While using a VPN, you connect to a remote VPN server which then connects you to a website, hiding an actual IP address.
Using a proxy
Yet another way out to node unblock is to use a web proxy. Although it is not the safest method to access the forbidden website, it is the fastest medium to enjoy your favourite games on the school PC. However, these proxies will not protect you from ISP tracking, government surveillance, and hackers.
Using a Tor
Tor is an open-source project comprising Tor network and browser. It places multiple layers of encryption on the traffic directly through the Tor network to hide your IP address before accessing the forbidden website. Keep in mind that your web browsing will become slow while you use Tor.
Our Thoughts
So, that's all about a Node Unblocker. While the internet is stuffed with lots of unblockers to access the restricted site, one option that comprises all features is none other than Heroku.
This is a one-stop destination for all app developers looking forward to unlocking Roblox at an application level.
We hope our research gives you insight into the process of using the unblockers while letting you know about the best option to go for.