As we all are well aware of the fact that, NASCAR is one of the top-ranked motorsports institutions across the globe. Thus, we have the best news to share if you are also a great fan of this association. 
Tighten up your belts, NASCAR fans, and get ready to go on an electrifying journey in the gaming world like never before with NASCAR Arcade Rush.
As a NASCAR lover, your heart will be taken by storm, and a great adrenaline rush will happen as NASCAR has teamed up.
With GameMill Entertainment for a high-speed craze motorsport game, NASCAR Heat 6 also wants to change some things and make the game more attractive.
On the 20th of June, they announced the same, along with the game title, which would be NASCAR Arcade Rush. 
This upcoming arcade-style racing game is full of action and thrill, enough to make your heart pound and give you a redefining gaming experience.
At the same time, we are taking you to iconic rides and legendary moments through the iconic gaming tracks.
Hence, here in this, we have mentioned all the details about the NASCAR Arcade Rush related to its gameplay, release date, platforms, and much more.
So, scroll down below to have an exclusive look at the same. 
Details About NASCAR Arcade Rush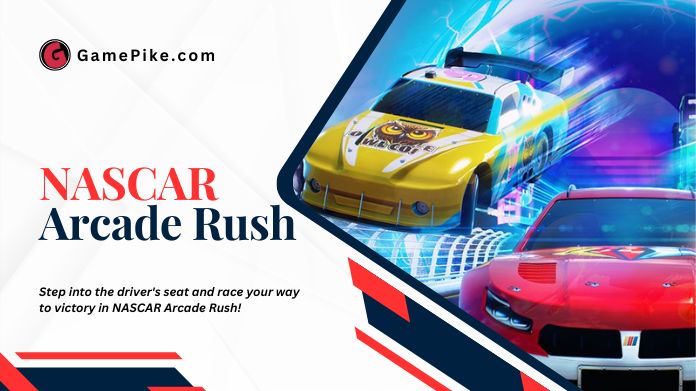 NASCAR Arcade Rush is a good high-speed racing amazing game that would leave its players breathless.
As gamers, you would experience the unimaginable excitement of racing against the top NASCAR drivers while navigating through challenging tracks and having a close-intensity battle to reach the finish lines. 
Team 6 Game Studios developed this brand-new motorsport game and published it by Game Mill Entertainment.
For the unversed, Game Mill Entertainment is a well-established gaming label well known for its earlier published games like Nickelodeon: All Stars Brawl and Nickelodeon Kart Racers trilogy.
The developers of this game are renowned for having expertise in racing games, and we are confident that in this project, too, they would input all their dedication and passion for delivering an original and engaging game that would truly justify the essence of NASCAR racing. 
NASCAR Arcade Rush is all set to be released on the platforms such as Nintendo Switch, Xbox One, Xbox Series X|S, PlayStation 4, PlayStation 5, and PC via Steam.
This arcade-style heart-pumping and high-speed racing game can be played on the iconic tracks of NASCAR like Daytona International Speedway, Talladega Superspeedway, Darlington Raceway, Homestead-Miami Speedway, Martinsville Speedway, and more.
These iconic gaming tracks would offer you wild twists. The makers have meticulously designed all this to provide an electrifying experience to the players. 
The Gameplay of NASCAR Arcade Rush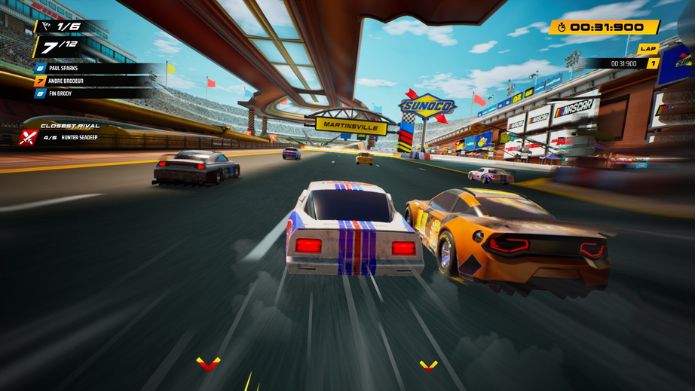 The heart-pumping journey in NASCAR Arcade Rush would be filled with hair-raising turns, intense action, and gravity-defying jumps.
All this would surely keep the players edged on their seats. According to the latest press release about the game, the players could choose from a wide collection of cars spanning over 75 years of NASCAR history.
The players can unleash their inner speed demon by customizing their cars and drivers and choosing paint schemes, rims, helmets, suits, and visual effects in the game.
This gives a personalized touch to the game and allows the players to drill their imagination to try on and discover thousands of combinations. 
NASCAR Arcade Rush is a single and multiplayer game that would excite gaming enthusiasts and provide exciting gaming modes such as; Quick Race, Time Attack, and Career NASCAR Cup Series.
The game also offers 12-player online multiplayer races that allow the players to race against their rivals across the globe. The game would also have an option for local multiplayer modes for the players to access.
This jaw-dropping and exciting game comes with a price tag of $49.99 and will be available for download across all platforms. 
Overall, all these gameplay features deliver a new level of playability within this NASCAR racing series and aim to provide an engaging and robust gameplay experience to excite players.
Expected Release Date and Additional Details
While we are still unaware of the release date of this thrilling, mind-boggling racing game of 
NASCAR Arcade Rush
, the anticipation for the same is extremely high.
All racing enthusiasts can expect heart-pounding action, pictorial graphics, and enormous gameplay in this intense game.
So, stay tuned to learn about the expected release date in the coming days.
But for now, fans can also make a note about another NASCAR project, i.e., NASCAR Project-X Bundle for NASCAR Arcade Rush.
This digitally exclusive game will be available for $59.99 on all streaming platforms. NASCAR Project-X Bundle will include the full version of the base game and some extra playable content that would be exciting and beyond imagination.
According to the suggested reports, it is expected to feature content such as;
A car modeled a hovercraft that was specially developed under Project X.

Specially designed wheels, rims, spoilers, and schemes for Project-X.

Suits and helmets designed on the theme of Project-X.

Specified sponsorship option of Project-X team.

A special vehicle with an FX package for Project-X.

For showcasing your style in the game, an additional set of 4 extra emojis. 
Frequently Asked Questions
Q. What is the Cost of the Game NASCAR Arcade Rush?
Ans. The standard price of the game is set at; $49.99. But if you want to experience the thrills of the game with some extra features and customizable options, you could opt for the 'Project-X' bundle of NASCAR Arcade Rush, which would cost you $59.99. 
Q. On What Platforms Does NASCAR Arcade Rush Available?
Ans. This exciting game is available on platforms such as; Nintendo Switch, Xbox One, Xbox Series X|S, Play Station 4, Play Station 5, and PC via Steam.
Q. What Will the Gaming Modes Be in the Exhilarating Racing Video Game of the NASCAR Series?
Ans. This game has three playable modes: Quick Race, Time Attack, and Career NASCAR Cup Series. It can also support 12 racers or players simultaneously in the online races or the local multiplayer mode. 
Q. Name Some of the Popular Tracks Included in the
NASCAR

Arcade Rush.

Ans. Some of the popular tracks inspired by NASCAR in this video game series are;
Daytona International Speedway

Talladega Superspeedway

Darlington Raceway

Homestead-Miami Speedway

Martinsville Speedway
Let's Summarize
The upcoming game of NASCAR Arcade Rush, developed by GameMill Entertainment, gives NASCAR fanatics a thrilling and revolutionizing gaming experience.
As you read above, this exciting game is designed to provide an exciting twist to NASCAR racing. After reading the above-described article about the racing game based on the NASCAR theme
We hope you would be highly excited to experience the same along with your friends with the wild twists in the game on the legendary tracks of NASCAR.
Be patient and wait for the same; as beautifully quoted, 'Good things take time and great things a little longer.'