As any of the Previous Rockstar Games, Red Dead Redemption 2 initially comes with cheat codes support for a little bit of fun in the gameplay and equipped with an in-game cheat code menu.
The cheat code menu is fully functional, allowing players to activate incredibly handy or just plain silly parameters. Below, we've gathered some of the game's cheat codes and, when appropriate, the conditions for unlocking them.
How to use cheat codes in RDR 2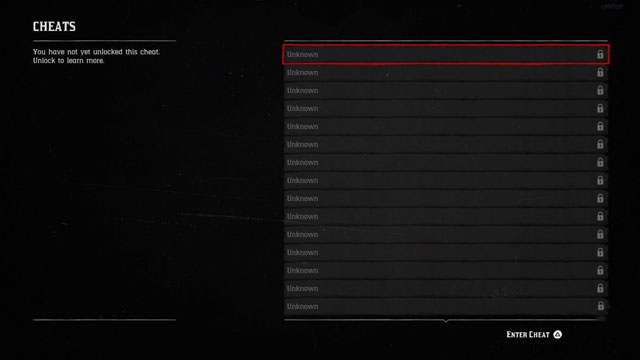 The cheat code menu can be found in the settings tab of the in-game pause menu. Triggering a cheat code requires inputting a specific phrase in the cheat menu. In some cases, a cheat code won't activate until certain mission-based goals have been met.
NOTE: You should know that activating any cheat code disables Achievements/Trophies for your save file. Best to make a separate save file for cheat use if you don't want to screw up your main game.
Cheat Codes and their use
Permanent Inebriation
"A fool on command"
By entering the cheat code "A fool on command", players unlock the Drunk toggle like in GTA 4 ;).  As its name infers, flipping the toggle on will make Arthur Morgan permanently drunk. Flipping the toggle off will instantly sober Arthur back up, no coffee or cold showers required.
Insta-Horse
"Better than my dog"
If you're not sufficiently bonded with your horse, keeping it close by can be hard. However, the cheat code "Better than my dog" will summon your horse to you no matter where it is. If you're caught up in other activities and can't be bothered to backtrack for your steed, this code really helps.
Good as New
"You flourish before your die"
In a game as realistic as Red Dead Redemption 2, a prolonged strenuous activity can take its toll. Fortunately, the "You flourish before your die" cheat is just the pick-me-up you need in such situations. Using the cheat instantly refills Arthur Morgan's stat cores, including health, stamina, and deadeye.
Walking Arsenal
"Greed is American Virtue"
If you want to just go out and cause some chaos, the "Greed is American Virtue" cheat is for you. Entering the cheat instantly adds the Pump-Action Shotgun, Mauser Pistol, Semi-Automatic Pistol, and Bolt-Action Rifle to your inventory handful of important weapons. Despite, the cheat won't trigger until after you've finished the Chapter 3 mission "Advertising, the New American Art." Head into the town of Rhodes, grab a newspaper, and the cheat will be enabled.
Insta-Horse 2.0
"Run! Run! Run!"
Sure, your default horse is nice, but what if you want a brand new horse? Enter the cheat code "Run! Run! Run!" and your wish will be granted. Even better, the horse you spawn is a racehorse tuned for speed. If you want to zip around the map without relying on fast-travel, this is the way to do it.
Never-Ending Lead
"Abundance is the dullest desire"
Running out of an ammo can be a real pain, especially when you're in the middle of a tense firefight. Luckily, you need no longer worry when you use the "Abundance is the dullest desire" cheat. Activating the cheat triggers unlimited ammo for all of your weapons. To earn the cheat, you have to first reach Chapter 2 and pick up a newspaper in Valentine.
Comment Below if the cheat codes are working for you. Also, if you found any cheat codes around the world while roaming the beautiful world in RDR 2. Post the cheat codes below in the Comments and we will update the article.