Kids playing games on the internet is indeed the generation trend. A wide and never-ending variety of games, belonging to different genres, are available.
Poppy Paytime is one of the spooky-looking horror adventure games, filled with various creepy-looking horrific creatures, which are enough to draw the child's attention.
As a concerned parent, you might wonder about the Poppy Playtime age rating that's gaining popularity. Is it safe for your kid to play, or does the age rating suggest otherwise?
Despite an innocent outlook, this game is not what it seems to be. The game is full of antagonistic characters who are always keen and ready to jump and attack the players.
There might be many speculations and talks regarding the safety parameters of the game. And whether or not this scary game of Poppy Playtime is safe for the children to play.
Although, till now, there are different official Poppy Playtime Age Ratings on different platforms.
But what we know is that there has been a universal agreement that this horrific game is not at all suitable for young children.
Hence, scroll down this article below to gather all the details or information about the Poppy Playtime Age Rating and the game's safety for the kids.
Thus, without wasting a moment any further, let's get rolling.
What is Poppy Playtime?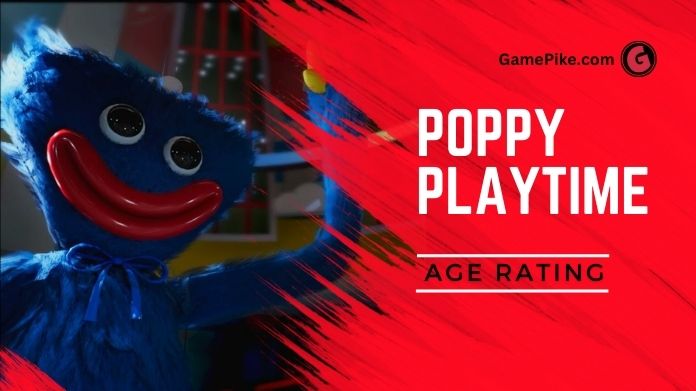 Poppy Playtime is a free-to-play game available on Android, Windows, and iOS platforms. This indie survival horror-based game has been quite popular since its release.
According to the data of the gaming analyst Steam Spy, about 5 million players have successfully played and enjoyed this game.
The current scenario of this gaming platform is that MOB Games has launched about two chapters of the game Poppy Playtime.
The third chapter of Poppy Playtime is expected to be released by the end of next month. Although the game's first chapter is free, Chapter 2 would cost players $9.99.
This game has been set up in the abandoned toy factory of Playtime Co. As players, your role would be that of a former toy factory employee who has returned to his former workplace after 10 years.
After entering, it becomes evident that this won't be a pleasant trip, usually filled with nostalgia.
Well, now, in this scenario, the employees of the came are either killed or taken hostage, and all the in-game stage-looking characters are alive and ready to attack and kill the players.
As the game player, your job would be to try to safely escape this toy factory while unraveling the secret behind Playtime Co.
Who is the Main Antagonist Character of the Game?
The frightening character of Huggy Wuggy first appeared in Chapter 1 of the game. Huggy Wuggy is a stuffed blue-colored animal with razor-like teeth and an uncanny and uncomforting smile.
He is mainly a player hunting monster accidentally formed due to an experiment in the toy-making process.
However, this blue-like furry character is friendly and welcoming in the first meeting. The players must learn to use special tools and solve puzzles, such as metal poles and mechanical hands, to beat him and the other strangely-looking characters in the game.
Dangers would also accompany the players, and if they are not fast enough, Huggy Wuggy or other in-game scary toys will catch them to kill them. This antagonist character is the most recognizable and fun in-game character.
Risks Involved in Playing Poppy Playtime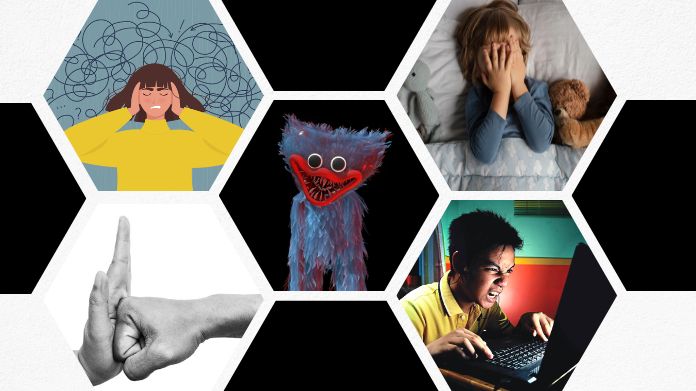 As parents, you need first to understand the child's psychology. This concept says that not every child is the same.
A 10-year-old child may behave completely normal with the same content, which might be disturbing for children of the same age group.
We are still trying to figure out what works best for your child. But we can tell you what the game looks like, the risks, and the research involved.
If talking about the Poppy Playtime Age Rating, then yes, age is one of the major factors being included in the game.
So, as parents, the responsibility lies on your shoulders; now it's up to you to decide whether the game is safe for your child. Below are a few concerns about how the game of Poppy Playtime can affect the kids.
1.

Can Increase Anxiety

This game includes many creepy crawly creatures or characters, which will make them anxious.

But we do not interfere in that point; rather, we want to tell you about the general setup of the game. The gamer or the player would be chased by strangely looking creatures who are in pursuit of killing the players.

Thus, in this case, the players will not come to know the direction from which danger would reach them, causing them to suffer anxiety.
2.

Violence

This game does not showcase much violence. Instead, it is more about the implication of what would happen to the player on being caught.

Some scenes might display violence or shocking content, such as blood splashes on floors and walls, which might cause disturbance in the mindset of the players.
3.

Jumpscares

Any person who faces anxiety gets doubled by the multiple jump scares in the game. For example, sometimes, in the game, Huggy Wuggy's character appears out of nowhere.

And he catches hold of you and bares his sharp teeth onto you. A report by Common Sense Media has claimed and supported the idea that the game Poppy Playtime can distress children and affect them mentally.

A parent also mentioned that their child is in the therapy center due to sudden jumpscares and fear of being chased in the game.
4.

Interfere With the Sleeping Routine

Gaming too much or viewing horror movies might disrupt the child's sleeping pattern. This would result in scary nightmares or trouble sleeping.

It would also eventually disturb the development and sleep cycle of the child.
5.

Gaming Addiction

If you start playing the game of Poppy Playtime, then the same would be completed in one or two hours at the max.

However, the game is so interesting that it has a risk of making players addicted to it. The game is quite big in its range, thus quickly making people, especially children, addicted to its gameplay.

They might either play the same game for hours or switch to another horror adventure game after playing Poppy Playtime, such as Five Nights at Freddy's.

Please, we request that you keep an eye on your child's screen time and do not make him a gaming addict, which would result in Chronic Diseases, Stress, Carpal Tunnel Syndrome (CTS), and Stress.
Poppy Playtime Age Rating
You might be wondering about the Poppy Playtime Age Rating after seeing the popularity of this Indie Horror Game.
Unfortunately, no two organizations have said the same and specified different age ratings. Even the Apple App Store (iOS) and Google Play Store disagree.
On the one hand, where the App Store gives Poppy Playtime an Age Rating of 12+ children, the Google Play Store suggests that the game is for teens, i.e., age 13 or above.
Apart from this, listed below are a few more Poppy Playtime Age Ratings from some of the different organizations such as:-
ESRB (Entertainment Software Rating Board)- 13 years and older
PEGI (Pan European Game Information)- 12 years and older
MOB Games- 8 years and older
Common Sense Media- 12+
Frequently Asked Questions
Q. Is Poppy Playtime Safe to Play for Kids?
Ans. There are many parents out there who are very much concerned about the safety of their child while playing the exciting game of Poppy Playtime. This is mainly because of the strange appearance of the in-game characters and the spooky setting inside the abandoned toy factory.
The official Poppy Playtime Age Rating differs according to different sources, but it has been agreed that this game is unsafe for kids below 13. Also, beware of the character of Huggy Wuggy, as he is the main antagonist who is always ready to eat the players.
Q. Is the Game Poppy Playtime Child-friendly?
Ans. Well, opinions on this question may vary. However, the game is meant for a young audience due to its soft stuffed toy characters and setting in a toy factory. Some parents do not consider this game child-friendly due to monsters chasing the players and instant and sudden jumpscares happening in the game.
Q. Is the Character of Huggy Wuggy Appropriate to Play for a 6-year-old?
Ans. Several media resources state that kids are scared after watching the trailer of Poppy Playtime and watching YouTube videos of the character Huggy Wuggy. Simply put, this character can be defined as a huge blue teddy bear with razor-like sharp teeth.
Let's Wrap Up
That was all we had to share regarding the Poppy Playtime Age Rating. Through this above-detailed article, we have figured out that this game has some adverse effects on young players.
Every audience playing the game cannot handle the frightening content shown to them. What might give anxiety to one can be a matter of laughter for the other. Many concerned parents have considered the ESRB rating as the parameter for letting their children play Poppy Playtime.
We hope that you have enjoyed reading this article. For more such informative information, stay tuned on our blog post website of GamePike.