Looking to take your Satisfactory gaming experience to the next level? Well, you are on the right page; scroll the button down!
Satisfactory, the addictively creative factory-building game, allows players to create their own industrial landscapes.
But what if we told you there's a way to spice things up even more? Enter the world of satisfactory mods, where invention meets fun, and your creativity limits your factory possibilities.
In this article, we'll take you on a tour into the virtual realms of Satisfactory, revealing the top 10 game-changing Satisfactory mods that will change how you play.
While these Satisfactory mods might improve your gameplay, there is more to discover. Check out our guide on accessing Unblocked Games Premium for an extensive collection of unblocked games.
So put on your work helmets, start those conveyor belts, and prepare to delve deep into the thrilling world of Satisfactory Mods!
Top 10 Satisfactory Mods You Need to Try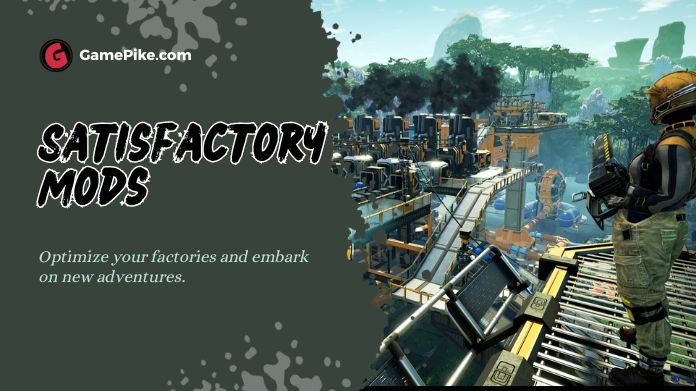 Satisfactory mods are like a breath of new air for your manufacturing floors, with supercharged machinery and out-of-this-world looks.
These aren't just extras; they're the key to unlocking new experiences, increasing efficiency, and adding a healthy dose of creativity to your industrial environment.
If you like Satisfactory and love discovering new virtual worlds, you can explore Roblox condo games; these games provide a unique and thrilling experience.
1.

Smart!

Smart! Mod

The Smart! Mod modifies the Satisfactory industrial layout with several time-saving features.

Its Scaling function allows players to reproduce existing structures, making industrial growth easier quickly.

With user-friendly controls, this Swiss Army knife of factory construction streamlines the production of rows of buildings, foundations, barriers, ramps, belts, mergers, splitters, and more, making it a must-have for an efficient and pleasurable factory design.
2.

Linear Motion

Linear Motion Mod

Linear Motion is a game-changing factory mod that simplifies huge industrial navigation using lifts.

This mod adds a variety of lifts, ranging from passenger lifts to vehicle transports and horizontal movers.

It bridges a gap in the game by providing customizable elevators for pioneers, factory carts, and vehicles, allowing you virtually endless industrial construction options, including Willy Wonka-style inventions.

You can optimize your industrial layout using mk.1 through mk.3 options. Linear Motion will improve your game experience.
3.

Microwave Power

Microwave Power Mod

Satisfactory's Microwave Power mod provides a wireless alternative to the substantial wiring required for power delivery.

Players can effectively transport energy across their factory by using relay towers, converters, and orbiting satellites.

This patch maintains balance by introducing new structures and phases, removing the requirement for many electricity poles.
4.

Pak Utility Mod

Pak Utility Mod

The Pak Utility Mod is a flexible toolbox for Satisfactory gamers, including quality-of-life settings and hacks.

It gives users instructions like "!fly" for aerial industrial views, immortality, research unlocks, and cost-free construction.

This patch improves the gameplay experience, allowing faster advancement and easier item management. Every gamer, whether a purist or a cheater, should try it.
5.

Micro-Manage

Micro-Manage mod

The Satisfactory Micro-Manage mod expands architectural inventiveness by allowing users to freely alter items' size, position, and rotation within their factories.

This mod provides exact placement control, making it an invaluable tool for developing constructions and releasing creative possibilities.

While no new assets are introduced, it continues under active development with upgrades, providing critical functionality for conscientious builders. Download it for more precise building management.
6.

MK++

MK++ Mod

MK++ is an innovative mod for Satisfactory that boosts industrial production. It improves efficiency by adding layers to existing systems, but users must handle higher power needs.

This patch simplifies late-game construction, addresses frame rate issues, and adds over 45 new and updated structures, ranging from Mk.2 to Mk.4, with varying productivity and power boosts.
7.

Ficsit Farming

Ficsit Farming Mod

The Ficsit Farming Mod is a new project that introduces farming to the universe of Satisfactory.

It allows players to grow crops and build necessary farming infrastructure such as greenhouses, composters, and ranches.

This mod expands your industrial empire with 14 additional types of machinery, soil nodes, seeds, fertilizers, and a farm simulation.

It is guaranteed to be compatible with future upgrades, significantly complementing the Satisfactory experience.
8.

Structural Solutions

Structural Solutions Mod

The Structural Solutions mod adds doors, shutters, concrete blocks, and other features to the industrial building in Satisfactory Update 5.

It allows players to design functional and artistically stunning manufacturing complexes with approximately 200 adaptable elements, including curved things, improving the gameplay experience.
9.

Refined Power

Satisfactory Mod

A popular Satisfactory mod, Refined Power, offers 26 unique structures, boosting power possibilities with wind turbines, solar panels, water turbines, and sophisticated generators.

It removes early-game power difficulties by providing various options ranging from windmills to Dyson Spheres for a more exciting gameplay experience.

Although it is incompatible with Adapt 6's Experimental branch, the mod's author intends to adapt it for Early Access.
10.

Factory Skyline

Factory Skyline Mod

For builders bored of repeated and sometimes unbalanced building of their projects, the Factory Skyline upgrade is a game changer.

It makes the process easier by allowing you to copy and paste complete structures, removing the chance of off-center designs and saving you time.

This tool will enable you to quickly and effectively develop enormous factories, making it a must-have for ambitious builders. Build larger and quicker than ever before.
Wrapping Words
These Satisfactory mods are your golden ticket to a more exciting gaming experience in the realm of Satisfactory.
You're not simply playing the game with these beautiful upgrades but designing it to match your wildest engineering fantasies.
So, what are you holding out for? Dive into modding, explore the possibilities, and let your imagination run wild.