The heart and soul of the game Poppy Playtime are its characters, capable of giving iconic horror experiences to the game players.
The spooky and abandoned toy factory where the game has been set up is filled with terrifying mascots. From Poppy Doll and Huggy Wuggy to PJ Pug a Pillar and Momy Long Legs.
This horrifying game has a wide plethora of super interesting characters. Here in this particular guide on our blog post website of GamePike, we would like to introduce you to the character of Poppy Playtime Doll.
She is indeed a fascinating personality and can be considered the backbone of the game, as the title also has the name Poppy.
Let's start with this exclusively detailed character sketch-type article based on Poppy Playtime Doll.
Character Sketch of Poppy Playtime Doll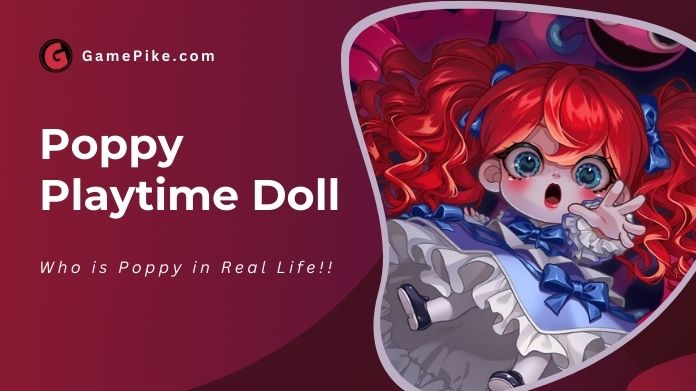 The character of Poppy Playtime Doll is the game's main character. She is an intelligent, animatronic-like doll made by Elliot Ludwig.
This was indeed known as the first ever Poppy Playtime toy produced by Playtime Co., and it probably debuted at the end of Chapter 1: A Tight Squeeze as a minor or titular character.
Then, it reappeared in Chapter 2: Fly in the Web as a major deuteragonist, and it is also probably sure for the character to give its appearance in Chapter 3: Deep Sleep.
Now, let us talk about certain aspects of this character, i.e., appearance, personality, and abilities.
So, let's talk about each one of them, one by one.
Appearance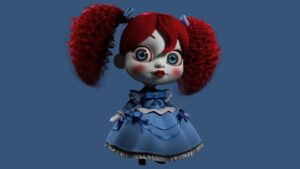 The character of Poppy Playtime Doll is a petite doll with a chalkkish-white skin tone, rosy cheeks, and freckles.
Her hair is red and curly, styled as two pigtails and tied with a couple of powder blue ribbons.
A shiny ting of light constantly glazes across her face, suggesting that she is made of porcelain.
For attire, she wears a powder blue colored large and flouncy gown with long frilly sleeves that are adorned with numerous bows, frills, and bustles, along with a pair of black Mary Janes for footwear.
Her face is decorated with bright red lipstick, pink plushy cheeks, a pair of thin black-colored eyebrows, unrealistic blue eyes, and extremely long lashes.
Personality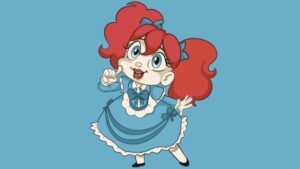 In the Vintage Poppy commercial where Poppy Playtime Doll was displayed, this character was seen to be the most outgoing, elegant, dainty, and social individual.
She is extremely careful and always wants to look the best.
As seen in the vintage VHS commercial, the game Poppy Playtime Co. describes this character as 'the first intelligent doll in the world,' as it could converse with the players like a real child.
Thus, her way of talking to others is courteous. For example, if she wants to get groomed, she would politely ask them if they could polish her shoes or brush her hair.
Although Poppy Playtime Doll is said to be a living doll, she regains her personality. Her personality could have been more evident in Chapter 1 of the game due to the minor role she played.
But, at the start of Chapter 2 of the game, she was showcased like she is. The Poppy Playtime Doll was first introduced as a bubbly and caring personality who continuously thanks the players for freeing her.
This in-game realistic doll also waits patiently for the players to climb the vents of the factory Backrooms, which could help them escape the space.
The game starts with the bubbly and cheerful personality of the character, but by the end, it gets incredibly dark and blank.
She also starts asking creepy questions to the players, like, "Do you kill her?" and more of such. After the death of the character Mommy Long Legs, the character of Poppy Playtime Doll boards a train.
After entering the Train Code, when it is about to start, this realistic doll starts to behave strangely by letting us not leave yet.
It is still unknown to us why her personality made a questionable switch. But somewhere, it has been presumed that either Poppy has been covered with darkness or she is now showing her true colors.
Abilities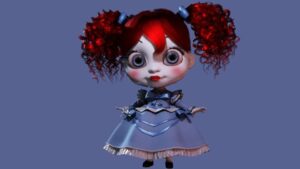 This character of Poppy Playtime Doll will have the power to navigate through the vents around the in-game factory setup quite easily.
Thus, this ability also allows the character to follow the players relatively easily and get ahead of them.
This doll-like character is also known to have a knack for various in-game machinery, along with the ability to change the direction of the train in which the player is seated along with her.
The Backstory of Poppy Playtime Doll
The character of Poppy Playtime Doll was formed in 1950 to interact and behave similarly to humans, like conversing and talking.
The character was introduced inside the vintage Poppy Commercial as a toy who can converse. With this, Poppy's character gained mass attention and became extremely popular.
One more thing that we want to disclose to you is, at the end of this commercial, it has been seen that Poppy Playtime Doll says, "I'm a real girl… just like you."
This sparked speculation that Poppy may be a human inside the doll or have a character similar to Pinocchio's.
Is Poppy Playtime Doll the Real Villain of the Game?
Although there are no exact facts about the same, from what we have observed, we have a couple of hints about the villainy of the Poppy Playtime Doll character.
First off, the factory walls have been found scribbled with phrases like, 'Don't let her out' or 'She can't be trusted. The character of Huggy Wuggy presumably writes these.
So, it can be seen that Huggy Wuggy is just framed as a killing machine; in reality, he is not. It's like he wants to warn the other players entering the game about Poppy Playtime Doll.
Another hint of Poppy playing the villainous role in the game is that, at the beginning of Chapter 2, Poppy is nowhere to be seen.
The players would be seen trying to evade the character of Mommy Long Legs, but she is just being heard narrating from some distance.
Meanwhile, when the player frees her at the end of Chapter 1, she should be with them, as she is also in pursuit of escaping this horrifying toy factory.
Suppose you are considering any possible reason why Poppy Playtime Doll chose to be a villain in the game. Then, we have some of the most appropriate reasons for the same.
She would love to become the antagonist because she has been locked inside the display case for about 10 years despite being hyper-intelligent and able to carry out dynamic conversations.
She has also been a constant part of the experiments being carried out in the toy factory, which has supposedly made her even smarter, more perceptive, and far more intelligent than before.
As a result, she has become bitter over time and has a built-in desire for vengeance for her long 10 years of imprisonment.
Frequently Asked Questions
Q. Is the Character of Poppy Playtime Doll Real?
Ans. This animatronic-like character of the game is quite smart, plays the antagonist role, and can talk and converse just like real humans.
Q. Is Poppy Playtime Doll the Villain of the Game?
Ans. Well, this character has given a few hints to the players about her being the villain out there. Her being the overarching antagonist is clear from her absence from the trailer of Chapter 2 and even her small role in Chapter 1. Now, let us wait for her role in chapter 3 of the game. She is a villain, but she might not be the main villain.
Let's Summarize
Thus, that was all the exciting details we had to share with you regarding the Poppy Playtime Doll. As you read above, she is a brilliant humanoid doll made of porcelain, and she can talk and converse just like actual human beings.
She is the first ever toy made in the Playtime Co. factory and plays the role of the major antagonist in the game.
We hope you have enjoyed reading this interesting article; if so, stay tuned with us at GamePike.com for more interesting, information-filled articles about the game of Poppy Playtime.