We all know that the popular gaming platform of Roblox allows players to create their games out of imagination and share the same with fellow players.
Since some time back, Roblox added a new feature to its gameplay, i.e., enabling the Roblox games with voice chat, where the players can communicate with each other during the game.
Sounds interesting right? Well, it is. By this, you can connect with your fellow players & teammates during the gameplay and strategize and coordinate with them.
Not only this, but the voice chat feature also makes a highly competitive environment in the game, where players can also trash-talk each other.
Overall this voice feature of Roblox is an excellent addition to the game that enhances the players' experience while playing the game, especially with the ability to use Roblox music codes.
Are you looking for some of the best Roblox games with voice chat? Then, read our comprehensive article below to learn about the same. Know how to enable the voice chat feature in your Roblox account.
So, without delaying a moment any further, let's keep rolling.
How Can You Enable the Voice Chat Feature in Roblox?
Users above 13 years of age can only utilize voice chat. For this, the players must first prove their age by uploading or showing the image of their ID proof on the portal of Roblox.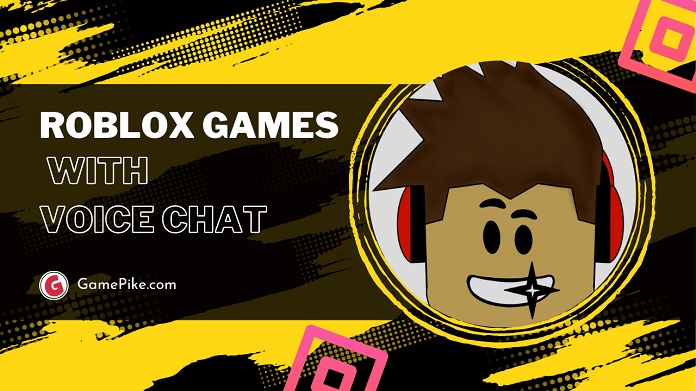 And if the gamer fails to do so, then the voice chat function will be immediately disabled, deactivated, or can be limited from the player's account.
After you have verified your age, under the options of Beta features, you will see the phrase Enable voice chat and a little button beside that.
Click on this button to turn the toggle from grey to green, indicating that you have enabled voice chat. Now you can enter the games with this feature.
Here is the list of the top 10 best Roblox games with voice chat. So, let's get started.
List of Top 10 Voice Chat-Enabled Roblox Games
Many games offer an audio chat option in Roblox; however, the games mentioned below are like cream on the top because of their interesting community experiences and best gameplay.
Do check out the games listed below and play them with your friends.
1.

Jail Break

This game of Jail Break is considered one of the most popular Roblox games. Not only because of its engaging gameplay but also because of its voice chat.

Jail Break is all about teamwork and making connections with fellow players.

Escaping the prison or taking down the police are two major tasks you must complete to succeed in this game. Thus, to coordinate plans with fellow players, Roblox games with voice chat is the best feature to do so.
2.

Da Hood

Da Hood is a popular game on Roblox where players can play Roblox games with voice chat with each other using Roblox.

In this, there is a fictional city of Da Hood, where players enjoy a gangster lifestyle and can explore the city, complete missions, and earn rewards while communicating with others in the gameplay.

There are also various minigames the players can play to earn extra rewards.
3.

Korblox and the Headless Hangout

Korblox and Headless Hangout are two of the most famous Roblox games.

Headless Hangout is a casual game where players have to explore a spooky mansion and chat with other fellow players through the audio chat feature to solve the puzzles in the game.

At the same time, Korblox is another important game where you can team up with fellow players to battle in the arena using various weapons.
4.

Vibe NYC

Popular Roblox game Vibe NYC sets its setting in New York City. This game allows the players to interact with each other using the voice chat option while exploring the city.

This game is constantly updated with new content and has a great sense of community.

The game is one of the best weekend games on the platform, which will let you experience the fascinating in-game nightlife.
5.

Epic Minigames

It is a series of progressive games in Roblox in which you can either play solo or in a group to earn various minigames. You must complete the minigames within the given time frame for making coins.

At the beginning of the game, you will get 10 coins, but as you progress and reach further levels, you will get some additional coins.

The best way to remain connected with fellow players in this game is to use the voice chat option.
6.

Bed Wars

Bed Wars is a voice chat combat-based game where the players in this game use the bed to protect themselves from enemy attacks.

Along with the mission to destroy the opponent team's bed. This game is absurd as the player and opponent play the game while lying on the bed.

Bed Wars has different game modes along with a customizable chat system.
7.

Emote Legacy

This is one of the best Roblox games with voice chat, allowing the players to express themselves through various emotions.

Players of this game can choose from about 200 different emotions, create and share custom-made emotes, and communicate with others.

Roblox games with voice chat system allow players to express and connect with the community, even through Roblox's bypassed audio feature to facilitate gamers out there.
8.

Flee The Facility

Flee the Facility is a growing game in which players must cross enemies and obstacles while fleeing a facility.

This fast-paced game requires quick action and reflexes, making the game more exciting and challenging.

In this game, the players can also communicate using voice chat to make the game more fun.
9.

Royal High

This is a fantastic game whose theme revolves around dress-up games and roleplaying in a fantasy high school.

The game's primary goal is to collect coins and points while traveling through the realm of the game. Royal High has a voice chat feature that enhances the experience.
10.

Alone In The Dark House

This is a murder mystery simulator game. In this game, the player will be a detective who has to solve the murder mystery of a small child.

To accomplish and win this game, you will have to solve various riddles and objectives. The game has a highly realistic experience with customizable voice chat options.
Frequently Asked Questions
Q. At What Age Will You Get Voice Chat in Roblox?
Ans. The eligible and verifiable age for getting voice chat in Roblox is 13 years.
Q. Does Every Game in Roblox Support Voice Chat?
Ans. A few selected games on the platform support a microphone in-game feature to chat with the co-players on the server. This feature helps only some games in Roblox.
Here are a few of the games with voice chat features:-
Before the Dawn
Redox
Piggy
Mad City
Stop it Slender
Prison Life
Bacon
Zombie Attack 2
Ronald
Q. Is It Allowed to Swear During the Game of Roblox?
Ans. According to the rules & regulations of Roblox, it is illegal to use swear words in Roblox during text chats, audio chats, or images.
Also, using such words as wrong spellings and special characters is prohibited from keeping the gameplay environment civil and safe for every user.
Our Thoughts
This gaming platform is a popular hang-out spot for the young generation nowadays, where they can communicate with each other through their genuine voice during the gameplay.
Thus, all 10 games mentioned above are the best Roblox games with voice chat, which enhances the players' gaming experience.
If you qualify for all the terms and conditions mentioned by Roblox for taking advantage of the voice chat feature, then go ahead and prove your age limit and enjoy any of the games listed above.